Pictured above: 2006

Peter Ball former Bishop of Lewes with his good friends Prince Charles and Camilla at a memorial for her father Bruce Shand
Paedophile Peter Ball  remained a confidant of Prince Charles  right up until 2012
Disgraced bishop, friend to members of the royal family, jailed for a string of sex offences, Peter Ball has been given public funding for a legal team at the Government's child sex abuse inquiry.
The decision to pay for lawyers, costing taxpayers up to £200 an hour, to defend the reputation of Peter Ball, the former Bishop of Gloucester and of Lewes, has outraged his victims.
Ball is the first convicted sex offender to be granted taxpayer funds, setting a precedent that could pave the way for dozens of paedophiles to get the same deal.
He received the legal funding because he "may be subject to explicit criticism by the inquiry".
A lawyer close to the inquiry said: "I was really surprised Ball was given funding. The issue is about how he was allowed to get away with it by the Church not about his offending. He has already been investigated and pleaded guilty."
http://www.telegraph.co.uk/news/2016/07/30/goddard-inquiry-outrage-as-bishop-jailed-for-sex-offences-given/
Lowell Goddard chair of the IICSA – her ex-husband, Sir Johnny Scott was a close friend of Camilla's.
more here: https://goodnessandharmony.wordpress.com/2016/07/12/update-on-peter-ball-establishment-cover-up-ball-investigated-in-2008-for-being-part-of-a-suspected-paedophile-ring/
2005 The wedding of Prince Charles and Camilla Shand attended by Bishop Peter Ball
Peter Ball 'preached at the funeral of Camilla's father's in 2006, which indicates his standing in their household.'
It is quite Eye Opening Info, that

Lord Mountbatten, Charles' mentor

, who introduced Jimmy Savile to the Royal Family,

used to have Charles and Camilla visiting regularly in the early 70s around the time that Judge Goddard was in Britain with Camilla's friend
(Johnny Scott)
Lowell Goddard's daughter Rebecca Scott was

born in Lewes District in the county of Sussex 

20/3/1970.
Through her marriage to Sir Johnny Scott, the current head of the Home Office's 'independent' inquiry into child abuse, Judge Lowell Goddard, has links with Camilla and Prince Charles
Camilla met Charles at a polo match in 1970.
Both their parents (Johnny Scott's & Camilla's) were involved in the

Southdown hunt

;
Camilla's father, Bruce Shand,the Master and
Walter Scott (Johnny Scott's Father), Lowell Goddard's former father-in-law, the chairman
Major BRUCE SHAND MC With his daughter CAMILLA
Camilla Parker-Bowles father was Master of the Southdown Hunt. Vice Lord-Lieutenant East Sussex 1974-92
Lowell Goddard's former father-in-law, Sir Walter Scott was Chairman of the Southdown Hunt. In 1975 he was Deputy Lieutenant East Sussex.
IICSA Lowell Goddard's daughter Rebecca Scott sits on a charity called Catwalk with royal family member Zara Phillips. 
https://www.catwalk.org.nz/project/rebecca-scott/
Ms Phillips, the Queen's granddaughter and the daughter of Princess Anne, is a patron of the trust.
Lowell Goddard is a significant supporter of the CatWalk Spinal Cord Injury Trust
Catwalk Trust: Back row – Lisa Chittick, Charlotte Gendall, Georgie Falloon, Sharleen Workman, Zara Phillips, Rebecca Scott, Greer Draper, Paula Petrie
Front row – Leanne Parker, Catriona Williams, Pip McCarroll
https://webcache.googleusercontent.com/search?q=cache:k4fu4zIzil8J:https://www.facebook.com/thecatwalktrust/photos/a.201931616529119.64759.104081226314159/784428134946128/+&cd=9&hl=en&ct=clnk&gl=us
Peter Ball was friends with many members of the royal family, not just Prince Charles & Camilla – Princess Margaret, the Queen Mum and Queen Elizabeth too
The Queen supported Bishop of Lewes Peter Ball after his police caution. In 1994, when she was distributing Royal Maundy money in Truro, Ball was there with his brother, who was Truro's bishop.
After lunch in the Chapter House, the Queen, who had been on the high table with local dignitaries, went across to Ball, held out her hand and said in the clearest of voices: 'My love and encouragement, Bishop.'
Ceremonial: The Crown of Scotland is carried by The Duke of Hamilton – Rebecca Scott's cousin
more here: https://goodnessandharmony.wordpress.com/2016/07/12/update-on-peter-ball-establishment-cover-up-ball-investigated-in-2008-for-being-part-of-a-suspected-paedophile-ring/
NZ judge confused by UK laws
31 July 2016
The New Zealand judge heading the UK's historical child abuse inquiry has shocked barristers by admitting that she is confused by English law.
Dame Justice Goddard is set to earn around £5million (NZ$9.17m) as chairwoman of the inquiry after being appointed by Theresa May.
Some lawyer have expressed their concerns about the delays and Dame Justice Goddard's handling of the inquiry.
During the preliminary hearings last week,

she admitted she was 'unsure of local law', when police attempted to block details of an investigation going public, according to The Times.
http://m.nzherald.co.nz/world/news/article.cfm?c_id=2&objectid=11684655
---
Dame Lowell Goddard, the head of Britain's inquiry into child abuse, has spent more than 70 days working abroad or on holiday in her first year in the role.
4 August 2016
May 'must have known' about concern over Goddard
It would have been "inconceivable" for Theresa May to be unaware of concerns about the behaviour of the chairman of the child sexual abuse inquiry, a former minister claimed as MPs prepared to launch an investigation into the allegations.
The Times revealed today that Home Office staff and advisers received warnings about Dame Lowell Goddard's offensive behaviour in her role as chairwoman of the Independent Inquiry into Child Sexual Abuse (IICSA) but did not end her "catastrophic" leadership.
It is claimed that her aggressive and abusive conduct at times reduced the inquiry's operation to "near paralysis"
A UK newspaper has accused New Zealand judge Dame Lowell Goddard of making racist remarks during her time as the head of an inquiry into child sex abuse.
The front-page report in The Times also makes unsourced claims Dame Lowell was aggressive and abusive, and allegedly suffered memory lapses.
British officials close to Prime Minister Theresa May have been accused of covering up the allegations of misconduct.
The Times says Home Office staff and advisors were told of Dame Lowell's behaviour and she was warned by a senior official, but no further action was taken.
The article details two instances of alleged racism.
http://www.newshub.co.nz/nznews/nz-judge-dame-lowell-goddard-accused-of-racism-while-heading-uk-abuse-inquriy—reports-2016101414
Last night Dame Lowell confirmed she had instructed London solicitors Carter Ruck to represent her over the claims.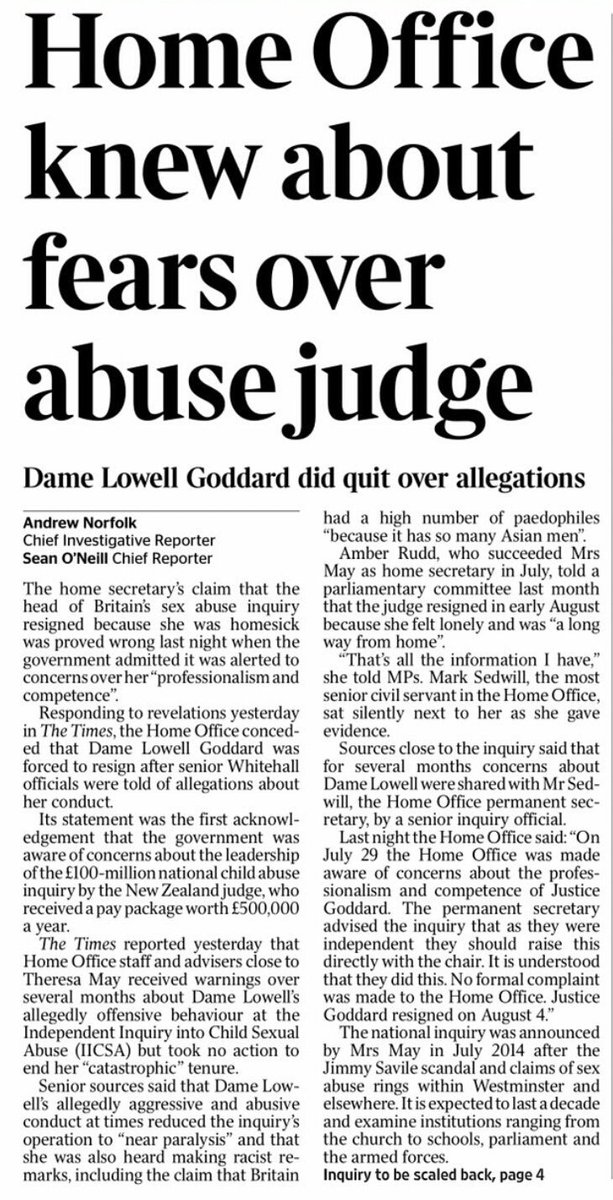 There was a sense that "an inquiry set up to oppose a culture of secrecy and cover-up has become itself an exemplar of the sins it was supposed to expose"
---
DISCLAIMER: THE POSTING OF STORIES, COMMENTARIES, REPORTS, DOCUMENTS AND LINKS (EMBEDDED OR OTHERWISE) ON THIS SITE DOES NOT IN ANY WAY, SHAPE OR FORM, IMPLIED OR OTHERWISE, NECESSARILY EXPRESS OR SUGGEST ENDORSEMENT OR SUPPORT OF ANY OF SUCH POSTED MATERIAL OR PARTS THEREIN.