Academia

Police Force
Judiciary
Medical Establishment

---
---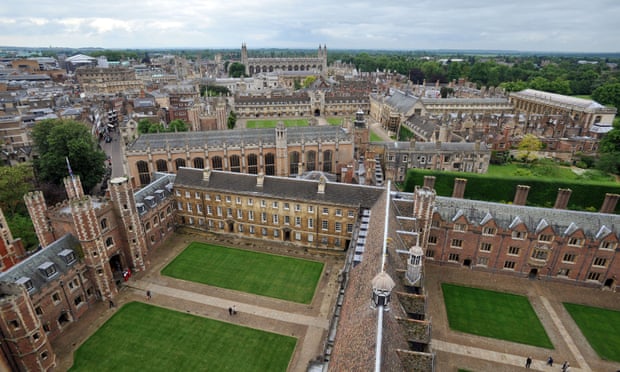 https://www.theguardian.com/uk-news/2017/feb/24/cambridge-professor-in-court-over-indecent-images-of-children?CMP=share_btn_tw
Jarvis, of Romsey Terrace, Cambridge, was arrested by National Crime Agency officers in September last year.
A young English poet, fostered by an ancient and glorious university, starts writing startling, experimental verses, which find their first audience among a talented, radicalized coterie of other young writers. He's got amazing chops, especially when it comes to his metrics. He travels. He writes. He is appreciated, especially in the left-leaning quarters of the literary world. He moves to America, grows increasingly religious and perhaps less radical. He turns toward more traditional forms, shows a great aptness for rhyme, and embraces the Anglican Church.
The poet is, of course, W.H. Auden. Unless you add "…but moves back" after "He moves to America." In that case, we're no longer talking about Auden, we're talking about Simon Jarvis.
http://samizdatblog.blogspot.com/2014/03/simon-jarvis-as-wh-auden.html
---
Simon Jarvis, Gorley Putt Professor of Poetry and Poetics at Cambridge University, wrote to the AHRC chief executive, Rick Rylance, saying that the appearance of the phrase "big society" in the AHRC strategy document represented a "dangerous breach of the Haldane Principle".
In the letter, which has been passed to the Guardian, Jarvis who has acted as an AHRC peer reviewer, also called for Rylance's resignation.
"This slogan still sits there, bold as brass, in the middle of this document. Why … either you are impotent to resist this disgraceful piece of corruption, or you are actively complicit in it. Either case suggests that you are an inappropriate person to hold the post which you currently occupy," he wrote.
https://www.theguardian.com/education/2011/jun/27/dons-threaten-resignation-arts-research
Prof Simon Jarvis, Faculty of English
Biographical Information
I'm the Gorley Putt Professor of Poetry and Poetics. (This is a personal, not an established, chair. The Gorley Putt Lectureship to which I was appointed in 1998 was in English Literary History; professors appointed ad hominem are hereabouts, correctly, then invited to say for themselves just what they profess.) I got my Ph.D. here in 1993. I've also taught at Newcastle, Cornell and Johns Hopkins.
---
An academic conference at the University of Cambridge last July was told that paedophilic interest is "natural and normal for males", and that "at least a sizeable minority of normal males would like to have sex with children… Normal males are aroused by children."
Other topics discussed at the conference included "Liberating the Paedophile: A Discursive Analysis" and "Danger and Difference: the Stakes of Hebephilia" – hebephilia being sexual attraction to children in early puberty.
Ken Plummer
1966-1970: coming out as gay, starting a PhD on gay life in London at the LSE, starting teaching at a soon-to-be Poly (Middlesex), and becoming a sociologist and a member of the National Deviancy Conference. I was not directly involved in the student politics of 1968, but was involved in gay reformism (at the Albany Trust) and then in 1970 with the LSE based Gay Liberation Front.
https://kenplummer.com/resources-2/presentations/1968-subterranean-worlds/
Post #1103 mentions 1968 Albany Trust Ken Plummer! #Uni of Essex
---
'Paedophilia is natural and normal for males'
How some
university academics make the case for paedophiles at summer conferences
05 Jul 2014
"Paedophiles are told they are the seducers and rapists of children; they know their experiences are often loving and tender ones. They are told that children are pure and innocent, devoid of sexuality; they know both from their own experiences of childhood and from the children they meet that this is not the case."
As recently as 2012, Prof Plummer published on his personal blog a chapter he wrote in another book, Male Intergenerational Intimacy, in 1991. "As homosexuality has become slightly less open to sustained moral panic, the new pariah of 'child molester' has become the latest folk devil," he wrote. "Many adult paedophiles say that boys actively seek out sex partners … 'childhood' itself is not a biological given but an historically produced social object."
Prof Plummer confirmed to The Sunday Telegraph that he had been a member of PIE in order to "facilitate" his research.
http://www.telegraph.co.uk/comment/10948796/Paedophilia-is-natural-and-normal-for-males.html
link
David Aaronovitch
---
---
IPCE
An academic in Europe had infiltrated Ipce, an international paedophile organisation, and I was being sent their online correspondence each day.
It was apparent that many members were academics, driven by a desire to persuade the rest of society that sex with children was acceptable and to influence legislators all over the world to lower the age of consent.
---
Intriguingly,

there was

a clear link to Glasgow University and

a suggested link to

Cambridge

University.
---
https://www.timeshighereducation.com/features/if-no-rules-have-been-broken-perhaps-the-rulebook-requires-some-attention/165893.article
---
Prof John Spencer, a law fellow at

Selwyn College, Cambridge
2009
Law Professor John Spencer aired his views on BBC Radio 4's 'Iconoclasts' series.
Britain's age of consent was confirmed as 16 in the 2003 Sexual Offences Act.
Professor John Spencer
'Drop the consent age' fury The Sun 23-09-09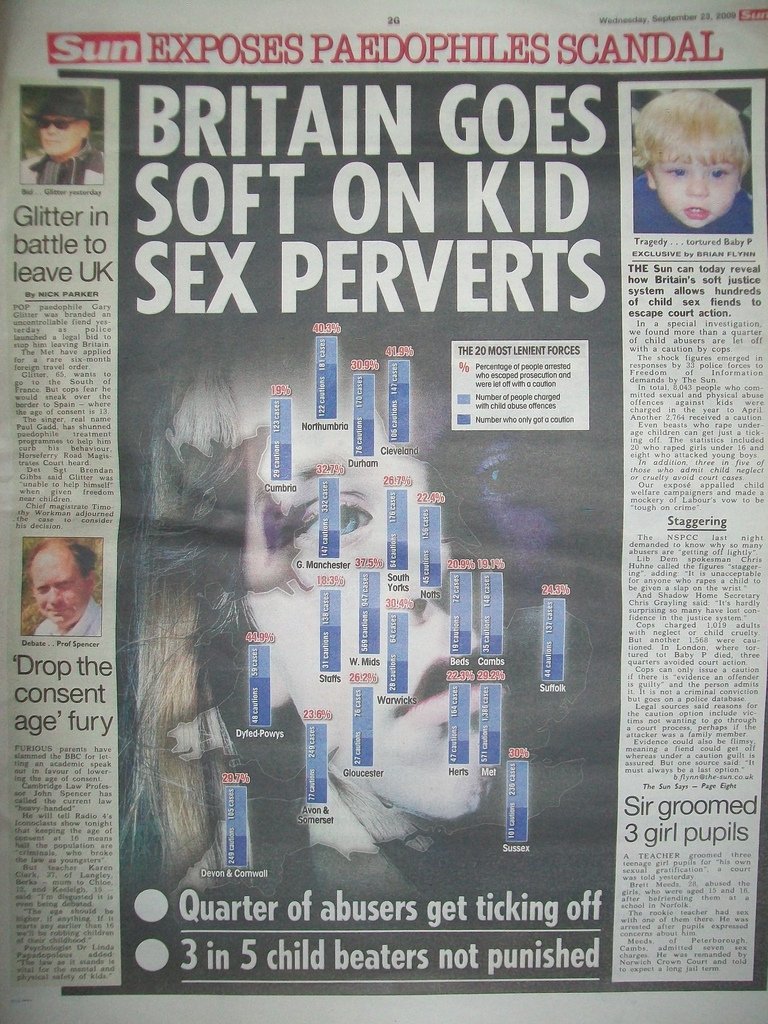 Another panelist on the controversial show was Peter Tatchell.
Peter Tatchell (left) has reiterated his calls to lower the age of consent

The call comes just months after  ex-Selwyn, Cambridge student, Jonathan Jenkins, was tried for possessing child pornography. He was arrested from college accommodation in October 2007.

Prof Spencer's controversial views have aroused vocal opposition.
This backlash is not just targeted at the Professor, the BBC has found itself in hot water for inviting Professor Spencer to speak on the Radio 4 show.
David Davies grumbled, "I'm astounded that the BBC is giving airtime to someone with such views."
Supporters of the current law say it protects youngsters from exploitation.
A BBC Spokesman bit back, claiming "The programme does not advocate the issue, but is a platform for an individual viewpoint and a starting point for serious debate.
http://www.cambridge-news.co.uk/Cut-age-consent-says-professor/story-22483788-detail/story.html
thetab.com/uk/cambridge/2009/10/06/selwyn-professor-in-teen-sex-row-107
---
Background on Prof Spencer:
– Prof Spencer, Honorary consultant to the NSPCC
Law reform activities
In the late 1980s and early 1990s, campaigning with the NSPCC and other bodies
for changes in the law relating to children's evidence
Professor Spencer is the Honorary President of the European Criminal Law Association (UK).
He has served on many University Boards and Committees, including as Chairman of the University's Board of Scrutiny
53 works in 168 publications in 2 languages and 2,874 library holdings
http://www.worldcat.org/identities/lccn-nr90020448/
---
---
Harvey Proctor's friend and solicitor – Jonathan Denby  – his cousin,  Barbara Hewson, was also educated at  Cambridge University)
Most recently… 6 May 2016
Cambridge-educated

deputy head Peter Allott, of St. Benedict's  Catholic private school

  jailed for horrific stash of porn images featuring children as young as two
---

---
 
Head Deputy of St Benedict's where Lord Patten is Patron..

.
He was identified after intelligence was received that an individual

had been using video conferencing facilities to share indecent images of children with other paedophiles around the UK.
After a stint studying in Cambridge, Allott returned to St Benedict's and was at the time of his arrest studying for a doctorate. 
---

---
Peter Allott left for a year in 2011 to work as a research associate for a project on the Prime Minister's "Big Society" initiative and Catholic

social teaching at Cambridge University.
---
 Judge Peter Hillen when sentencing Peter Allot said:
I use the phrase of a paedophile ring, that's precisely what that was.
… engaged in public service and political service.
Someone who has engaged in charity work.
Someone who was a high flyer
link
Allott's published work on Cambridge website:
---
http://www.polis.cam.ac.uk/about-us/publications-from-polis-1/publications-from-polis-2013
Judge Gareth Hawkesworth –   Cambridge graduate

06 Apr 2009
---
Judge Gareth Hawkesworth has freed  a Cambridge University student found with pornographic images of children on his computer, claiming  sending him to prison would be a 'cruel and pointless' exercise.
---
Former Selwyn College student, Jonathan Jenkins was caught with 293 indecent images on his computer
Jenkins, a  who now studies in Bath, pleaded guilty to 15 counts of making indecent images of children and one count of possession at Cambridge Crown Court.
---
Five of the images Jenkins downloaded, which were of girls aged nine to 15, were classed as level five pornography – the most serious classification on the Copine Scale used to assess the severity of such images.
---
In June 2012, Hawkesworth gave a non-custodial sentence for the rape of a 4-year-old girl;

---
---
Judge Gareth Hawkesworth – was also the judge chosen for the  Dr Myles Bradbury CSA case
Dec 1, 2014
---
More than 16,000 indecent images of children found on disc

at his home
---
'Spy pen' used by Cambridge paedophile Myles Bradbury to film child cancer sufferers
---
The judge said Bradbury's sentence would be reduced because of his early guilty pleas, although "some might observe" that the weight of evidence meant he had little option but to admit the offences
Bradbury carried out his offences while working at Addenbrooke's Hospital in Cambridge between 2009 and 2013.
There were 18 victims of sexual abuse and he was also found with 16,000 indecent images of children.
---
Dr Myles Bradbury: Why was paedophile doctor not stopped?
---
Bradbury known to authorities SIXTEEN months before arrest for abusing child cancer patients in Cambridge
---
Police chiefs across England and Wales have been asked if they failed to act on allegations against 2,300 suspected paedophiles.
---
The Independent Police Complaints Commission has ordered chief constables to review how they handled material received from the National Crime Agency in November 2013 concerning alleged child abusers in their area.
The nationwide review follows two high-profile cases where police were accused of failing to act on intelligence arising out of Project Spade, an international sting that caught more than 2,300 people purchasing explicit footage of naked teenage boys over the internet.
In a separate Project Spade case, it emerged that Myles Bradbury was brought to the attention of police before he admitted a string of offences on child patients in his care.
Myles Bradbury: Paedophile doctor who abused children with cancer becomes police adviser
12 Feb 2015
The development comes as the mother of one of a "substantial number" of new victims reveals fears a NHS inquiry into the paediatrician could be a whitewash
http://www.mirror.co.uk/news/uk-news/myles-bradbury-paedophile-doctor-who-5154834#ICID=sharebar_twitter
---
Cambridgeshire Council
Why did Cambridgeshire Council promote known paedophile Keith Laverack giving him access to children's files?
In Cambridgeshire, Keith Laverack worked with numerous colleagues, four of whom are now also suspected of abusing children. Dennis Grain worked in Doncaster for the same group of private schools as Terence Hoskins who went on to become headteacher of St Aiden's Community Home in Widnes, where he liked to thrash naked boys with a cane, which he then pushed into their backsides, while his housemaster, Colin Dick, indecently assaulted those who caught his eye. Dennis Grain had previously attacked boys in Danesford childrens' home in Congleton, opening the door to three others, John Clarke, Joseph Smith and Brian Hudson, who set about the boys with relish. Dennis Grain, in the meantime, went off to work at Eton, where he became a housemaster. The web is almost endless.
While he was Principal of St Vincent's, Alan Langshaw recruited a care worker named Edward Stanton, who joined in Langshaw's orgy. Stanton appears to have got the job through the good offices of Roy Shuttleworth, who was continuing to abuse the boys at Greystone and who is believed to have known Stanton from their time in Birmingham when they took the same course in residential child care.
That course in Birmingham, in turn, is believed to have been lectured by Peter Righton, a notorious paedophile who attempted to legitimise his obsession in a series of academic studies. Righton, for his part, belonged to the Paedophile Information Exchange, along with Jack Bennett who joined in the abuse at Greystone. Righton had earlier worked in the same childrens' home in Maidstone, Kent as Peter Howarth, who went on to become a legendary abuser in the homes of North Wales where he shared his indulgence with Steve Norris, formerly of Greystone
Peter Righton lectured not only in Birmingham but in numerous other colleges. Before he was finally taken to court and convicted, he became a highly regarded consultant in child care and, eventually, the Director of Education at the prestigious National Institute of Social Work in London, a position from which he was able to have some influence on Government policy.
With similar cynicism, Keith Laverack, who opened the catalogue of abuse at Greystone Heath, went on to run the Guardian Ad Litem panel for Cambridgeshire County Council, with the job of representing the interests of children in court cases. This job not only introduced him to the most vulnerable children in the area but also gave him access to files on abused children all over the country.
https://theukdatabase.com/uk-child-abusers-named-and-shamed/childhood-abuses/uk-childrens-homes-crisis/the-children-homes-organized-paedophiles-rings/
36. Keith Laverack – Master Greystone Heath Approved School for Boys. Got 18 years for abusing children at Kneesworth House School Kneesworth, Cambridgeshire in 1997. Greystone Heath School, Warrington, Cheshire, Midfield Observation and Assessment Centre, Oakington, Cambridgeshire and Kneesworth House School, Royston, Herts. The infamous Keith Laverack worked in all these establishments between 1965 and 1988.. He ran the Guardian Ad Litem panel and represented children and their best interests in Court cases. This allowed access to case files of vulnerable children nationwide.
http://andrewgroveandco.com/page7.htm
http://www.cambridge-news.co.uk/Camb…rom-prison.htm
http://www.matso.tv/laverack2.html
Community Care, 13th March 1997
Establishment CSA man Alex Carlisle prosecuting
---

www.theguardian.com/charity-awards/baroness-howarth-of-breckland-obe
http://www.telegraph.co.uk/news/uknews/baby-p/10424062/Sharon-Shoesmith-villain-Victim-Or-someone-who-got-it-wrong.html
---
Misc
More on Peter Tatchell and colleagues
"Pollard gave a constant stream of support to paedophiles and promoted their views."
Photo below: Nettie Pollard (EC Member) with Peter Tatchell at the 2011 Annual Conference:
Nettie Pollard was member number 70 of the Paedophile Information Exchange.
Even those who have lived beside her for years have little idea about her life – none of her neighbours has ever been invited inside the home she has lived in alone for almost 30 years.
But 69-year-old Nettie Pollard may hold the key to how the Paedophile Information Exchange infiltrated left wing groups in the 1970s.
She was a key figure in the London left, working for the National Council for Civil Liberties for two decades.
But a Sunday People investigation reveals Pollard to be chief apologist for some of PIE's most chilling demands.
Our investigation found that throughout her career Pollard gave a constant stream of support to paedophiles and promoted their views. She also:
Supported PIE's call to scrap the age of consent.
Argued against the introduction of a bill to protect children.
Sat on committees with known ­paedophiles and PIE members.
Wrote a twisted essay defending sex between adults and children.
It emerged MP Harriet Harman, ­husband Jack Dromey and former Health Secretary Patricia Hewitt had been involved with the NCCL when PIE was affiliated to it.
Mrs Harman has subsequently moved to distance herself from Pollard and paedophiles, with a spokesman stating they "did not influence any of the work she did there".
However one source involved with the London left in the 70s claims – ­embarrassingly for Mrs Harman – that she and Pollard did work together on occasions within the NCCL .
The source said: "Nettie was a big presence in the movement back in the 1970s and couldn't be ignored by anyone wanting to get on in the NCCL."
Our investigation first places Pollard in 1975 working as the Gay and Lesbian Officer for the NCCL.
And that brought her into close ­contact with the infamous PIE – the child sex group which campaigned to have the age of consent lowered or scrapped.
As well as her role at the NCCL, Pollard was and remains a significant member of the Campaign for Homosexual Equality – a group that defended PIE's rights at their 1983 conference.
But even after PIE was disbanded in 1984, Pollard made no secret of her ­sympathy for the organisation's aims.
In 1993 she contributed a ­defence of the ­sexualisation of youngsters to a book called Bad Girls and Dirty Pictures.
Entitled The Small Matter of Children, Pollard's essay draws on work by known paedophiles such as former PIE vice-chair Warren Middleton to build its case.
Pollard argues child sex should be legal if the act is "consensual".
It also uses language like "willing partners" to describe sex between adults and children.
But by far the most disturbing section is Pollard's attempt to justify the sexualisation of children.
She writes: "Far from being 'innocent' and becoming sexual at puberty, as was once the common belief, it is now indisputable that everyone is sexual, even before birth."
The research cited was also used in PIE's bid to reduce the age of consent to just four.
Pollard continued to work for the NCCL until her mysterious ­departure from the group in 1997.
She was made redundant but reports from Feminists Against Censorship implies murkier reasons ­behind her exit.
A ­newsletter from the time reads: "Within the last several months, two of NCCL's employees have remarked that the organisation's longest-serving staff member, Nettie Pollard, was the last civil libertarian left on the payroll."
Challenging the cost-cutting explanation given it added: "Since she is one of the few indispensable staff members, and the most ­expensive to make redundant, we suspect economy is not the reason."
Pollard, whose Facebook page currently shows her support for causes including an anti-drones campaign and attacks on the "Big Brother" state, also showcases her taste in music with a link to indie rock band The Donutsh – described by one of their following as sounding "like Johnny Cash biting off Johnny Rotten's head".
She refused to answer the door to us when we visited her home.
---
Feb 2014:

Convicted paedophile, Tom O'Carroll

told The Guardian he remained a member of the NCCL's gay rights committee for several years after Harman claimed his organisation was marginalised. NCCL archives in London have also shown how O'Carroll, a former chairman of PIE,

asked Nettie Pollard, a staff member at the organisation, about the possibility of amendments to the 1978 child protection bill.
Peter Tatchell
Warren Middleton, the editor of a paedophile book to which Peter Tatchell contributed an article in the 1980s was jailed for child sex offences
Middleton was the editor of Betrayal of Youth, a notorious paedophile campaigning manual to which Peter Tatchell contributed a chapter on 'Questioning Ages of Majority and Ages of Consent'.
Peter Tatchell  wrote an obituary for Ian Campbell Dunn, who was the co-founder of the PIE.
---
A Cambridge judge's (Hawkesworth)  order to prevent the naming of a rapist, despite opposition from the News, has been overturned at the Royal Courts of Justice.
The Court of Appeal overturned an order earlier this year by Judge Gareth Hawkesworth at Cambridge Crown Court which banned the paper from identifying a convicted rapist who had been jailed
The News argued against his initial, incorrect attempts to use anonymity law to prevent the man being named and was successful. But the judge changed which law he would use to prevent the naming, despite opposition from the News.
http://www.cambridge-news.co.uk/Appeal-Court-overturns-ruling-naming-rapist/story-22361489-detail/story.html.
---
A Radio 4 guest stated that the age of consent should be 13…
Chief constable of Dyfed-Powys Police, Terry Grange*
Terry Grange, the former chief constable of Dyfed-Powys*, and lead officer for he Association of Chief Police Officers Acpo "claimed that men as old as 30 who have sex with underage girls should not necessarily be classed as paedophiles.
"He was the lead officer for he Association of Chief Police Officers (Acpo) the police service in England and Wales on child abuse and the management of dangerous offenders."
In May 2008 an Independent Police Complaints Commission (IPCC) inquiry found he misused a work computer and a corporate credit card while having an affair.
---
From left to right, Fullerton, Howard, Gummer, Clarke, Brittan, Christopher Mason and Norman Lamont
Cambridge University Conservative Association
The list of former chairmen of CUCA makes for very interesting reading.
They include the following:
Geoffrey Howe
Leon Brittan
Norman Fowler
Kenneth Clark
Norman Lamont
Alan Bradley
David Mellor
John Selwyn Gummer
Andrew Mitchell
Simon Milton
Some of these names have been linked to very unpleasant allegations dating back years."
http://barneshistorian.com/vm-cambridge.php
CUCA alumni had considerable influence on British politics in the 1980s and 1990s, with the rise to prominence of the 'Cambridge Mafia' including cabinet ministers Michael Howard, Kenneth Clarke, John Gummer and Norman Lamont, who had dominated CUCA and the Cambridge Union in the early 1960s.
---
Greville Janner and Michael Howard; patrons of the Cambridge University Jewish Society
---
Oliver Letwin –of BBC & Kids Company csa scandal –  member of the Cambridge University Liberal Club.
---
The Cambridge Connection – A surprising number of 'names' had either gone to Cambridge or had later become Barristers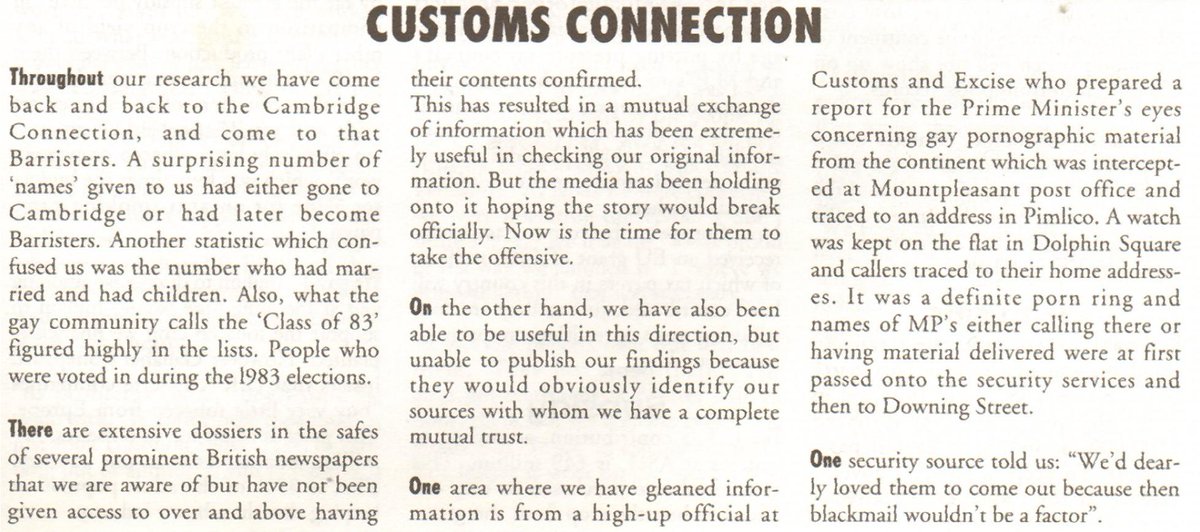 Cambridge/Blunt/Queen Elizabeth

---
DISCLAIMER: THE POSTING OF STORIES, COMMENTARIES, REPORTS, DOCUMENTS AND LINKS (EMBEDDED OR OTHERWISE) ON THIS SITE DOES NOT IN ANY WAY, SHAPE OR FORM, IMPLIED OR OTHERWISE, NECESSARILY EXPRESS OR SUGGEST ENDORSEMENT OR SUPPORT OF ANY OF SUCH POSTED MATERIAL OR PARTS THEREIN.