Update:
Elders of Cape Town church expel alleged abuser John Smyth
09 June 2017

 

John Whittingdale: was a student (aged 14-18 yrs old) at Winchester College  1973-1977 when sadomasochist John Smyth was beating students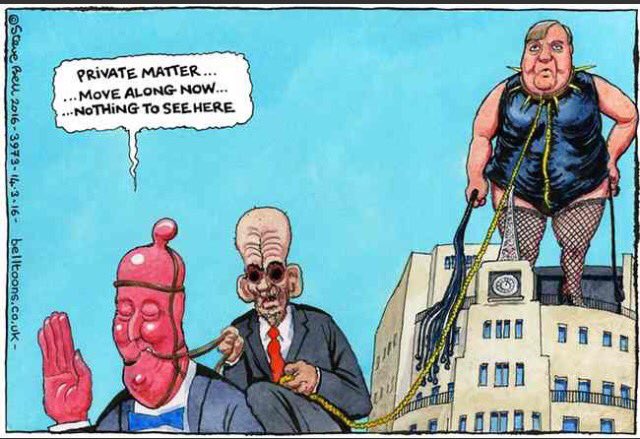 ….and John Whittingdale's older half-brother, school teacher, Charles Napier, was part of an elite paedophile ring and a member of PIE – Paedophile Information Exchange
Paedophile Charles Napier deliberately got a job at a boarding school so he could prey on pupils aged eight to 13.
http://www.express.co.uk/news/uk/548566/Half-brother-of-Tory-MP-John-Whittingdale-jailed-for-historic-abuseOlder half-brother
In 1972, Napier was found to have indecently assaulted pupils at a Surrey school where he was working. After being banned from teaching, he left the country.
John Whittingdale 1992
Back in England, Napier was jailed for nine months in 1995 for sexually abusing a 14-year-old boy he'd lured to his home in the 80s.
http://rigorousintuition.ca/board2/viewtopic.php?p=484671
Charles Napier was born in 1947 and John  Whittindale in 1959. – Paedophile Charles Napier was 12 yrs-old when little half-brother John was born.
Was Charles Napier a mentor to younger half-brother, John?
John Whittingdale's father died in 1974 when John Whittingdale was 15 yrs old.
https://www.ncbi.nlm.nih.gov/pmc/articles/PMC1612147/pdf/brmedj02000-0085.pdf
Both brothers have remained close to their mother.  Charles Napier was living with their mother when he was arrested.
http://www.gazette-news.co.uk/news/4682762.display/#

Mr Whittingdale is perfectly positioned to talk about the measures he and his family took to alert the relevant authorities whenever Napier took up a new post with access to children.
Mr Whittingdale will have the crucial insight into the family or environmental background that creates such a monster.
When letters arrived from Sweden, Cairo and Turkey to family members during a period when Napier was banned from teaching and Mr Whittingdale was firmly embedded in Non 10, what dilemmas did the family face, how did they deal with family loyalty as opposed to public duty expected of a powerful public figure.
https://spotlightonabuse.wordpress.com/2013/02/14/peter-righton-charles-napier-david-cameron-john-whittingdale/
The Guardian
(London, Greater London, England)
28 Aug 1996, Wed  • Page 27
"Charles is such a trial to my mother. Every time he gets sacked, she asks him why he can't find some work which doesn't involve children. And then after being on the dole for awhile, he rings her up in great excitement and says ' Marvellous news, mummy, I've got a new job -it's in a youth club…'"
https://books.google.com/books?id=vyBlAAAAMAAJ&dq=%22Charles+is+such+a+trial+to+my+mother.+Every+time+he+gets+sacked%2C+she+asks+him+why+he+can%27t+find+some+work+which+doesn%27t+involve+children.+And+then+after+being+on+the+dole+for+awhile%2C+he+rings+her+up+in+great+excitement+and+says+%27+Marvellous+news%2C+mummy%2C+I%27ve+got+a+new+job+-it%27s+in+a+youth+club&focus=searchwithinvolume&q=%22Charles+is+such+a+trial%22
Half-brother of Tory MP John Whittingdale jailed for historic abuse
John Whittingdale business links:
Ukranian Society along w/ LORD RICHARD JOHN GRENVILLE RISBY –
---
Henniker- Major (British Council) – his ex- son-in-law Risby– who was involved in a threesome
Henniker-Major –
Paedophile friends of Charles Napier – Peter Righton and partner Richard Alston were  allowed to live on and have children visit, Henniker's Thornham Magna Estate.
https://scepticpeg.wordpress.com/2016/09/27/operation-clarence/
2012 Algerian President Bouteflika (left) shakes hands with Lord Richard Risby
Risby was a  director at THE BRITISH SYRIAN SOCIETY LIMITED along with Tim Pendry, (Exaro) Lord David Steel, Sir David Alwyn Gore-Booth
 Spring subsequently served as PPS to  to Nicholas Soames  [13]
https://alchetron.com/Richard-Spring,-Baron-Risby-436515-W
Nicholas Soames is a very close friend of Prince Charles and the royal family.
---
---
Abuse scandals probe : The man who may hold key to UK's biggest paedophile network ever
http://www.mirror.co.uk/news/uk-news/charles-napier-arrest-half-brother-tory-1998917
Charles Napier could provide vital evidence for police investigating a child abuse scandal spanning three decades
http://www.mirror.co.uk/news/uk-news/paedophile-scandal-charles-napier-could-1430365
---
3.04.17
Child abuse survivor wins out-of-court settlement, giving evidence against establishment figures
In his diaries, Righton scored children according to how far the abuse went. This practice was revealed to Parliament by Tom Watson MP, whom Mr Briggs consulted after reading about Righton in a newspaper article.
It was following discussions with Tom Watson that Mr Briggs gave a statement to the police, as part of their Operation Fairbank into a high level paedophile conspiracy operating from Westminster.
Mr Briggs also approached specialist child abuse lawyer Tracey Emmott of Bedford-based Emmott Snell.
Cyril Smith and Lord David Steel
He was taken by Righton in his car to London, to meet a man he later recognized as Cyril Smith, the leading Liberal politician. Smith was later revealed to have been a serial paedophile.
---
Righton also boasted of other friends in high places, including the late Leon Brittan, who was home secretary at the time.
Brittan has come under scrutiny in several child abuse investigations, though has been cleared of involvement in at least one. His widow has received an apology from the police.
But Righton claimed Brittan could influence judicial procedures in his favour should Mr Briggs ever find himself in trouble.

Mr Briggs recalls that Righton was known as 'the general' among his friends who called at the flat and in telephone calls.
Charles Napier and Peter Righton
Charles Napier, another convicted paedophile and friend of Righton and Alston, also visited the flat to gain access to Mr Briggs and his friends.
Napier was convicted and sentenced to 13 years' imprisonment in 2014 for sexually abusing boys between 1973 and 1983. He was the treasurer of PIE.
http://emmottsnell.co.uk/news.php?id=1492076761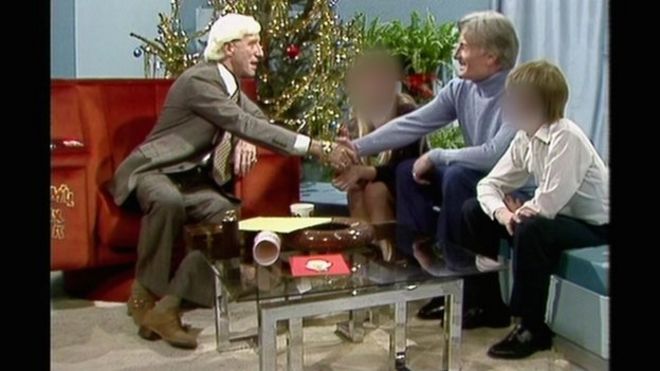 Sir Jimmy Savile and Freemason & PIE member Keith Harding
Clockmaker Keith Harding played vital role in Britain's biggest child sex ring
The pervert met regularly with

MPs Leon Brittan and Cyril Smith at his world-renowned workshop. 
The former Liberal leader Jeremy Thorpe would also drop by along with key members of the vile Paedophile Information Exchange Steven Adrian Smith and Tom O'Carroll.
A PIE list seized in 1984 records Harding, who died last year aged 82, as member 329 and his address as Hornsey Road, Holloway, north London.
He is understood to have kept hidden a list of more than 1,000 PIE members with prominent names including top politicians from the Thatcher era. 
 "Leon Brittan and Cyril Smith were both regular visitors to the shop. 
Usually they would come in via the side door, other times they would ring the bell at the front entrance and come in. 
"They'd straight away ask for Keith who would be coming down the stairs. 
"Then they would then either go up to his office for a private meeting or they'd go out for several hours." 
The former worker added: "The shop had many high profile customers, including the Royals.
http://www.express.co.uk/news/uk/576187/Keith-Harding-MPs-Leon-Brittan-Cyril-Smith-Jeremy-Thorpe

Knowl View School Cover-Up
Knowl View: Report into abuse at Rochdale school 'suppressed'
Where Cyril Smith and others abused children.
One former pupil called Peter says he was abused by a staff member on the first day he arrived at the school at the age of 11.
He said the "worst nights" were when people were brought from outside the school.
"We were raped. There was a flat. We were taken there and plied with drink and raped."
http://www.bbc.com/news/uk-27687351
---
Charles Scott Napier was born into the very heart of the British Empire's military and intelligence establishment.  

The only son of John Whittingdale FRCS[4] and Margaret née Napier,[5] via his mother Whittingdale is in distant remainder to the lordship of Napier.[6]
At the time of his paedophile offences one of Napier's distant cousins was married to Sir Peter Hayman, a senior MI6 officer who was later himself exposed as a paedophile though never prosecuted.
How did  Charles Napier manage to continue teaching even after his first conviction for indecent assault in 1972?
http://thameshouse.net/2014/11/18/charles-napier-related-to-fellow-paedophile-in-mi6/
In 1981 – on National Institute for Social Work headed paper – Righton wrote a letter to DoE:
In my view, Mr Napier is a gifted teacher of both adults and children.  I believe that, during the years since his conviction, he has acquired a knowledge and disciplined mastery of himself which would justify the conclusion that he no longer constitutes a sexual risk to children in his charge.  It would give me great pleasure – and cause me no anxiety – to hear that the Secretary of State had reviewed his decision of 24 November 1972, in Mr Napier's favour.
https://scepticpeg.wordpress.com/2016/09/27/operation-clarence/
More here
---
Claims John Smyth recruited victim – now head of top prep school – to help him carry out beatings

"John Smyth beat me first, appallingly, with his usual force. Then Simon Doggart took over while John watched", said one victim who wished to be anonymous.
"I recall immediately the absolute brutality of his beating – far, far worse than Smyth. There was no discussion, no emotion that I recall, just a fit sports man using all his force.
"Then it was over, this was going to be the new regime," he told the BBC.
The leading QC is accused of having brainwashed 22 young men Britain's oldest public school, Winchester College in what victims now describe as a "cult", persuading his victims the beatings could purge them of their sins.
Among them was Andy Moorse, who was 14-year-old pupil at Winchester College in 1975 when he was groomed. In less than two years, Moorse was accepting regular and violent beatings in  Smyth's garden shed, he told the BBC.
He revealed the boys would "bleed everywhere" from the beatings and when the beatings became too physical for Smyth to carry out alone, he claimed recruited Doggart to his cause.
The BBC said it had spoken to Doggart's victims and had been handed nine hours of recording left unheard for years which reveal the full extent of the abuse. On one occasion, a victim was beaten for 12 hours.
http://www.telegraph.co.uk/news/2017/04/11/john-smyth-recruited-victim-now-head-top-prep-school-help/
Simon Doggart attended Horris Hill 1969-1974
Simon Doggart's great-uncle: James Hamilton Doggart –

member of the establishment and secret society – The Apostles

– members included Soviet spies Anthony Blunt and Guy Burgess
https://www.revolvy.com/main/index.php?s=James%20Hamilton%20Doggart
The Apostles came to public attention again following the exposure of the Cambridge spy ring in 1951. Three Cambridge graduates with access to the top levels of government in Britain, one of them a former Apostle, were eventually found to have passed information to the KGB. The three known agents were Apostle Guy Burgess, an MI6 officer and secretary to the deputy foreign minister; Donald MacLean, foreign office secretary; and Kim Philby, MI6 officer and journalist.
Writers have accused several other Apostles of being witting Soviet agents. Roland Perry in his book, The Fifth Man (London: Pan Books, 1994) makes a circumstantial case against Victor Rothschild, 3rd Baron Rothschild, who was a friend to both Burgess and Blunt.
Jimmy's work required him to spend weekdays in London where he spent many evenings with friends at the Garrick Club.
A painting still hangs there, depicting a trip by Garrick members to the Derby. Jimmy is portrayed rapt in conversation with a colourfully dressed gypsy woman. …he seems unaware that a smudge-faced child, possibly the son of the gypsy, is sneaking his little hand into his pocket.
Order of the Knights of St. John
https://en.wikipedia.org/wiki/Cambridge_Apostles
https://en.wikipedia.org/wiki/James_Hamilton_Doggart
http://www.telegraph.co.uk/education/expateducation/8530207/Schools-in-Sweden-cant-be-beaten-corporal-punishment-around-the-world.html
Simon Doggart attended Horris Hill
---
Simon Doggart / Caldicott School
https://www.premier.org.uk/News/UK/More-claims-emerge-of-alleged-abuse-at-Christian-camp
Pupils at Caldicott School, Farnham Royal, Buckinghamshire suffered child sexual abuse over a number of years and a number of abusers. It is now a charity [4], as are many "public" schools.  It is not known what the status of the school was when child sexual abuse offences were being committed by its teachers and covered up by the school.
Known abusers so far were
Peter Roland Wright, former Caldicott pupil [23], was finally charged and convicted in 2014. Previous attempts to indict him failed in 2003 due a Judge deciding it was too great a the length of time since offences and the defendants health. A stay on that indictment meant he only faced charges from new victims who came forward. He was sentenced to 8 years. He was tried with offences from 1964-1970 [3]. Victims were mainly 11-13 years old [3]. He was at the school from 1952 -1993, the last 25 years as Headmaster. Wright, and when Headmaster covered up Marton Carsons abuse [1] See also Court Appeal Roland Peter Wright 5 August 2014 Court of Appeal[3] Peter Wright still lived at a cottage overlooking the school after he retired, before his recent vacation in prison.
                                         Peter Roland Wright – Serial Child Abuser
Hugh Edward Henry admitted 13 counts [3] including two counts of incitement to gross indecency and eleven counts of indecent assault [9][12]. He is thought to have been at Caldicott between 1958-1963  and offences on one boy were from 1962-63 [12]. He committed some of his offences at his bedsit and on a school skiing trip with Peter Wright. He was also charged with offences at Gayhurst School, Gerrards Cross. Little else is known of his offending, where else he worked and any other possible offences. He killed himself by walking in front of a train before sentencing. [12]
John Addrison, another former Caldicott pupil [34], was charged in 2012 with offences at Caldicott between Jan and July 1978 and at Moor Park School, Ludlow between 1985 and 1988 and sentenced to roughly 5 years.  It is also not clear what he did straight after leaving Caldicott; when he started at Moor Park school or what he did after being dismissed from Moor Park School in 1988, although he was teaching in 2010 [2]. It is not known if he committed further offences after 1988. Also see Government UK National College for Teaching and Leadership  Mr John Addrison: Professional Conduct Panel outcome Panel decision and reasons on behalf of the Secretary of State for Education [2] pdf download, and reproduced in Appendix 1 below
Martin Carson, a science teacher, was found to be committing child sexual abuse offences at Caldicot in 1973, but it was covered up by the school and he received just a 5 year ban from teaching [6]. Carson was charged with two charges of buggery, eight charges of indecent assault and one count of possessing indecent photographs. He pleaded guilty in 2003 and was sentenced to just 2 years in prison. Details are lacking of offences, when employed at Caldicott. Carson resumed his career in 1980 at prep school in Eastbourne where he was appointed Head of Pastoral care [38] and he taught at Harrodian School, Bath, at the time of the video Chosen in 2008. It is not known if the committed further offences at these school or elsewhere [6]. 

George Hill Peter Wrights deputy in the 1970s killed himself which probably saved him from facing charges [33]
There is a good summary of legal outcomes on the Mandate Now website [28]The Caldicott Trials and Outcomes [28] where there is also a video interview of Tom Perry with Jon Snow.
the boarding school that British politician Nick Clegg attended as a child; Caldicott School
Quote:
Caldicott Preparatory School became a charitable trust in 1968 under the Headmaster at the time Peter Wright.

Today there are around 250 boys. The present headmaster, Simon Doggart, was appointed in 1998; he came from Eton College where he taught history and was master-in-charge of cricket. He is a member of IAPS and the school's governors include past parents, old boys and headmasters of public schools.
According to the school's website, many pupils at Caldicott subsequently "win" places at major independent schools, such as Eton College, Harrow School, Winchester College, Marlborough College, Wellington College, Haileybury College and Radley College.
On 30 September 2008 the school was the subject of a feature documentary, Chosen, transmitted on More4 as part of the "True Stories" strand, about the sexual abuse that went on at the school during the late 1960s and early 1970s.[2] The headmaster Peter Wright was active in this, as well as a number of other teachers, targeting boys good at sports and, to a lesser extent, in the choir. In The Guardian published on the same day, a former parent alleged that Lord Justice Scott Baker former Chairman of the Board of Governors, and Simon Doggart the current headmaster, mishandled a case of alleged sexual abuse of their son by a teacher in the early 2000s.[3]
Martin Carson was dismissed for sexual abuse of a pupil in 1972, and went on to teach at the Harrodian School. He was subsequently prosecuted and found guilty of indecent assault and possessing indecent images of children in 2003.[4]link
---
He was awarded the Distinguished Service Order, the Croix de Guerre and the American Legion of Merit.
He had developed an excellent rapport with Edward Heath, then the Government's chief whip.
In 1959 Mr Heath became Minister of Labour and Low was appointed deputy chairman of the party, in charge of its organisation.
Aldington became chairman of the committee of management at the Institute of Neurology, of the BBC General Advisory Council, of the Independent Schools Joint Council, of the Kent Foundation, of the Brain Research Trust and of the trust that runs Leeds Castle. He was a Deputy Lieutenant for Kent, held the TD and clasp, and in 1999 was one of some 19 hereditary peers to receive life peerages.
http://www.telegraph.co.uk/news/obituaries/1377426/Lord-Aldington.html
Leeds Castle Foundation
HRH Princess Alexandra Ogilvy, Patron of Leeds Castle Foundation
Aldington (deputy chairman of the Tory party during the Vassall and Profumo affairs
http://www.thinkinganglicans.org.uk/archives/007448.html

Lord Aldington married, in 1947, Araminta Bowman (nee MacMichael), daughter of Sir Harold MacMichael, High Commissioner and Commander-in-Chief for Palestine in the Second World War.
Both Lord and Lady Aldington sat on committees with Princess Alexandra – who, along with her her husband Angus Ogilvy was very close to prolific establishment paedophile Sir Jimmy Savile.
Jimmy Savile and Princess Alexandra
Police cover up Savile's claims to be friends with Queen's cousin: Paedophile 'visited school at centre of abuse allegations with Princess Alexandra'
http://www.dailymail.co.uk/news/article-2550472/Police-cover-Saviles-claims-friends-Queens-cousin-Paedophile-claimed-visited-school-Princess-Alexandra.html
Lady Aldington founded the Jacob Sheep Society in 1969 along with a small group of fellow Jacob enthusiasts & right up until her death, she played an active role in the development of the Society
The Society was founded in 1969 by a small group of dedicated breeders who were concerned at the reducing numbers of pure bred sheep.
Debo Mitford
The first President of the Society was the Dowager Duchess of Devonshire "debo"  – Prince Charles and Jimmy Savile's friend)

Elvis crooning. An honour guard from below stairs. Debo departs in fine style: Charles, Camilla and her ex mourn beloved Duchess
After her death was announced, Prince Charles paid tribute to his close friend, saying: 'My wife and I were deeply saddened to learn of the death of The Dowager Duchess of Devonshire, whom both of us adored and admired greatly
The cortege set off from Chatsworth House, the place to which the Dowager dedicated her life.
http://www.dailymail.co.uk/news/article-2778752/Elvis-crooning-An-honour-guard-stairs-Debo-departs-fine-style-Charles-Camilla-ex-mourn-beloved-Duchess.html
Deborah Devonshire interview: Elvis, Hitler and the Mitford sisters
In this 2007 interview, 'Debo', Dowager Duchess of Devonshire, talks about her relationships with her famous sisters and her love for Elvis Presley
http://www.telegraph.co.uk/culture/culturenews/11119359/Deborah-Devonshire-interview-Elvis-Hitler-and-the-Mitford-sisters.html
Jimmy Savile was friends with Elvis Presley (who also had a very close relationship with his mother and liked young girls)
1964 Elvis on the "Roustabout" movie set with Jimmy Savile
Jim: I used to go over when he was making a film, and I would spend a week on the set with him and I was on the set of Wild in the Country, Viva Las Vegas…
I was his pal and the colonels pal for the next 10-12 years.
http://sabotagetimes.com/reportage/jimmy-savile-interviewed-i-always-have-a-policy-of-quitting-at-the-top/
Elvis was presented with Gold Award by Jimmy Savile for 'Its Now or Never' – went multi-platinum – 9 million sales by On the set of 'Wild In The Country'
Inside Wild In The Country Page 3 – On set & Location 1960
Elvis with young Jimmy Savile who work at British television. here on the set of Wild in the country (fall 1960)
Savile – the famous child procurer with Elvis
\
1964 Elvis on the "Roustabout" movie set with Jimmy Savile
Deborah Cavendish, Duchess of Devonshire
Known to her family as "Debo", Deborah Mitford married Lord Andrew Cavendish, younger son of the 10th Duke of Devonshire, in 1941. When Cavendish's older brother, William, Marquess of Hartington, was killed in combat in 1944, Cavendish became heir to the dukedom and Marquess of Hartington; in 1950, upon the death of his father, he became the 11th Duke of Devonshire.
The Duchess is the maternal grandmother of the fashion model Stella Tennant and a maternal aunt of Max Mosley, former president of the Fédération Internationale de l'Automobile (FIA).
From his auction..
A collection of Christmas greetings cards, including from members of the Royal Household, four from Princess Alexandra (1936- ) The Honourable Lady Ogilvy and Sir Angus Ogilvy (1928-2004); and two handwritten postcards from Deborah (1920- ) Duchess of Devonshire, signed 'Debo' (approx. 30)
Provenance: From the estate of Sir Jimmy Savile. OBE, KCSG, LLD (1926-2011)
Her sister Unity:
Unity Mitford staged Nazi orgies as a gift of love to Hitler: She lost her virginity to Oswald Mosley on a billiard table… Then she targeted the Fuhrer
Unity Mitford's scandalous liaisons are unveiled in a new biography
Aristocratic family tried to paint relationship with Hitler as youthful fancy
http://www.dailymail.co.uk/news/article-2455171/Unity-Mitford-English-debutante-staged-Nazi-orgies-Hitler-lost-virginity-Oswald-Mosley.html
Lady Aldington and Ted Heath
The Society is a registered charity No 1026687 and became a company limited by guarantee in 1979. Its aims are to foster the breeding and promote interest in the Jacob sheep both in the United Kingdom and abroad.
The Society is honoured to have HRH Princess Alexandra, the Hon Lady Ogilvy, KG, GCVO as our Patron.
http://www.jacobsheepsociety.co.uk/organisational_structure.htm
Jaclub – the charity has children involved
Reece Fenton even managed to spread the Jacob message to Royalty. He chatted away to Prince Charles at The Great Yorkshire Show whilst competing in the Young Handlers Class. I am not sure if Reece managed to sell the Prince any sheep- if he has his Grandad's (John Fozzard) selling skills then I am sure Prince Charles is putting in his order now!
http://www.jacobsheepsociety.co.uk/JACLUB.htm
Lord Charles Aldington, whose father was a close friend of Sir Edward, and who knew him from childhood, also questioned the decision of the police to appeal for "victims" to come forward.
http://www.telegraph.co.uk/news/2016/11/15/police-accused-of-cynically-smearing-the-reputation-of-sir-edwar/
Lord Charles Aldington Senior Advisor at Deutsche Bank London and Chairman of Stramongate Ltd, a private investment company.
His early career was with Citibank and Grindlays Bank in New York, Hong Kong, Düsseldorf and London.
He is also Deputy Chairman of the Royal Academy Trust, a Trustee of the Institute for Philanthropy, Vice President of the National Churches Trust, a member of Oxford University's Court of Benefactors, Chair of the New College Development Committee, and a Governor of the Ditchley Foundation.
Lord Aldington was educated at Winchester College; New College, Oxford
http://nyustern.imodules.com/s/1068/GroupBus/3col.aspx?gid=2&pgid=2094
Ditchley Foundation – Boateng, Bottomley, Rifkind, Mandelson etc
https://en.wikipedia.org/wiki/Ditchley_Foundation
Charles Low is a member of the Business Advisory Council to the Said Business School
Saïd Business School  is named after its chief benefactor Wafic Saïd, a Syrian-Saudi Arabian billionaire arm dealer and financier, who has donated £70 million to date.[2]
https://en.wikipedia.org/wiki/Charles_Low,_2nd_Baron_Aldington
As a British army officer in Austria at the end of World War II, Lord Aldington — then known by his given name, Toby Low — oversaw the repatriation of thousands of Cossack and Yugoslav refugees [ Ed. … and, of course, the ethnic Germans from the Soviet Union and the Baltic states] . Many were subsequently killed or interned in prison camps.
At the libel trial, Lord Aldington agreed that the refugees' fate was "ghastly"
http://www.thetruthseeker.co.uk/?p=214
Jamie Colman
Rev Sue Colman – has safeguarding role

T

he Charity Commission yesterday launched a probe into the Zambesi Trust, which Mr Colman began chairing in 1989, after he admitted it funded Mr Smyth for nearly thirty years, despite Mr Colman knowing that the barrister had admitted beating boys and showering naked with them.
https://companycheck.co.uk/company/01499601/THE-SOUTH-AFRICAN-BUSINESS-INITIATIVE/companies-house-data
Lynn with her husband Sir Evelyn de Rothschild and Bill and Hillary Clinton in 2003
http://beta.charitycommission.gov.uk/charity-details/?regid=326752&subid=0
Home For Good
---
Update Feb 8 2017
Archbishop admits Church 'failed terribly' over abuse revelations
The Church of England has tonight apologised unreservedly after a Channel 4 News investigation revealed that a prominent Anglican evangelical and former colleague of the Archbishop of Canterbury is alleged to have severely assaulted boys and young men for decades.
Mr. John Smyth, QC, MA, LLB Trinity Hall and Cambridge.
The alleged abuse was carried out by prominent QC and part time judge called John Smyth, who was chairman of the Iwerne Trust, a charity closely linked to the church which ran Christian holiday camps for public school students.
The Church admitted that it had "failed terribly", after this programme learned that the Trust had discovered the alleged abuse in 1982, but failed to report it to the police.
Winchester College, where some of the young men met Smyth, was made aware of the alleged abuse, but also failed to report it to the police at the time. There is no suggestion that any abuse took place at the College or with the knowledge of its staff.
The Archbishop was a colleague of Smyth's at the Iwerne Trust.
Smyth was never reported to cops.
He was instead allowed to move to South Africa after agreeing never to work with children again.
Neither the church or top Winchester College, were some boys went, told police 
PJ Smyth's church
Another Covenant Life Church Member Arrested for Sexual Abuse
March 28, 2016
UPDATE – March 30, 2016
Covenant Life Church sent the following email to their members yesterday:
March 29,2016
Dear church family,
I am sorry to bring sad and disturbing news. We learned Saturday that a 66-year-old male member of the church was arrested earlier this month and charged with multiple counts of sexual abuse of a minor. We are grateful that law enforcement is involved. We are not naming the accused at this time to protect the minor.
We've been learning all we can so that we can communicate with you fully and accurately in the days to come. We want to reassure you that our child protection measures are robust, and we continue to work hard to ensure Covenant Life remains a place of safety for children.
So far as we know nothing related to these charges occurred at the church. However, if you have any information we encourage you to contact Montgomery County Police at 301-279-8000.
Sincerely,
Mark Mitchell
The idea that Covenant Life Church is not releasing the perpetrator's name because they want to protect the victim's privacy is an appalling lie. The alleged perpetrator's arrest is a matter of public record on the MD court case website. How are church members supposed to know if their kids have been associating with an unnamed pedophile? How are CLC members realistically expected to report any information on an unnamed pedophile to the Montgomery County Police?
Covenant Life Church is a mess. They cannot even get a simple letter notifying members of a dangerous pedophile in their church right. I think it is most likely that they knew on the 16th when Caffery was arrested; but even if they didn't find out till Saturday, why did it take 4 days to send out a statement that essentially said nothing? And we are to believe they have "robust child protection" policies?
https://thouarttheman.org/2016/03/28/another-covenant-life-church-member-arrested-sexual-abuse/
When we last heard from Covenant Life Church of Gaithersburg, Maryland they were reeling from stories in TIME and the Washingtonian which shined an unwelcome light on their sordid past of alleged sex abuse of children and the conspiracy to cover up the abuse.  They released the statement below in an attempt to tell people to "move along, there is nothing to see here."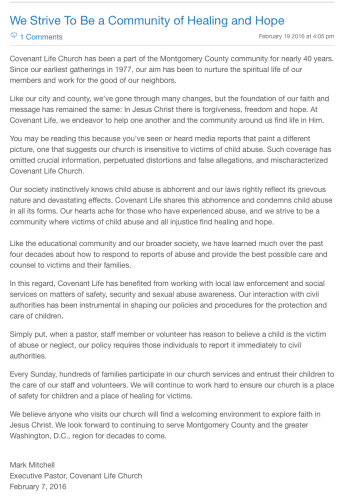 Fast forward six weeks and the CLC statement, undoubtedly crafted by their attorney, rings hollow as it is revealed yet another member of their church has been arrested and charged with sexually abusing a minor!
A Maryland Senate subcommittee held a  hearing on SB69 earlier this month.  The proposed bill would extend the statute of limitations for civil cases of sexual abuse from seven to twenty years. During the hearing, Senator Jamie Raskin stated that Covenant Life Church looks like something of a "clearing house for predatory sexual activities against children."
I would agree with Senator Raskin.
One is left to wonder how many more pedophiles will be arrested before Child Protection Services and Law Enforcement intervene with the intent of protecting children.
https://thouarttheman.org/2016/03/28/another-covenant-life-church-member-arrested-sexual-abuse/
---
Justin Welby worked as a dormitory officer at a camp where  John Smyth was one of the main leaders in the 70s
The Archbishop said he was first informed of the alleged abuse in late 2013 or early 2014.
He said: 'I was told the Bishop of Ely – it fell within his diocese – had been informed by a survivor of what had happened and had written to the police so we checked that indeed the police had been contacted immediately as per the Church rules.
'They had been, we keep an eye on it obviously, we kept in touch and found out what was going on.
'As you know, John Smyth had moved to Zimbabwe in the early 1980s, I understand, and it was not in the police's jurisdiction.
'I have a vague feeling I may have had a Christmas card in the 1990s and when I was living in Paris he passed through a 
The prosecuting counsel was

John Jackson Smyth

,

Mary Whitehouse's fellow traveller from the Festival of Lights
Conversion of an archbishop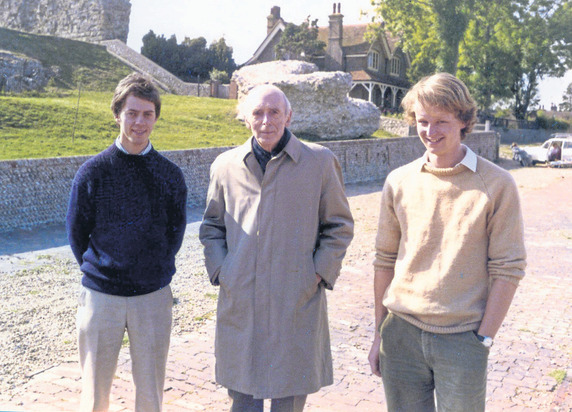 Justin Welby with 'Bash camps' founder Eric John Hewitson Nash, popularly known as 'Bash'
Welby's role was to be a mentor to the boys, as was that of his now wife at a similar camp for girls.
Much of Welby's early grounding in Christian doctrine was also gained through the 'Bash  camp' network…
Welby was involved in the camps as an undergraduate and and again as a theological college student in the early 1990s.
Strange that John Smyth QC lives in Cape Town, South Africa and Justin Welby was in South Africa over Christmas and the New Year visiting Desmond Tutu in Cape Town.
Sir Anthony Montague Browne arriving to visit Sir Winston Churchill in hospital with Dianna Churchill and Lady Churchill
Rings…John Symth/Archbishop Welby – Welby's biological father, Sir Anthony Montague Browne …one of Winston Churchill's private secretaries
Sir Anthony Montague Browne was a founder member of the Winston Churchill Memorial Trust, established in 1965, and served as chairman.
Rab Butler (PIE-linked) 's daughter, Churchill, Welby's father
http://www.telegraph.co.uk/news/2016/04/08/a-no10-hot-house-of-drinking-affairs-and-winston-churchills-beds/
Winston Churchill's right-hand man and an affair to shake the Establishment
Anthony Montague-Browne (Welby's father)  with Winston Churchill and Dwight Eisenhower in a helicopter on the White House lawn in 1959
Welby's biological father was Anthony Montague Browne,   Churchill's private secretary, who later worked for the Queen
Welby's biological father Anthony Montague Browne with Churchill and Onassis
In a statement the Archbishop said he had been friends with Smyth during the late Seventies, when he worked at the camps, run by the Iwerne Trust.
The Archbishop said he had kept in "occasional" contact with the barrister since.
He was made aware of the allegations in 2013 when the police were involved.
A statement from the Archbishop said: "The Archbishop of Canterbury was a Dormitory Officer at Iwerne holiday camp in the late 1970s, where boys from public schools learnt to develop life as Christians.
"The role was to be a mentor to the boys, as was that of his now wife at a similar camp for girls.
Winchester College, where some of the young men met Smyth, was made aware of the alleged abuse, but also failed to report it to the police at the time.
Many Royal visits to Winchester College
http://www.winchestercollege.org/UserFiles/pdfs/Royal%20VisitsFriendsLeaflet.pdf
Edward, Prince of Wales (Iater Edward VIII):
Archbishop of Canterbury's 'delightful' friend accused of killing teenager in Zimbabwe
A former friend of the Archbishop of Canterbury who left Britain amidst child abuse claims was later charged with killing a teenage boy in Zimbabwe.
Hampshire Police yesterday launched an investigation into claims that John Smyth QC, described by the Most Rev Justin Welby as a "charming and delightful" man, forced young men to endure savage sado-masochistic beatings after grooming them at Christian holiday camps in the late Seventies.
Channel 4 News will tonight report that Mr Smyth, who left Britain after the abuse claims emerged, went on to face charges of killing a 16-year-old boy who was found dead in a swimming pool at a Zimbabwean holiday camp.
The barrister was also accused of swimming naked with Zimbabwean teenagers, showering with them in the nude, and encouraging them to talk about masturbation.
In 1997 he was arrested over claims that he had killed Guide Nyachuru, a 16-year-old boy whose body was discovered at the bottom of the camp's swimming pool in December 1992. The case of culpable homicide was subsequently dismissed.
Edith Nyachuru, whose brother died at one of Mr Smyth's camps, say he would still be alive had the barrister faced justice in the UK
Court documents from the time state: "The particular allegations are that [Mr Smyth] made the complainants walk naked to the swimming pool at night; that he took showers with them in the nude; that he talked to them about masturbation and told them to be proud of their 'dicks'; as Jesus Christ had one; and that he assaulted them on their 'rear bare buttocks' with a table tennis bat."
The case against Mr Smyth collapsed in 1998, after he successfully persuaded Zimbabwe's Supreme Court that prosecutors had overstated the claims and failed to follow proper procedures.
A lawyer involved in the case told The Telegraph he had been "shocked" after the barrister privately admitted showering with the boys, and said he had warned Mr Smyth to stop.
Channel 4 News has tracked down boys who attended the camps, who insist that the allegations are true.
A 1982 report into the claims, commissioned by the Iwerne Trust, was carried out by Mark Ruston, the vicar of the Round Church in Cambridge, with whom the Archbishop lodged during the late Seventies, in his final year at university.
The Archbishop has said his friendship with the Reverend Ruston was "extraordinary privilege" and he was "inspired" by him.
A second friend of the Archbishop, the Reverend David Fletcher, was the trustee of the Iwerne Trust who led the investigation into the incidents.
---
A report by the Iwerne Trust, the charity that ran the Christian camps at which Mr Smyth met many of the victims, documents how he persuaded one of the boys to assist with the attacks.
Mr Ruston wrote that while some of the victims "seem amazingly resilient … the rehabilitation of S … is a cause of concern".
Mr Ruston's report says the young men were "conned" by the barrister into taking part in the naked beatings.
The report, written by Canon Mark Ruston, a close friend of the  Rev Justin Welby, said that the teenage boy, identified only as "S", was "brought into sharing the 'ministry' in the summer of 1980".
He wrote in the 1982 report: "There was considerable persuasion for anyone who held back. It had almost become a cult, with a powerful group dynamic.
"S, wanting to 'be the best for God', beat as hard as he could. "Immediately after the beating, the man lay on the bed, while [Mr Smyth] and/or S would kneel and pray, linking arms with him and kissing him on the shoulder and back.
http://www.telegraph.co.uk/news/2017/02/05/teenage-boy-forced-barrister-join-cult-beating-friends/
 

"M.A., Honorary Chaplain to the Queen Canon Mark Ruston"
An Honorary Chaplain to the Queen (QHC)[1] is a member of the clergy within the United Kingdom who, through long and distinguished service, is appointed to minister to the monarch of the United Kingdom.
---
Welby said he had only had fleeting contact with Smyth since. "I have a vague feeling I may have had a Christmas card in the 1990s and when I was living in Paris he passed through and I shook hands with him. That was the limit."
https://www.theguardian.com/world/2017/feb/02/justin-welby-church-england-john-smyth-abuse-claims
Archbishop Welby, was a colleague of Smyth's at the Iwerne Trust
Archbishop Justin Welby with Rabbi Laura Janner-Klausner, the daughter of Greville Janner. JANNER PART OF WORLDWIDE RING
Justin Welby "has a secret past smuggling in cold war Europe, briefing US state department officials on rebels in the Niger Delta and chatting to the future head of MI6 in Baghdad."
MI6 spy – Archbishop of Canterbury
John Smyth
Holmer United Charities (226243)
I am a retired member of the Bar of England and Wales, and was appointed  Queen\u2019s Counsel in 1979.
https://www.scribd.com/document/7040441/Smythe-Affadavit
Smyth was born in 1942 approx. and is age 75.
During the hearing, Senator Jamie Raskin stated that

Covenant Life Church looks like something of a "clearing house for predatory sexual activities against children.
https://thouarttheman.org/2016/03/28/another-covenant-life-church-member-arrested-sexual-abuse/

Police investigate alleged 'brutal lashings' by Christian leader
Police have today launched an investigation into claims that teenage boys from Britain's leading public schools were violently beaten, in what's been described as a "sadomasochistic cult" run by a lawyer with links to the Archbishop of Canterbury.
Operation Cubic, run by Hampshire Police, will examine allegations uncovered by Channel 4 News that John Smyth QC stripped and brutally lashed 22 young men he had groomed at the Christian youth camps he ran.
The QC, who acted for public morals campaigner Mary Whitehouse in her high profile anti-gay censorship trials, is alleged to have carried out the intense beatings in a specially sound-proofed garden shed at his Winchester home after meeting many of his "disciples" while giving talks at nearby Winchester College.
From 1979 the beatings are alleged to have escalated in frequency, severity and the number of teenagers involved. About half of the victims attended Winchester College, England's oldest public school, where Smyth appeared to have access to students.
Smyth encouraged the pupils to attend the Iwerne Trust camps where he cultivated small groups of followers in their late teens. They were invited to his home for Sunday lunch.
The report's author, Mark Ruston, a vicar and also a friend of Archbishop Welby, said the punishments began with "training beatings" that were "semi-naked" which "gave way to complete nakedness to 'increase humility'.
The teenage boys were reportedly told: "You want to be the best, don't you? Let me be a helper to you".
The alleged violence intensified. One boy said, "I could feel the blood spattering on my legs", another said, "I fainted sometime after a severe beating". One simply stated: "I was bleeding for three-and-a-half weeks".
---
Dear Archbishop of Canterbury: Can you look yourself in the mirror and honestly say you did everything you could to expose John Smyth?
 Feb 6 2017
The open letter calls on the Archbishop to reconsider his statement that he first heard of abuse in 2013
Dear Archbishop,
I am sure that we will meet one day. You have expressed your deep regret about how the Church has treated myself and my fellow victims since John Smyth's abuse was uncovered. And besides, we have a lot in common. We are pretty much the same age. You went to Eton, I went to Winchester College. We have shared a university education.
We were both at the Iwerne Trust Christian camps at the same time, although I was there as a boy, you were there as an Iwerne Officer. Crucially, however, we both personally knew John Smyth, the subject of Channel 4's news reports last Thursday & Friday. He was my abuser. The man who beat me in the horrific detail that was exposed in the television reports (and that I have written about in my account for Monday's Daily Telegraph, the newspaper that, in my opinion, bravely ran this story before all others).
You have described John Smyth as 'charming' and 'delightful'. Some people have found these words a strange description for someone who is alleged to have performed such monstrous acts, but I completely agree with you. I first met John Smyth when I was 14 years old. He was charming and delightful. That was why I latched on to him.
Watch | Reporter tracks down man at centre of abuse allegations
01:21
I was at Winchester College at the time. I had been educated away from home since the age of 7. With respect to all the adults that I met during those years of boarding school, John Smyth was probably the first man who seemed genuinely interested in me. Only a 'charming' and 'delightful' man could have attracted so many young, impressionable men into his cult.
I was beaten by John on a 4-6 weekly basis from the age of 16 to 21. I was 'in' at the beginning and 'out' at the very end. I actually brought about the end of the beatings in the UK when I tried to commit suicide because I couldn't face the 'special' beating that he had planned for my 21st birthday. By then, for me, it had been over four years and thousands and thousands of lashes. My body couldn't take it anymore. My mind was frozen in trauma. I was ready to die. Death would have been a relief.
That was in 1982. In 2016, a friend and fellow victim told me that Channel 4 were conducting an investigation into John Smyth – an investigation into the alleged physical abuse that John Smyth handed out in the UK and subsequently continued in Zimbabwe. The first words that my friend said were 'I hope you don't mind me telling you…' but we soon reflected that in fact neither of us minded that complete strangers were uncovering our secret past.
Watch | Archbishop of Canterbury: I saw no signs of abuse
03:04
We were in fact overjoyed, elated. Why? Well over the intervening years, all of those who had been involved in the beatings had gradually drifted away from each other and lost touch. We had all been great friends at school, often best friends at university and Iwerne Trust Christian camps but, as we had grown older and appreciated the acts of John Smyth for what they were, a terrible catalogue of abuse, we simply found it easier not to meet up, not to socialise, because every time that we saw each other it reminded us of the horrors of the past and, equally troubling, the fact that none of us or our families had ever reported John Smyth to the police, none of us had ever broken the bond of secrecy that we had sworn to him and each other while the abuse was occurring.
And so, in our adult years we had become gradually isolated, intentionally separated from each other. Why am I saying 'we' and not just reflecting my own experience? Because, once I learned that Channel 4 were investigating John Smyth. I found that instead of wishing to remain isolated, I positively wanted to search out all my old friends, my fellow victims. I wanted to reconnect and spread the news that Channel 4 and the Daily Telegraph (not any of the institutions that we had imagined might one day get in touch) wanted to listen to our story, to understand our experiences with John Smyth, to build a picture of everything that had occurred to us from 1978 to 1982.
The world is quite different now. I found most of my old friends and fellow victims within a few minutes of opening  my laptop: they were on Facebook, LinkedIn, all the social media sites. We were pretty much all there. And we were all delighted to make contact. In the four months that I was involved in assisting various reporters, I have either spoken to or messaged about half of John Smyth's alleged 22 UK victims. I have even spoken to one of the people who described to me the very similar way that John Smyth had beaten him in Zimbabwe.
In those conversations, I soon became aware of an interesting thing. None of us were really bothered to talk about John Smyth. We knew everything that he had done to each of us. How appalling it had been. How cruelly and malevolently he had used some individuals in particular. That went without saying. We also weren't particularly curious about what jobs we were doing, whether we had married, had children etc. That didn't seem important. We were most concerned about each other's well-being, we kept saying 'I hope you're okay.' Even as we talked or messaged, we continually checked that the other person was comfortable with describing how they felt.
And we discovered that although we had experienced a wide range of mental turmoil, depression and trauma in the intervening years, we all universally had an impression that the media investigation was a GOOD THING – that although it was difficult, shameful to talk to the Channel 4 team and reporter Peter Robertson on behalf of the Daily Telegraph, it  was actually a cathartic experience. Because someone was asking us sympathetically what had happened, how we felt. And we all felt a bit better for it.
Because, Archbishop, that is one of the important points that I would like to convey in this letter, from all the victims that I have been in touch with, no matter how different our outcomes. The media asked us, we told, they listened and they reported. Prior to that, none of us had been contacted since 1983 by any of the four institutions that had known our story or had come to learn of it. Actually, that's not quite true. One of us, one of the victims had contacted the church himself in 2012, reported his experiences, which in turn prompted the police 'investigation' that you told us about in your comments to the press.
But that was him bravely contacting the church , not the church or any institution contacting him. And we know that the police investigation collapsed very quickly because they have said that they were not provided with enough evidence to make a case.
So, let's consider these four institutions, the ones who at some point or other knew about John Smyth's abuse before the Telegraph's first story last Thursday morning:
The Iwerne Trust – were aware of the whole story in 1982. I can say that unequivocally because they commissioned a report by your fellow Iwerne Minster Officer and great friend the Reverend Mark Ruston in the Spring of 1982. Channel 4 showed me the report. It has the initials of the Iwerne Trustees at its head, many of whom are still alive, some holding very influential positions in the Church of England.
It's an incredible account. It contains, in my opinion, the whole story in a few pages. Every detail is correct to my mind: the number of victims, the scale of the abuse, the criminal act that was broken, the trauma that the victims were likely to suffer. Amazing.  A couple of months after I tried to commit suicide in 1982, everything that anyone would need to know Mark Ruston has written down.
Identities of all the victims are protected by initialisation but I've subsequently found out that in order to compile the report enormous efforts were made to contact my friends and fellow victims. They had nearly all been interviewed by Mark Ruston. That's why it's so accurate. It's a succinct distillation of everything the victims knew and some remarkable interpretation by Mark Ruston himself.  At the time, I was in hospital. He didn't contact me. But even though I never met him I still to this day consider it to be completely accurate.
The Titus Trust – set up in 1997 and who took over the Iwerne Trust fundraising and have run very similar Christian camps for young teenagers up to the present day. Time and space prevents me from naming the personnel who have been involved in both Titus and the Iwerne Trust. Titus have told the media (not the victims) that they were aware, by their own admission, in 2014 of John Smyth's activities. They've said that this was the first they'd ever heard of the abuse.
Apparently, Mark Ruston's report that the Iwerne Trust commissioned in 1982 somehow never got handed over in the paperwork exchange between Iwerne and Titus. Somehow, all the people who were involved at any time in both the charities never mentioned anything about John Smyth's horrific practice to each other. We do know that Titus asked Andrew Graystone, a PR advisor to Christian organisations, to advise them about how to deal with the knowledge that they had suddenly 'discovered'.
Mr Graystone recommended to the Titus Trust that they should make a full, proper independent investigation, inform the police and contact any institution or individual that might have known anything about John Smyth in order that the Titus Trust would be able to reveal the whole story. And, as Mr Graystone advised, that this was the specific, unequivocal type of action that would be most helpful to the victims of the abuse.
Titus didn't hold that independent investigation. Instead, they relieved Mr Graystone of his advisory position and got in touch with their lawyers. They did notify the police. The police never contacted myself or any of the victims that I have spoken to. It appears that, outside of the one victim who had reported John Smyth, there was no corroboration from anyone or any institution that persuaded the police that there was enough evidence for the investigation to continue. The victim who reported was told as much. Titus offered him no direct support, admitted no responsibility.
Two private individuals (one of whom Channel 4 has identified as David Fletcher of the Iwerne Trust) paid anonymously for 10 therapy sessions. To put that useful counselling into perspective, I have been lucky enough to have received approximately 400 hours of therapy. I am still receiving therapy at the Maudsley Hospital in London and the therapy I'm receiving now is fantastic, really helpful. But it took me 10 years to find a therapist who could even identify the exact nature of my trauma. 10 years for me. Only 10 sessions offered to the one victim who reported. And none of those sessions paid for by the Titus Trust.
Winchester College – informed of the abuse in 1982 by the Iwerne Trust. I say the College, because it was actually the headmaster of the College, John Thorn, who  was informed by David Fletcher on behalf of the Iwerne Trust. I know that the Headmaster confronted John Smyth and drew up an undertaking for Smyth to sign, to prevent him from ministering to young children again. One of my parents saw that undertaking. Other victims' parents too. But they never saw that document signed by John Smyth. And I know crucially that the promise at the bottom of the document that the Headmaster, John Thorn, made as his own personal 'undertaking' – a promise that he would distribute to all future headmasters was not kept. I know this for certain. I'll tell you how I know, when we meet.
The Church – it's really over to you on this one. I'm sure that you'll tell me all the details from your end and 2012 onwards when we meet. So that can wait. Wow! That was a long letter. But then it has been over forty years since I first met John Smyth. I hope that some of what I've written has given you an indication of how difficult the silence of those last forty years have been.
The final thing that I would like to say is that, from my perspective, it's not about institutions and organisations; all of those four institutions that I've listed include good people doing important, valuable work. So, for me, it's all about specific individuals. It's about John Smyth. Myself. The other victims. And all those individuals who have known about this story during those 40 years – and said nothing.
My therapist likes to keep thing simple, which is useful for me. She tells me that there is a triangle in abuse: the 'abuser', the 'victims' and the 'observers' (observers are people who knew but never reported appropriately). I personally find it quite easy to think about John Smyth, the abuser. The victims too. But considering the observers is much, much more difficult. Technically speaking, as a victim, I am 'excused' from being an observer (no matter how much I feel like one) but the observers in the John Smyth case include my closest family, everyone who has supported me throughout the years.
They also include all the individuals in all the institutions who also know the story but did not report appropriately. Mark Ruston, your friend, in 1982, when he wrote his report in 1982 became an observer because he wrote that he believed that a criminal act had been committed and he was one of the many people, almost 35 years ago, who failed to report to the police. A decision that had terrible consequences. But a particularly well-informed one.
You, archbishop are also an observer. How and when you became one I know that you will want to tell me. And here's the difficulty about being an observer. You have to ask yourself. "I knew about John Smyth. I become aware about some of the things that this abuser did, I have 'observed' them. Can I look myself in the mirror and honestly say that I did everything I could to report to the correct authority all the things that I knew? Did I give the people who might bring the abuser to justice every scrap of information that they might need? And, if I didn't, then thinking very carefully about this – whose side have I been on, all this time? The side of the victims. Or the side of the abuser?"
It's a very troubling position to find yourself in. I totally understand this and that was why, when Cathy Newman interviewed me after the showing of Channel 4's second news report, I said on camera that I wanted to give you some time to reconsider the statements that you've made. I'd like to believe that you will find somewhere where you can be alone, without the advice of anyone else other than your own conscience and God. And when you have decided that you would like to talk, I'm now actually thinking that it's not really important that we meet. In fact, there's no reason for us to meet at all. Better not to. Because I know that everything that you tell me, you would happily say to the whole world.
Best wishes, and as we victims of John Smyth are always saying to each other – 'I hope you're okay'.
"W "
PS – In the account that I gave in Monday's edition of The Daily Telegraph, I said that it was my final contribution and that I was returning to my family and normal life. And I can appreciate that Telegraph readers seeing this letter today might think that I have lied. The truth is that when I contributed to the piece on Monday, I thought that it was the end of what I wanted to say. It's just that what I've seen and heard from you since on the John Smyth matter (i.e. nothing) has impelled me to write. However, just to be clear, I apologise for lying. I suppose this is a salutary reminder to us all of how a person can say things sincerely at one time and yet still be telling a lie.
as told to Peter Robertson
http://www.telegraph.co.uk/news/2017/02/06/dear-archbishop-canterbury-can-look-mirror-honestly-say-did/
Bishop Welby's response, rather the lack of, to another survivor of abuse by a priest:
Paul Butler, the bishop of Durham, who leads the C of E's safeguarding work, privately apologised to Joe for the church's response to his disclosures. He said he had no doubt that Joe had been abused by Garth Moore, and there were likely to be other survivors who have not yet come forward. He ended his handwritten letter, seen by the Guardian, with: "I am … deeply sorry for the hurt I have caused you."
But there has been no apology from Justin Welby, the archbishop of Canterbury, to whom Joe reports writing 18 letters after the church began examining his case. He had one reply, from a correspondence secretary, assuring him that "the archbishop would hold him in his prayers".
https://www.theguardian.com/world/2016/mar/15/i-told-so-many-bishops-survivor-tells-of-system-that-protected-priest
https://goodnessandharmony.wordpress.com/2016/08/20/church-of-england-csa-vip-cover-ups-bishop-garth-moore-bishop-michael-fisher-and-bishop-peter-ball-etc-2/
---
Covenant Life Church Sure Knows How To Pick'em
February 3, 2017
What did CLC pastor PJ Smyth know and when did he know it?
Breaking: News 4 has aired their first two longer investigative stories on the abuse carried out by John Smyth. You can view the first story here. You can view the second story here.
Breaking: PJ Smyth has just released a video which can be viewed immediately below. PJ Smyth's statement is not good news for Covenant Life Church.  It is my opinion that he comes across as a deceptive man with something to hide. CLC has a storied history of former senior pastors who have been deceptive with church members, unfortunately, it looks like they can add another one to the list.
For starters, PJ refers to his father's abuse as "excessive discipline." PJ talked only of his father's alleged abuse while living in the UK decades ago.
Long, long ago and far, far away.
It all occurred when PJ was a young boy.  He only heard vague rumors of his father's behavior.  End of story.  Nothing to see here, now move along.
Nice try PJ.
What about those years in between the time you and dear old dad lived in the UK and SA?  I believe your dad packed up and took the family to Zimbabwe in 1984, where he then worked for 17 years. By my calculations that would mean your dad left Zimbabwe for SA in 2001. You would have been 30 years-old!  While in Zimbabwe your dad was charged with the culpable homicide of 16-year-old Guide Nyachuru at one of the Zambesi Ministries' summer camps held in Marondera in December 1992. (Link)  He managed to dodge those charges and fled to SA. (Link)  Any recollections of those years PJ?  You're a clever man, surely you don't expect us to believe that when you were 21 years old you had no knowledge of the charges of homicide against your father, do you?
PJ has some explaining to do.  My bet is the corrupt leaders at CLC who rallied around CJ Mahaney and Joshua Harris to cover up the sexual abuse of children happening in their church will continue their corrupt ways and attempt to provide cover for PJ Smyth.  It is time for the good members of CLC to rise up and demand the truth from their leaders, and then demand the resignation of corrupt leaders.
PJ Smyth's  video makes no mention of his father's abuse in Zimbabwe.
PJ Smyth's written statement. (Link)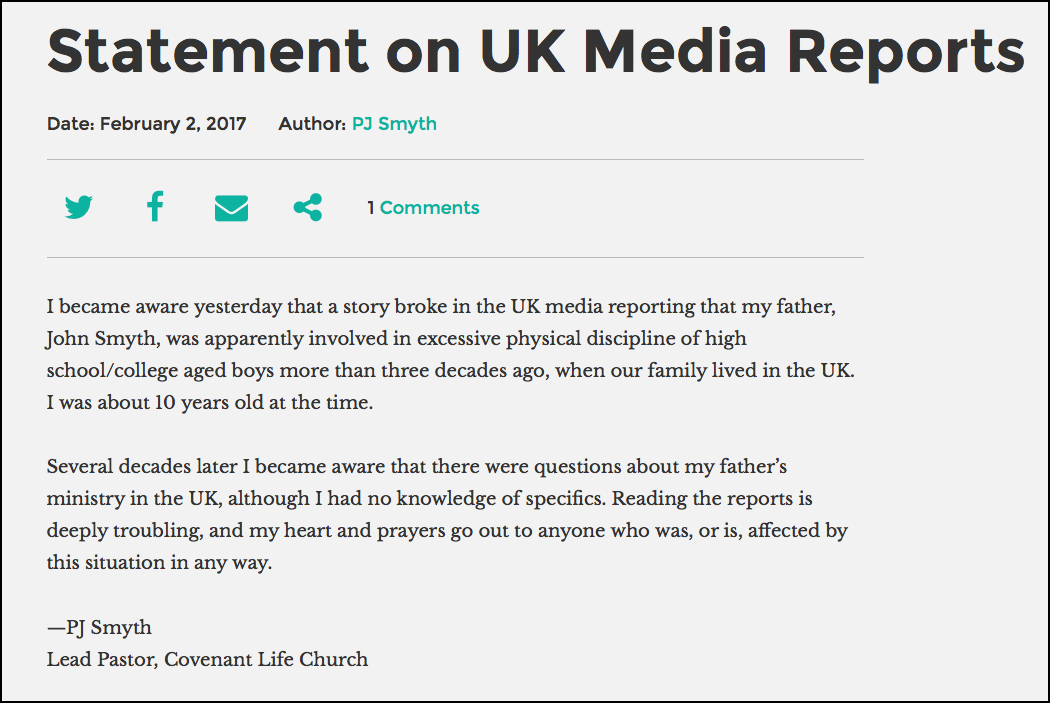 My submitted response which is not likely to make it out of moderation!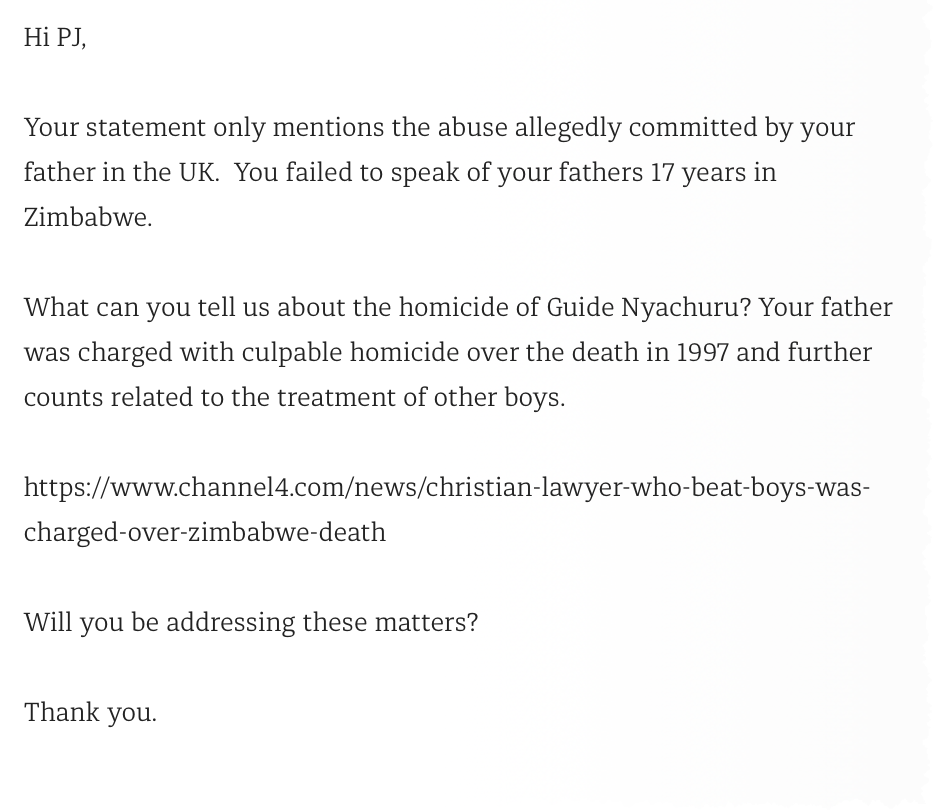 Source: Channel 4 News – John Smyth confronted with charges by reporter Cathy Newman (Link)
Source: Channel 4 News – "Archbishop admits Church 'failed terribly' over abuse revelations" (Link)
Covenant Life Church in Gaithersburg, MD sure knows how to pick a winner. CLC, formerly the flagship church of the Sovereign Grace denomination, has been embroiled in a sexual abuse scandal that some say was the largest to hit the Evangelical Church in America. Former senior pastors C.J. Mahaney and Joshua Harris, along with assistant pastor (and brother-in-law of C.J. Mahaney) Grant Layman resigned from the church. Youth leader, Nate Morales was convicted of sexually abusing boys and sentenced to 40 years in prison. Hundreds of disenchanted church members quit.
Covenant Life Church, seeking a fresh beginning, left the Sovereign Grace denomination and began a world-wide search for a new pastor.  The man CLC leaders (the same leaders complicit in the coverup of abuse) selected to lead them out of the morass of sexual abuse and coverup and restore them to a position of respectability was PJ Smyth. While a relative unknown in the USA, PJ was a superstar in South Africa, much like CJ used to be in the USA.  Convinced they had found their next Christian celebrity, CLC leaders had an easy time of convincing the Kool-Aid swilling members who had remained loyal to the church that PJ was their man. The members reportedly voted overwhelmingly ( 97% in favor) of hiring PJ. One year later, in January of 2017, PJ and his family arrived in the USA.
https://player.vimeo.com/video/199353011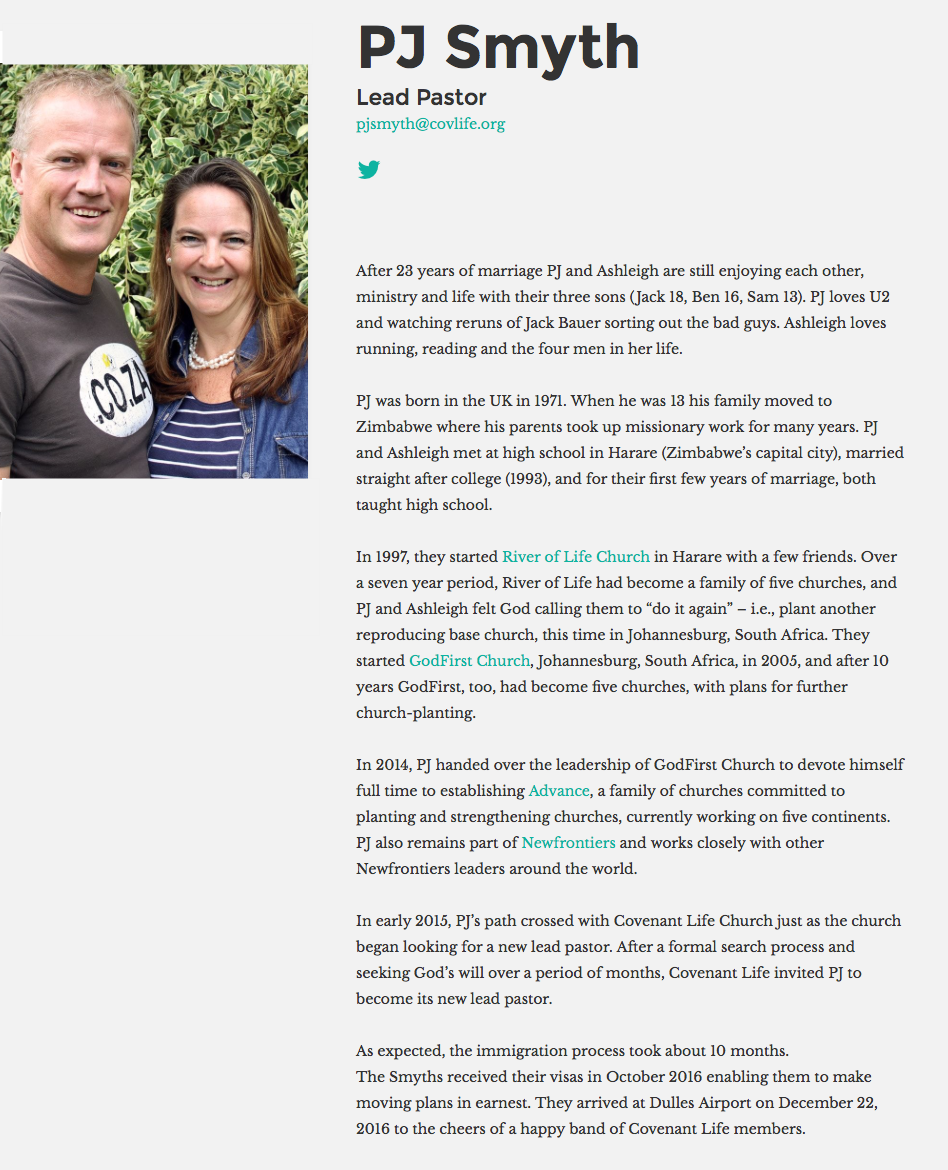 All appeared well in CLC-land. PJ was in charge and ready to make everyone forget CJ and lead CLC to new heights of fame and fortune. Who could have known that within one month of PJ's arrival CLC leaders would once again be indirectly rocked by more charges of abuse?
While one cannot place the blame for the sins of the father on the son, it would be reasonable to believe that PJ Smyth had to have knowledge of his father's sinister life.  The Archbishop of Canterbury became aware of allegations in 2013. When did PJ Smyth become aware that his father was beating young men?  Did PJ report any of these brutal beatings to police?  Was PJ Smyth ever beaten by his father? Assuming PJ Smyth was aware of what his father was engaged in, did he advise CLC leaders of the potential fall-out from his father's evil deeds?
It would appear CLC leaders did not exercise due diligence prior to hiring PJ Smith. CLC leaders have repeatedly demonstrated that they are sorely lacking any discernment. In my opinion, these leaders need to resign. One also wonders if church members will divest themselves of the notion that only a celebrity can lead their church? The whole culture at CLC seems, to this outsider, to be sick. Perhaps the healthiest thing CLC could do would be to close shop.
It would also be interesting to know whether PJ Smyth was truthful with US Immigration officials in his visa interview.
Below is a video in which Mark Mitchell recounts the thorough vetting procedure they put PJ Smyth through prior to offering him the job of senior pastor. Correct me if I'm wrong, but it sounds to me as if the CLC pastors had determined the job was PJ's prior to the Search Committee even beginning their work!
A little refresher course on problems CLC leaders would like you to believe are in their past:
---
 http://www.thinkinganglicans.org.uk/archives/007448.html
---
In the Daily Telegraph Matthew Scott said that the Director of Public Prosecutions was right in her original decision that prosecuting former MP Lord Greville Janner would not be in the public interest, and indeed would be pointless.
http://www.legalcheek.com/2015/06/top-barrister-sparks-social-media-row-with-telly-copper-over-janner-trial-of-facts/
And Matthew Scott Scott —  — rushed to Proctor's defence.