Chris Patten, Chairman of the BBC Trust, Governor of Ditchley Foundation, linked to Bilderberg and the Trilateral Commission and Common Purpose also chancellor of Oxford University
Chris Patten began his political career as Tory MP for Bath. He was elected in 1979, when Margaret Thatcher came to power.
From 1999 to 2004 he was one of the two UK members of the European commission. He became chancellor of Oxford University in 2003 and was made a life peer in 2005.
……………………………………………………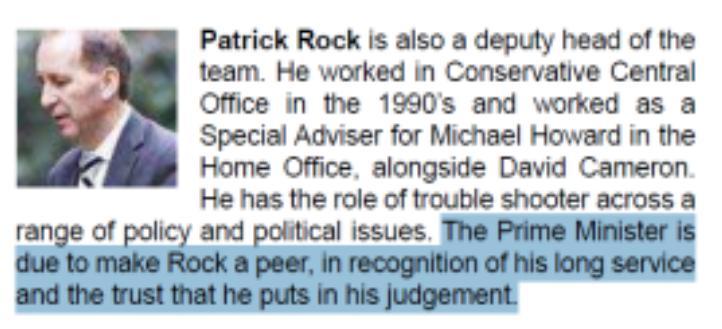 Images of children and Chris Patten

..

Patrick Rock worked for Chris Patten
Patrick Rock moved to Brussels and worked for Chris
Patten (European Commissioner) …
Patten preceded by Leon Brittan
…………………………………………………………………………………………………………………………………………………
Norman Lamont, Stanley Johnson, Leon Brittan
Patrick Rock was arrested at his home in February. He resigned from his post as deputy head of Cameron's policy unit after his arrest, which was not made public until the details were published by the Daily Mail three weeks later.
Jo Johnson ex-head of Cameron's Policy Unit
Chris Patten is a member of the European Council on Foreign Relations along with Jo Johnson

https://goodnessandharmony.wordpress.com/?s=david+cameron
Lord Patten with Leo Johnson, brother of Boris and Jo Johnson – FT Goldman Sachs Business Book of the Year Awards 2011

……………………………………………………………..
Chris Patten chaired the BBC Trust, the governing body of the British Broadcasting Corporation until his resignation on grounds of ill health on 6 May 2014.
Patten accused of a cover-up on BBC Savile probe
From BBC to right hand of Pope: Patten to advise Vatican on media strategy
Former Tory chairman takes new job advising Holy See on how to handle press weeks after quitting BBC for health reasons…a high-level committee to advise Pope Francis on media strategy.
The appointment is sure to cause
surprise since Patten stood down as BBC chairman scarcely two months ago, after heart surgery, saying he needed to reduce the range of roles he held.

What is particularly striking about his latest job is that it should come so soon after his departure from an institution that has come under withering fire for its failure to deal openly and thoroughly with accusations of sex abuse.
Lord Patten of Barnes i

s an Old Priorian and t

he Patron of Ealing's St Benedict's School
2014/15  The Senior School Prize Giving on 9 September. Lord Patten of Barnes, the school's most eminent alumnus, was the guest of honour.
 9 Dec 2015
A DEPUTY head teacher at a £4,000-a-year Catholic school plagued by a "terrible history" of child abuse was charged with offences related to "child porn".
Allot, 39, was charged with possessing, showing and making indecent images of children as well as possessing extreme pornography
The former Tory councillor has been a teacher at St Benedict's since 2004.
He left for a year in 2011 to work as

a research associate for a project on the Prime Minister's "Big Society" initiative

and Catholic social teaching at Cambridge University.
In 2011 it was revealed that St Benedict's, then run by Ealing Abbey monks, was linked to 21 sexual attacks dating back to 1970.
Father David Pearce, the former head of the junior school, was jailed for eight years in 2009 after he was convicted for of abusing five boys over 36 years.
Four victims were under 14.
Wanted priest, Father Lawrence Soper, has been missing since allegations he had also abused pupils emerged.
Former abbot to stand trial for abusing 10 schoolboys
A former Roman Catholic priest accused of sexually abusing 10 schoolboys in the 1970s and 1980s will stand trial in October. Father Laurence Soper, 73, a former abbot of Ealing Abbey in west London, is charged with 18 sex offences including buggery and indecent assault on boys under 16. They are said to have occurred at St Benedict's School in Ealing, where he taught first as a priest before being promoted to abbot.
http://courtnewsuk.co.uk/former-abbot-stand-trial-abusing-10-schoolboys/
Ex-priest Laurence Soper in court on child sex abuse charges
No further news on Soper since his scheduled court date in Sept 2016.
Update on Soper:
29 November 2016
Soper's case has been transferred to the Central Criminal Court. There was a plea and case management hearing on 25th November.
He has been charged with two counts of buggery, one of gross indecency and six of indecent assault.
He has pleaded not guilty to all charges. A provisional trial date has been set for 13th February.
…Kickin the can down the road…
A provisional trial date has been set for 13th February.
Will he still be alive by the time a trial happens??
Prior sexual abuse at the school…
In October 2009,  David Pearce, a monk of Ealing Abbey and former headmaster of the Junior School, was jailed for eight years, subsequently reduced to five years, for sexual abuse offences at the school in the period from 1972 – 1992 and for one further offence in 2007 after he had ceased to work in the school.
In March 2011  Laurence Soper, the Abbot of Ealing Abbey during the 1990s, was arrested on child abuse charges relating to the period when he was a teacher at, and the bursar of, St Benedict's School; it was reported in October 2011 that he had failed to answer bail and was being sought by the police.
In the light of these matters, and other alleged but unproven offences, the Abbot commissioned a report to be

prepared by

Lord Carlile of Berriew

with a view to making recommendations on the School's governance.
As a result

of the changes made the Independent Schools Inspectorate

said in its 2013 inspection report that the pastoral care at St Benedict's was excellent.
In October 2011 the Congregation for the Doctrine of the Faith ordered its own enquiry into the same matters, to be conducted by Bishop John Arnold.
2 years after Carlile's report:
Peter Allott was working at St Benedict's when Lord Carlile made his report for the school

Peter Allott, the former Tory councillor has been a teacher at St Benedict's since 2004.
Lord Carlile, is clearly not very good at his job.
---
Lord Carlile & Janner
As a young reporter,
I was given letters that might have helped make a case against the MP for child abuse
The establishment

, in the shape of his fellow MPs, men such as Labour's

Keith Vaz, Tory David Ashby

and the then Lib Dem MP now

Lord Carlile

, closed ranks.
Carlile played a prominent part, describing Janner as a man of "integrity" and "determination". Carlile should have known Janner fairly well.
They were both MPs, both QCs, both members of Friends of Israel, both patrons of UK lawyers for Israel.
They appear still to both be patrons of the Friends of Israel Educational Foundation. They were regulars on the same parliamentary committees dealing with legal affairs. They were both to leave the Commons at the same time and both to join the Lords only slightly apart.
Carlile shared a small Commons office with paedophile Cyril Smith for many years.
Carlile's mistress and eventual wife was a senior legal adviser to the Director of Public Prosecutions. Cosy world, Westminster, it it not?
DPP Saunders is closely advised by Alison Levitt QC, who happens to be the wife of Janner supporter, Lord Carlile
Carlile went on to be a stunningly illiberal "Independent" Reviewer of anti-terror legislation, where he demonstrated his independence by agreeing to absolutely everything the security services told him. 42 day detention with no charge? No problem. In fact there was no period of detention without charge posited so extreme that Carlile did not support it. Secret courts hearing intelligence evidence the defence were not allowed to see? Fine by Carlile. Control orders? Great. He is a fantastic bastion, protecting the public, is Carlile.
Even better, of course, at protecting his associates.
www.craigmurray.org.uk/archives/2015/04/the-remarkably-unobservant-baron-carlile/
Lib Dem peer Lord Carlile attacks investigation into claims of sexual harassment by party's former chief executive
At least 10 women…Lib Dem female members who accused Rennard of sexual harassment have criticised their party for not taking disciplinary action against the former chief executive and allowing him to return to his job of helping to write Clegg's 2015 election manifesto.
Lord Rennard's friend and legal adviser, Lord Carlile claimed Rennard would not be apologising since he had done nothing wrong, adding he would be resuming his position on the Lib Dem federal policy committee.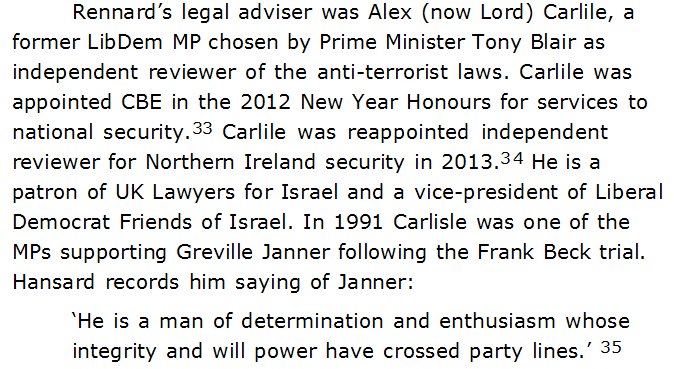 ---

Lord Carlisle rejected any suggestion his public support for the intelligence agencies may have been influenced by his business relationship with one of the UK's ex-spy chiefs. 
Former reviewer of anti-terror laws co-owns firm with ex-MI6 chief
Lord Carlile, who often defends work of intelligence services, has earned £400,000 from consultancy formed with Sir John Scarlett in 2012
SC Strategy Ltd, the company that Carlile established with Sir John Scarlett, who ran MI6 from 2004 to 2009…
Relatively little is known about SC Strategy, which Carlile and Scarlett formed in late 2012. The company – owned jointly by the two men – has no website or phone number and Companies House only lists a correspondence address for the company at a high-end City accountancy firm.
Clout in Whitehall- Cabinet Office records show that on 10 April 2013 and 6 June 2014, the company had a private meeting with the cabinet secretary "Sir Cover-Up" – Sir Jeremy Heywood – widely viewed as the most influential player in David Cameron's No 10 – and treated him to breakfast.
Scarlett is also a director and senior adviser at News Corp's holding company for the Times and Sunday Times newspapers, and has written for the Times as an occasional columnist.
---
---
---
Update: 23 November 2016
 Lord Carlile to get to the bottom of Bishop Bell's abuse!
Lord Carlile has been called in by the Church of England to assess whether it unfairly labelled a revered former bishop as a paedophile.
---
---
---
MISC.
Western Mail (Cardiff, Wales), November 3, 2014
Lord Carlile Won't Take Chair of Child Sex Inquiry
Carlile said that whoever leads the inquiry should not be a parliamentarian.
He also insisted that he or she should have expertise in issues involving child protection or child abuse.
'Devastated and Saddened, Shaking from Limb to Limb' Ex-MP's Wife Speaks Out
The wife of Liberal Democrat peer Lord Carlile of Berriew has spoken of her devastation at discovering her husband's relationship with a barrister 15 years his junior. Lady Carlile, who lives in Welshpool, said the former MP for Montgomeryshire had admitted a five-month affair with 43-year-old barrister Alison Levitt while they were still together.
Lord Carlile, who is in charge of reviewing anti-terror laws, has now moved Ms Levitt into the flat near his London chambers that he once shared with Frances, his wife of 37 years.
Lady Carlile said her 58-year-old husband, an eminent QC, had told her he was 'bored' with her and revealed that he had had another affair years earlier when their children were very young.
'He said he's done it because he was bored with me. And he admitted he's had another affair when the children were very young. He said it lasted for several years but that it had meant nothing.
'He couldn't understand why I was so upset and why I felt it made a mockery of the trust between us.'
As a QC he successfully defended butler Paul Burrell when he was accused of stealing millions of pounds of goods from the estate of the late Princess of Wales. He lists his recreations as politics, theatre, food and Association Football and is a member of the Athenaeum Club.
Carlile's two daughters – troubled teenagers
Our people and governance
Jacob Tas
Chief Executive
The current Chief Executive is Jacob Tas, formerly of Action for Children* and The Prince's Trust
Patron Her Majesty The Queen
Jonathan Aitken –Nacro Trustee since 2011
Jonathan Aitken is an ex-prisoner, ex-Cabinet Minister and ex-MP. In his political career he was an MP for 23 years. During his ministerial appointments he served as Minister for State for Defence and in the Cabinet as Chief Secretary to the Treasury.
In 1999 Jonathan pleaded guilty to charges of perjury and served seven months of an 18 month prison sentence.
In 2001 the Purdews of Champneys (friends of Sir Jimmy Savile and Keith Vaz) briefly acquired Inglewood health hydro from agents of Saudi prince Mohammed bin Fahd. Inglewood had been the scene of allegations, published in the Guardian six years earlier, that then defence minister Jonathan Aitken, a director of the spa, had tried to arrange girls for a Saudi prince and his entourage.
The report led to the notorious libel action brought by Aitken ultimately culminating in his being sentenced to jail for perjury.
Former Tory MP Jonathan Aitken, once a director of Champneys Inglewood. He was accused by former employees of acting as a 'pimp' by requesting call girls, once for a sheikh and once for a group of Arabs.
Then he was embroiled in a legal dispute with former brothel keeper Lindi 'Miss Whiplash' St Clair, who claimed that she was thrown out of Inglewood partway through a course.
And though Aitken met his future wife Lolicia at Inglewood, he also cheated on her with bondage prostitute Paula Strudwick, telling her to collect the right sort of birch branches from the woods outside the estate for sadomasochistic sex games. You'd have thought someone would have twigged what was going on.
http://www.dailymail.co.uk/columnists/article-259644/PS.html
Michael Howard is a member of the highly secretive organization 'Le Cercle'[15], which has deep ties to many intelligence agencies and has a long history of links to many of those involved with organized child abuse, along with shadowy covert acts such as media propaganda, arms dealing and on the ground military action, generally funded by offshore shell companies.
Michael Howard is a long time friend of Jonathan Aitken, global arms dealer and one time head of Le Cercle.
link
For more on Aitken and his ties to the current speaker of the House of Commons, John Bercow, see here
From Jonathan Aitken's book on Thatcher:
Members of the same club – Alf Bates Club 1974
Jonathan Aitken, Tim Renton (wrote a letter of support for paedophile Bishop Peter Ball), Leon Brittan, Sir Peter Morrison, Sir George Young, Alan Clark…
---
Vice Presidents
Lord Boyce
Sir Jimmy Savile was known to have had dinner with Admiral Sir Michael Boyce, Chief of the UK Defence Staff at the time of 9 11, and was known to have had close relationships with the leaders of Israel.
When official lists of those entertained to dinner were released under the Freedom of Information Act, it emerged that Savile had dinner with Dame Judi Dench and Admiral Sir Michael Boyce (Chief of the Defence Staff), which is quite a combination.
---
---
*Action for Children*
Government IT expert is caught with child porn stash… but why did Downing Street keep it secret for six months?
Not Patrick Rock – Sebastian Crump
Worked for the Cabinet Office – he received promotion at Cabinet Office while he was being investigated
He has spent a decade working in technology and communications for Government offices, including the Foreign and Commonwealth Office and the Central Office of Information

He was arrested in January – Patrick Rock was arrested in February
Crump landed a government job after working as a children's charity website manager, Action for Children, which helps support vulnerable and neglected children, between 1998 and 1999.
Crump is on bail ahead of sentencing at Southwark Crown Court on August 28. A Cabinet Office spokesman said Crump was suspended in January and quit in March.
www.dailymail.co.uk/news/article-2713810/Government-digital-chief-caught-child-porn-stash-did-Downing-Street-secret-six-months.html
Child abuse inquiry set to drop investigation into Ealing Abbey monks
An investigation into one of the worst scandals to afflict the Catholic Church in Britain is set to be dropped from the public inquiry into child abuse.
Next week lawyers for Alexis Jay, chairwoman of the Independent Inquiry into Child Sexual Abuse (IICSA), will propose that no evidence be called about decades of abuse of pupils at Ealing Abbey and its adjoining independent school, St Benedict's.
Victims were furious and accused Professor Jay of backtracking on her previous promise not to reduce the scope of the inquiry. They said the move undermined the credibility of the inquiry, which has lost three chairwomen, cost more than £20 million and shown little tangible progress since it was set up by Theresa May in 2014.
More on Ealing Abbey here
---
DISCLAIMER: THE POSTING OF STORIES, COMMENTARIES, REPORTS, DOCUMENTS AND LINKS (EMBEDDED OR OTHERWISE) ON THIS SITE DOES NOT IN ANY WAY, SHAPE OR FORM, IMPLIED OR OTHERWISE, NECESSARILY EXPRESS OR SUGGEST ENDORSEMENT OR SUPPORT OF ANY OF SUCH POSTED MATERIAL OR PARTS THEREIN.