Mr A, one of Britain's wealthiest men and founder and trustee of a national charity for abused children – 1993 in court for alleged perverse sexual behaviour
How the case started:
The pounds 1m contract that led to sex claims: Nick Walker reports on the acquittal of a top architect of blackmail allegations made by a reclusive millionaire client
24 August 1993
IN DECEMBER 1986, Conrad Jameson, interior architect to the likes of IBM, ICI and Players' cigarettes, was commissioned to re-design the homes of one of Britain's richest and most reclusive businessmen.
His client had a reputation for moral probity. He founded and is still a trustee of a national charity for abused children. Six and a half years later, Mr Jameson found himself in the dock, accused of a pounds 500,000 blackmail bid.
The prosecution said that Mr Jameson threatened to make public allegations of dubious financial deals and bizarre sexual behaviour by the businessman. It said Mr Jameson was prepared to drop the claims in return for a cash settlement.
But Mr Jameson was acquitted yesterday at the Old Bailey, when Judge John Murchie directed the jury to find him not guilty of blackmail after the Crown's case collapsed.
The millionaire, referred to as Mr A, first met Mr Jameson in 1986 and hired him to do work worth over pounds 1m on a mews cottage in London, and his home in Buckinghamshire.
After work started, so did the disagreements, culminating in a civil action brought by Mr A against Jameson Design Ltd. Mr Jameson's response was to say that delays to the work were not his fault. There were press reports that the millionaire was 'security mad', and plans were changed frequently.
Mr Jameson told one of his lawyers: 'The real reason is that I knew too much about his financial and personal affairs.'
Mr Jameson drafted a writ with his lawyers detailing Mr A's alleged collection of pornographic paintings, his 'homosexual tendencies' and allegations suggesting Mr A's unsuitability as trustee of the charity.
If the writ were issued newpapers could publish the allegations without any risk of libel. Mr Jameson claimed journalists were already working on a story about Mr A and the writ would give it a 'peg to hang the story on'.
Details of the allegations in the draft writ trickled out in court over the past week. The draft writ alleged that Baron Simon de Wrangel, who had been employed by him as a surveyor, had been exposed to Mr A's 'extraordinary' behaviour.
While working in Mr A's Buckinghamshire house, Baron de Wrangel was allegedly shown a pornographic painting. When he looked round he saw Mr A 'with his underwear around his knees'.
A second picture, a drawing by Picasso showing a man and woman having sexual intercourse, was also shown to the jury. 'If somebody could tell me who is doing what to whom, I would be most grateful,' Mr A said. Counsel for the defence asked him if he was not pretending to be a little naive. He said he was not.
Mr Jameson also alleged Baron de Wrangel was asked by Mr A to fit a television satellite descrambling device which would enable him to watch pornographic films from Denmark and the Netherlands. Mr A told the court it was a joke.
Mr Jameson said Mr A showed his wife an antique French red leather chair which could be used to manoeuvre its occupant into various sexual positions. She was said to have been 'horrified'.
Mr A told the court he had bought the chair because it was red and described Mr Jameson's allegations as 'absolutely false'.
The judge said yesterday that he was making no findings on the allegations of improper conduct levelled at Mr A.
Mr Jameson has agreed not to pursue the allegations against Mr A in an undertaking he made in an on-going civil case with Mr A.
http://www.independent.co.uk/news/uk/the-pounds-1m-contract-that-led-to-sex-claims-nick-walker-reports-on-the-acquittal-of-a-top-1463269.html
What did Mr A do?

A RECLUSIVE millionaire broke down in court yesterday as he described how blackmail allegations could affect a children's charity he helped to found, writes Nick Walker.
19 August 1993
An Old Bailey jury was told this week of allegations that Conrad Jameson, 60, of Sydney Place, Chelsea, south-west London, threatened to expose the businessman, referred to as Mr A, as having a collection of pornography and a chair designed for sexual purposes, and as having homosexual leanings.
Mr A, who cannot be named, said all the allegations behind the pounds 250,000 blackmail bid were 'absolutely false'. When asked what the effect would be on the charity if the allegations were published, Mr A said: 'Children who need this organisation have a very low opinion of adults . . . and if a child believed this organisation was headed by a person who was doing the sort of thing they needed help for, they wouldn't seek its help.'
Mr A told the court that he was not homosexual and did not possess any pornography. 'I have one Picasso . . , and there's one that's certainly erotic.' Members of the jury were shown two paintings – Picasso's Homme et Femme and a watercolour by 19th century French artist, Gavarni, depicting sexual acts – and also a 19th century chair from Mr A's home, probably used by a gynaecologist.
The trial continues.
http://www.independent.co.uk/news/uk/blackmail-threatened-to-destroy-charity-1462164.html
MPs 'pressed CPS to pursue blackmail case': Architect awarded costs as Old Bailey trial collapses
24 August 1993
THREE TORY MPs are believed to have put pressure on the Crown Prosecution Service to proceed with a blackmail case against an architect which collapsed yesterday at the Old Bailey.
The defence was twice warned by the CPS that any evidence which might identify the MPs – and presumably why they had intervened – would not be disclosed to the court on the grounds of public interest immunity (PII).
The CPS was widely criticised for trying to bar disclosure of documents on the same ground during last year's Matrix Churchill trial, in which three businessmen were alleged to have breached arms embargoes on Iraq. The judge overruled the immunity of the documents, and the case against the three was dropped.
Conrad Jameson, an architect based in south- west London, was acquitted yesterday of a pounds 500,000 blackmail attempt against one of Britain's wealthiest and most reclusive men.
The prosecution had alleged that Mr Jameson, 61, threatened to expose the tycoon – referred to only as Mr A, and said to be a founder and a trustee of a national charity for abused children – for alleged perverse sexual behaviour, including an obsession with pornography.
After legal submissions at the end of the prosecution case, Judge John Murchie directed the jury to find Mr Jameson not guilty, saying the Crown had not made out its case.
The Independent understands the case was brought after the three MPs, friendly with Mr A, contacted the CPS to urge Mr Jameson's prosecution. The defence sought discovery of the identity of the MPs and any documentary evidence relating to their alleged interventions. Sources close to the defence have revealed that on two occasions the CPS warned that any such evidence would be subject to public interest immunity. No explanation was given. Normally, PII is used to deny disclosure only in exceptional cases where, for instance, there is a threat to national security. The CPS said last night that it could not comment on the case.
The use of PII could have renewed the outcry that came after the Matrix Churchill trial. It was disclosed during that case that government ministers had signed PII certificates for confidential documents which helped to acquit the three men.
The case against Mr Jameson collapsed after Judge Murchie said he had acted throughout on the advice of his solicitor and barrister, who drew up a draft writ containing the allegations. He said the court was making no findings about the allegations of improper conduct levelled at Mr A.
The judge awarded Mr Jameson, of Sydney Place, Chelsea, his costs from central funds. Mr Jameson said: 'I am very glad the nightmare is over. The case should never have been brought.'
Mr A described Mr Jameson's claims, including sexual misconduct in hotel rooms and possession of pornograhic paintings, as 'absolutely false'.
http://www.independent.co.uk/news/mps-pressed-cps-to-pursue-blackmail-case-architect-awarded-costs-as-old-bailey-trial-collapses-1463358.html
Designer denies blackmail attempt: Threat to expose 'details of pornography collection'
AN INTERIOR designer threatened to expose a children's charity trustee as having a collection of pornography and possible homosexual leanings in a pounds 250,000 blackmail attempt, it was alleged at the Old Bailey yesterday.
At the start of the trial of Conrad Jameson, 60, of Sydney Place, Chelsea, west London, Judge John Murchie continued a magistrates' order that the victim and charity should not be identified. Mr Jameson denies blackmailing the man, 'A'.
John Williams, for the prosecution, said Mr Jameson threatened to issue a writ detailing A's alleged pornographic paintings and an antique chair designed to put women strapped in it into a variety of sexual positions at the touch of a button.
If the writ was issued the press could publish the allegations contained in it, embarrassing A and affecting the charity and those who funded its dealings with abused children, the court was told.
Mr Jameson was hired to do interior design work on A's country home and London mews house. But A became suspicious about the work and issued a writ against Mr Jameson, his company Jameson Design Ltd, and his wife, Tricia, the court was told.
Mr Williams told the court Mr Jameson knew A was the charity's main source of funds. Mr Jameson's response to the writ was to claim delays were not his fault. He said when he and Tricia had first visited A's country home he had been keen to take them to his dressing room to show off his collection of pornographic pictures and the chair.
Mr Williams said the allegations were 'entirely false' and that if there had been 'one iota of truth in them' Mr Jameson could have gone to the appropriate people long before.
He told the jury they would see the pictures themselves – 'they are not outrageously disgusting. They are drawings by two reputable artists, they are not perhaps to everyone's taste, but by no manner can be described as a pornographic collection.'
He said the chair, which the jury would also see, and which he likened to the one the judge was sitting on, was used by doctors for gynaecolog ical examinations.
Mr Jameson threatened to issue his own writ so that the press would know that 'a man of suspect sexual morals was involved with the charity'. He demanded pounds 250,000 in settlement, Mr Williams said.
http://www.independent.co.uk/news/uk/designer-denies-blackmail-attempt-threat-to-expose-details-of-pornography-collection-1461602.html
Judge Murchie, presiding at Mr A's trial –  Murchie had a close relationship with the royal family.

He was always proud to announce that he was specially chosen to be a greeter for the queen.
He was one of a few judges commissioned to officially greet Her Majesty at formal public appearances.
He proudly showed me several photos of him and the queen at various receptions throughout the course of several years.
Judge Murchie  attended Gordonstoun -where Prince Charles and many other members of the royal family attended.
http://thejcr.com/2016/03/03/perspectives-the-very-honourable-judge-murchie/#sthash.XuWQqjBM.dpbs
The original case was heard in 1986
Mr A funded a new National Children's Charity
 Childline was founded in 1986
Mr A had a house in Buckinghamshire
Mr A collected paintings and was security obsessed
http://bufvc.ac.uk/tvandradio/lbc/index.php/segment/0005300330011
"…the extensive press coverage of the case"…wiped from the internet – only a few articles remain.
Govt couldn't have it known that Childline was set up by pervs?
Who could the wealthy, reclusive pervert – founder and trustee of a national charity for abused children – be?
Childline, a national charity for abused children was founded and funded by car-dealer millionaire Ian Skipper
Ian Skipper – very hard finding info on or photos of him.  "He keeps a low profile" 
All other other national charities were founded earlier – and all the founders have lots of info about them. A reclusive, paranoid about privacy – and very little info – despite being such a philanthropist –  – and the timescales fit.
In 1986 Esther Rantzen, presenter of Thats Life, viewers were asked if they would take part in the survey in an edition of Thats Life. A helpline was opened after the programme so that any child currently suffering abuse could call for help, the project was made possible by a benefactor Ian Skipper who underwrote the charity for the first three years. Childline joined the NSPCC in February 2006
http://webcache.googleusercontent.com/search?q=cache:mF3fvm4rnE4J:wikivisually.com/wiki/BT_Red_Nose_Climb+&cd=3&hl=en&ct=clnk&gl=us
Childwatch programme
http://www.yorkshirepost.co.uk/news/obituaries/ian-skipper-1-2296109
It is 25 years since ChildLine first launched, back in the autumn of 1986. Then the presenter of That's Life!, Esther Rantzen had lobbied for its creation with the help of her BBC producers. When the philanthropist Ian Skipper came on board, it was made possible.
http://www.independent.co.uk/life-style/health-and-families/features/helplines-call-for-help-6279384.html
 CONSTABLE IAN SKIPPER is a Businessman from Milton Keynes Buckinghamshire
http://www.checkdirector.co.uk/director/constable-skipper/
Photo of Ian Skipper from video
Constable Ian Skipper
Ian Skipper, the son of a successful motor-car dealer in Burnley, Lancashire, was given the business by his father at the age of 21. Taking to the role of entrepreneur with alacrity, he devised highly creative ways of selling more and more cars, then, having exhausted the market potential of the local catchment area, began a campaign of buying up dealerships. He and his partner between them ended up owning a substantial proportion of the Ford dealerships in northern Britain until they themselves eventually sold out, simultaneously, to Thomas Ward.
With a fair fortune at their disposal they thereafter embarked on a number of ventures that included the building up of United Engineering Industries, subsequently UEI, Cosworth Engineering, Dunsley Heating and a small merchant bank, London and European. Skipper was also able to embark on a career of entrepreneurial support and philanthropic giving to good causes that caught his eye and enthusiasm. An early excursus was to York. Here in 1977 Magnus Magnusson was raising money for the Coppergate excavations that were revealing the Viking city of Jorvik. They subsequently became very good friends. Skipper's enthusiasm transformed the fundraising campaign and eventually led to the building of Jorvik, the immensely successful underground visitor centre.
Skipper moved with his family to Barbados in the 1980s where with other associates he assisted in the development of Atlantic Computers, a company that leased mainframe computers to businesses. Skipper and his family interests became main shareholders, providing strength to the balance sheet. The company prospered rapidly and the share price grew exponentially, allowing them to realise a further substantial fortune.
In later years after the family's return to England, Skipper's energy and flare was increasingly placed at the disposal of charities. The Ben Hardwick kidney transplant appeal on Esther Rantzen's television programme That's Life initially took his attention and the contact he made then with Rantzen led to his support in 1986 for Childline, the helpline she set up for children in distress or danger, open day and night throughout the year. He became a trustee and underwrote the charity for its first year. His support for such causes was widespread, and he was appointed OBE for services to charity in 1997.
Constable Ian Skipper was born at Barrowford in Lancashire, educated at Canford School and read engineering at Loughborough. Here, as college social secretary he met — and subsequently married — the social secretary at Leicester Royal Infirmary, Penny Wood. Skipper's parents were divorced at this time and his father handed the business to his son. Skipper gave up his Loughborough course and together he and his wife were thrown into learning the business and began the transformation of Skippers of Burnley into a vast regional chain.
Skipper had a sharp and inquiring mind. A late-night programme by Magnus Magnusson on the Viking dig at York caught his eye — he was always interested in archaeology and the past — and at his wife's urging he set off to York the next day to offer his services as a digger. He rapidly concluded that he would be of little use as a novice troweller but immediately saw the potential of the Coppergate excavation site, right in the middle of York's tourist zone, as a business. Within weeks it had been smartened up by his architects, dressed as a tourist attraction, provided with viewing galleries and state-of-the-art interpretation and set on course to become York's tourist attraction of the year. More than a million people eventually visited it — and paid for the privilege, transforming the funds of the York Archaeological Trust.
When, after five years, the site came to be developed, Skipper urged the trust to maintain it as an underground attraction beneath the proposed shopping precinct. The upshot, after some heroic fundraising, was the opening of Jorvik Viking Centre by the trust's patron, the Prince of Wales, in 1984, enabling a further 15 million people, so far, to take a "time car" and visit a lost Viking world reconstructed with the best archaeological knowhow and interpretative devices.
Skipper's entrepreneurship and personal donation to the project resulted in a handsome annual income to the York Archaeological Trust and for York a new visitor attraction that did much to establish its pre-eminence as a tourist city. Skipper received the British Archaeological Awards Golden Trowel "Award of Awards" in 1998 for the most outstanding contribution to British archaeology.
Drawing on the instant success of Jorvik, Skipper set up Heritage Projects in 1984, a company that kept together the Jorvik creative team and deployed it on such ventures as The Oxford Story, in Broad Street, Oxford, which provided an insight for tourists into the life and history of the university. This project brought him into contact with a university world he had never experienced but which impressed him deeply.
His and his partner's donation to St Cross College enabled the building of a new south wing and the Ian Skipper Conference Room, and Skipper became a Domus Fellow of the college. Latterly Continuum, a successor to Heritage Projects, has been managing some of Britain's most successful new visitor attractions.
Skipper is survived by his wife, Penny, and two daughters.
Ian Skipper, entrepreneur and philanthropist, was born on July 19, 1936. He died on July 20, 2009, aged 73
Which MPs would have known Ian Skipper – Shaun Woodard MP was also a director of Childline and worked with Rantzen on "That's Life" and with her wrote a book about Ben Hardwick.

Convicted paedophile, Jeffrey Epstein's black book:
Lord Mandelson yesterday maintained his silence over the extent of his contact with disgraced financier Jeffrey Epstein.
The former Business Secretary did not respond to questions about why the convicted paedophile's 'little black book' featured ten entries for him and his partner Reinaldo da Silva.
The online contacts book had 16 numbers for Prince Andrew and home numbers for politicians including Lord Heseltine and former Northern Ireland Secretary Shaun Woodward
http://www.dailymail.co.uk/news/article-1364001/Peter-Mandelson-silent-contact-Prince-Andrew-friend-Jeffrey-Epstein.html
Jeffery Epstein's 'Little Black Book' also has Prime Ministers Ehud Olmert of Israel (currently in prison for corruption) and Tony Blair of the UK, and former US senator George Mitchell.
https://www.dailymail.co.uk/news/article-2897836/How-Prince-Andrew-s-sex-abuser-friend-Jeffrey-Epstein-kept-list-nicknamed-Holy-Grail-great-good-Bill-Clinton-Tony-Blair-Mick-Jagger-Donald-Trump.html
George Mitchell was a key figure in the Northern Ireland peace process in Ulster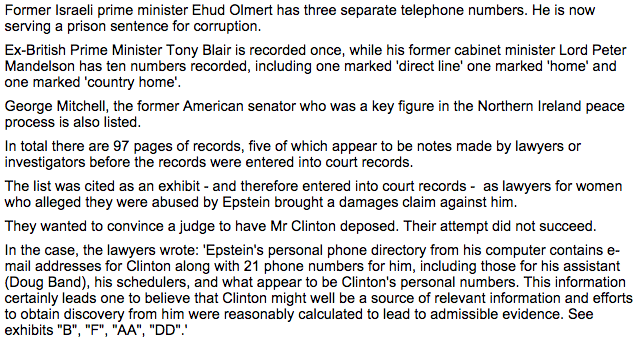 Alun:
Sainsbury's 1 There are times during my research when I am simply gobsmacked at how often certain names crop up. Here's a household one…
Sainsbury's 9
The Hon. Sarah Sainsbury, daughter of John Davan Sainsbury, married to Hon. Robert Butler-Sloss, son of the Sloshed Butler.
---
Coworkers graph – Shaun Anthony Woodward MP
Director of Childline 1993 – 2005
Secretary of State for Northern Ireland.
As Northern Ireland Secretary, Woodward reportedly became a close confidant of the Prime Minister, Gordon Brown.
A former television researcher and producer, Woodward began his political career in the Conservative Party. He was elected in 1997 as a Conservative MP for Witney,
His successor in Witney was David Cameron
He worked as a researcher and producer for BBC TV News and Current Affairs on the programmes That's Life!, Panorama and Newsnight. He subsequently wrote a book about Ben Hardwick. From 1991–2, he was director of communications for the Conservative Party.
He married Camilla Davan Sainsbury, daughter of former Conservative MP Tim Sainsbury of the wealthy supermarket Sainsbury family
Works
Death by Television by Esther Rantzen, Shaun Woodward (Century, 1999) ISBN 0-7126-2543-7
Drugwatch: Just Say No! by Sarah Caplin, Shaun Woodward (Corgi, 1986) ISBN 0-552-12820-1
Ben: Story of Ben Hardwick by Esther Rantzen, Shaun Woodward (Penguin Character Books, 1985) ISBN 0-563-20331-5
After leaving his wife, Woodward was reported to be in a relationship with Luke Redgrave, a film cameraman and the grandson of the actor Sir Michael Redgrave.[13][14]
In 2016 Woodward and Redgrave were living together in Sag Harbor in The Hamptons, New York State.[
https://en.wikipedia.org/wiki/Shaun_Woodward
2001
His main residence is a country house in Oxfordshire complete with butler, where Peter Mandelson is currently a guest while the former cabinet minister carries out refurbishments to his new London home.
A Tory central office official described Mr Woodward as "a low-grade charlatan and spiv whose every action has been guided by his short term self-interest".
https://www.theguardian.com/politics/2001/may/14/election2001.labour
http://champinternational.org/people/
Norman Fowler MP would likely have known Ian Skipper:
"When we launched Childline, we did get some state money. Norman Fowler was Secretary of State for Health and he gave us £25,000 – a lot in those days."
Sarah Caplin is a British producer and television executive at ITV, married to TV presenter Nick Ross for more than twenty-five years.[1] She was educated at the University of York. She was one of the founders of Childline, together with her cousin Esther Rantzen and is a former Deputy Secretary of the BBC
http://en.wikipedia.org/wiki/Sarah_Caplin
Skipper and Rantzen first met via the That's Life appeal for Ben Hardwick, who needed a new liver.
The first Hardwick charity wound up in 1998 and a new one was created.
The contract address is in Barnes, not far from Rocks Lane…
just a coincidence.
http://www.pickabook.co.uk/bookdetai…=9781849541626
http://www.checkdirector.co.uk/director/constable-skipper/
Ian Skipper Childline director from  1991-2001
Misc:
1991 Skipper helped fund the George Dixon secondary school – an inner city school – headteacher Carlton Duncan

The Observer
London, Greater London, England
Some of Esther Rantzen's charities
Esther supports many medical and patient's charities. She is vice president of ASBAH (to support spina bifida children), and Scope (formerly the Spastics Society). She is a patron of Addenbrookes Kidney Patient's Association, the Downs Syndrome Association, Headway (National Head Injuries Assocition), Children Head Injuries Trust and ADFAM (The National Charity for the Families and Friends of Drug Users). She is an honorary president of the ME Association Young People's Group and a trustee of the Ben Hardwick memorial fund.Esther supports many medical and patient's charities. She is vice president of ASBAH (to support spina bifida children), and Scope (formerly the Spastics Society). She is a patron of Addenbrookes Kidney Patient's Association, the Downs Syndrome Association, Headway (National Head Injuries Assocition), Children Head Injuries Trust and ADFAM (The National Charity for the Families and Friends of Drug Users). She is an honorary president of the ME Association Young People's Group and a trustee of the Ben Hardwick memorial fund.
DISCLAIMER: THE POSTING OF STORIES, COMMENTARIES, REPORTS, DOCUMENTS AND LINKS (EMBEDDED OR OTHERWISE) ON THIS SITE DOES NOT IN ANY WAY, SHAPE OR FORM, IMPLIED OR OTHERWISE, NECESSARILY EXPRESS OR SUGGEST ENDORSEMENT OR SUPPORT OF ANY OF SUCH POSTED MATERIAL OR PARTS THEREIN.
---
It's all a matter of public record…You cannot be silenced for discussing something already in the public domain. … research and form your own conclusions.