'Heath July 1976 at the Royal Channel Island Yacht Club
Sir Edward Heath does feature as part of Operation Whistle, currently investigating historical allegations of abuse in Jersey.'
Investigations into claims that police socialised with suspected paedophiles at a Jersey yacht club "came to a dead end" when the police chief was denied access to the yacht club registers, which would have shown who was present at gatherings.
Graham Power was in charge when the police investigation into historical child abuse began in 2006. He said there were reports that children were abused on boats.

TED HEATH AT THE TOWN HALL WITH (the late) CONSTABLE PETER BAKER JULY 20 1976
"I was told that a group of police officers and senior officials, and people who were subsequently associated with paedophile activity, used to meet as a group at the yacht club at the same time and socialise together.

"The reports that things were happening out at sea all seemed to join up into a sort of set of circumstances that merits investigation."
Voice for Children blog comments:
Anonymous7
What everyone now reading reports such as the JEP's on the Graham Power hearing should remember is that there is hardly anything at all new in what Mr Power has revealed about the disgraceful machinations of the Jersey Establishment. That the MSM are now reporting such things is simply because the Inquiry and those brave few who fought for it have forced them to. The question that should be asked is given Jersey's 'media' had Mr Power's huge statement years ago why didn't they publish the truth then?
voiceforchildren
Indeed, the fact is that Graham Power produced very little, or nothing new, whilst giving his evidence to the Inquiry. A great deal of what he had to say was produced in his affidavit years ago which was published on this Blog HERE.
It was also made a public document by former Deputy Bob Hill as a part of his proposition P.166 (forgotten the year). The State Media were burying all this stuff back then and it was the Bloggers who were publishing it. It is only now, some five, or so, years later that the MSM is reporting, what we were reporting back then.
An ex resident of Haut de la Garenne Childrens Home claims he saw children from the home being taken on to Heaths yacht and came back crying. There have been allegations that 11 boys left on Heaths boat and only ten returned when he went out with Savile. This was reported to the police with a Jersey Senator but nothing was done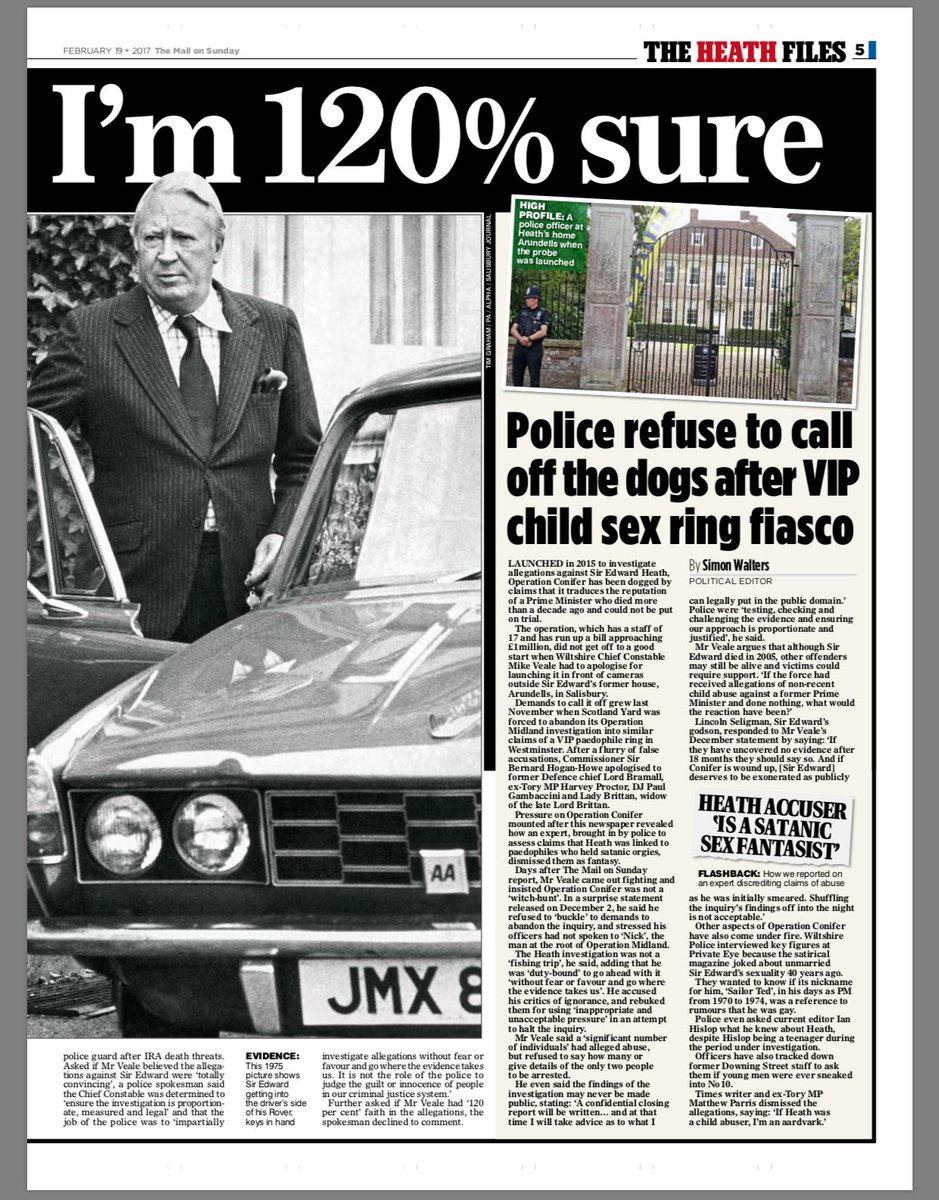 Sir Edward Heath WAS a paedophile, says police chief: Astonishing claim is made that the former PM is guilty of vile crimes 'covered up by the Establishment'
More than 30 people have come forward with claims about the former PM 
And they are said to have given 'strikingly similar' accounts to Wiltshire Police 
The county's chief constable has said that the allegations are 'totally convincing'
Pictures have emerged of Heath driving – despite it being claimed he didn't have a car 
19 February 2017
The police chief investigating claims that Sir Edward Heath was a paedophile is convinced the allegations are '120 per cent' genuine, The Mail on Sunday can reveal.
More than 30 people have come forward with claims of sexual abuse by the former Conservative Prime Minister, according to well-placed sources.
And they are said to have given 'strikingly similar' accounts of incidents to Wiltshire Police – even though the individuals are not known to each other.
The Mail on Sunday has been told that Wiltshire Chief Constable Mike Veale regards the allegations as 'totally convincing', and plans to publish a report in June.
Detectives have established that, contrary to claims that Sir Edward could not have committed the crimes as he 'never drove a car' and 'always' had a police driver with him, he did drive – and did have a car.
They have photographic evidence that shows he is a driver, and have established that he had a driving licence. He also bought a Rover 2000 after being deposed as Tory leader by Margaret Thatcher in 1975, when he was 58.
Astonishingly, Mr Veale is also understood to support claims that Sir Edward's alleged crimes were reported to police years ago but covered up by the Establishment.
Some of those who said Sir Edward abused them are believed to have told police they went on to commit sexual abuse crimes themselves as a result.
The investigation into Sir Edward, called Operation Conifer, was set up in 2015 in the wake of the Jimmy Savile scandal.
Mr Veale came under pressure to abandon the inquiry last year after separate claims of a paedophile ring at Westminster involving former Home Secretary, the late Lord Brittan, and former Defence chief, Lord Bramall, were found to be groundless.
Allegations that Sir Edward was involved in satanic orgies have been dismissed as fantasy by an expert asked to review the case.
However, The Mail on Sunday has been told that Mr Veale believes the paedophile allegations are genuine. A source said: 'Mr Veale believes in them 120 per cent and thinks they are totally convincing.
'There are very close similarities in the accounts given by those who have come forward. The same names used for him, the same places and same type of incidents keep coming up.
'What stands out is that the people giving these accounts are not connected but the stories and the details dovetail.
'It contains disturbing stuff. Investigators have been shocked by what they have learned.'
Another source said: 'The police were initially sceptical about the allegations, but now believe them. And they have come round to the view that they were covered up in the past because of who Heath was.
'They will not be deflected by the rich and powerful trying to do the same now. Mike Veale is doing a great job and should be congratulated for his courage.'
The disclosures come after several senior politicians dismissed the allegations against Heath as absurd and unfounded. Former Tory Foreign Secretary Sir Malcolm Rifkind complained Heath's reputation was being 'besmirched'. Heath's sexuality has been the source of much speculation over the years. Some believed he was gay, others said he was 'asexual.' At one point, he was being investigated by no fewer than five police forces – the Met, Wiltshire, Hampshire, Kent and Jersey.
The claims, some of which have been proved false, include alleged links to a convicted brothel keeper known as Madame Ling-Ling. A paedophile dossier compiled by Labour peer Baroness Castle said he offered young boys trips on his yacht, and in a separate incident one man claimed Sir Edward picked him up hitchhiking in Kent as a 12-year-old in the 1960s and lured him to his Mayfair flat.
Labour MP Tom Watson also said he had received allegations about Sir Edward. However the claims Mr Veale is investigating, which date from the 1960s to 1990s, are not linked to the discredited evidence of the man known as 'Nick', who alleged a high-level paedophile ring.

One of the key counter-claims made when the allegations first surfaced came from former Cabinet Secretary Lord Armstrong, who worked with Heath when he was Prime Minister. He said Heath 'never drove a car' and always had at least one policeman with him from 1970 until his death in 2005.
The fact that Sir Edward could drive was confirmed last night by a friend, who said the former Prime Minister bought a car in 1975, although Sir Edward was later given a chauffeur-driven car and police guard after IRA death threats.
Asked if Mr Veale believed the allegations against Sir Edward were 'totally convincing', a police spokesman said the Chief Constable was determined to 'ensure the investigation is proportionate, measured and legal' and that the job of the police was to 'impartially investigate allegations without fear or favour and go where the evidence takes us. It is not the role of the police to judge the guilt or innocence of people in our criminal justice system.'
Further asked if Mr Veale had '120 per cent' faith in the allegations, the spokesman declined to comment.
DO THESE PHOTOS UNDERMINE EX PM'S DEFENCE
Sir Edward Heath seen with his car in Weymouth, despite claims he never drove
These are the photographs that appear to disprove the notion that the allegations against Sir Edward cannot be true because he 'never drove a car' and was always accompanied by police.
Both were taken in October 1975. In the main picture on the right, Heath is standing by the driver's door of the Rover 2000 he bought after Margaret Thatcher ousted him as Tory leader in February that year. In the picture on the left, he is seen arriving at the Tory Party conference in Blackpool – in the driver's seat.
The Mail on Sunday has learned that Wiltshire Police has also obtained photographic evidence of him driving.
The issue was first raised by former Cabinet Secretary Lord Armstrong, who worked with Sir Edward in No 10. Lord Armstrong said Sir Edward – whom he described as 'asexual' – had a 24-hour police guard and driver from the day he became PM in 1970 to his death in 2005, and did not have his own car.
'When he was at home he had two policemen on the gate, he had the personal protection officer from Scotland Yard in the house, he never drove a car himself, he always had an official driver,' said Lord Armstrong. 'It seems highly unlikely he could have escaped all that to do the kind of thing that is described.'
Sir Edward Heath again pictured driving, this time leaving leaves the conference for the sea breezes of Weymouth
Sir Edward bought the Rover after losing the chauffeur-driven car he was entitled to as Prime Minister, then Opposition leader.
A confidant of the former PM said: 'He definitely could and did drive, though was a notoriously bad one. When he went to music concerts in Salzburg and hired a car, he was meant to drive it because his British police guards weren't officially allowed to.
'But they insisted as they were frightened he was going to crash.'
Latest: Jersey Care Inquiry
16 January 2015
Jersey's Care Inquiry has heard from a witness today who backs up claims that disgraced TV Presenter Jimmy Savile was in Jersey in 1976 when he denied he was.
'Mr D' was 15 years old when Savile visited Jersey children's home Haut de la Garenne and had a photograph taken with a group of children.
Mr D says he was "too withdrawn" to ask to be in the photograph himself. But he says he saw a group of children pose for the photograph with Savile by the swimming pool.
This is the second witness to claim Jimmy Savile visited Haut de la Garenne.
Yesterday a man claimed he was sexually assaulted by Jimmy Savile during an outing with the care home.
He said Savile took him aside after the photograph was taken..
http://www.itv.com/news/channel/update/2015-01-16/witness-evidence-supports-claim-savile-was-in-jersey-in-the-1970s/
It has also now emerged that Savile visited the infamous Haut de la Garenne care home on the island of Jersey. Savile sued The Sun in 2008 to cover this up and to prevent the publication of a photograph which allegedly shows Savile in the company of children at the care home. As a consequence the paper had to withdraw the article and the photograph, but the picture is still widely available on the net and the story, though not the picture, has been published by both The Daily Telegraph and The Daily Mail
……………………………………………………………………………………..
The current Jersey Inquiry into child abuse has heard that Jersey Senator Wilfred Krichefski raped a 12-year-old boy in the staff room of the Haut de la Garenne children's home.
Senator Wilfred Krichefski carried out the attack with another man known as 'The Old Posh Gent'.

On Jersey, Senator Wilfred Krichefski served as president of the Harbours and Airport committee and later as president of the Defence committee with responsibility for the police
http://aanirfan.blogspot.co.uk/2014/12/jewish-senator-raped-boys-bush-and-bin.html
Paul Every was the commanding officer of Jersey Sea Cadets who was arrested as part of Operation Ore for serious crimes against children but not suspended by the Jersey Sea Cadets.
Postcards link Islington care home children to scene of notorious Jersey sex abuse
The postcards provide solid evidence that children from Islington's homes in the 1970s were sent on trips to Jersey, in an exchange programme with children from the notorious Haut de la Garenne home, where widespread abuse took place.
http://www.islingtontribune.com/news/2014/oct/postcards-link-islington-care-home-children-scene-notorious-jersey-sex-abuse#.VC-gwwF7fgw.twitter
http://google-law.blogspot.com/2015/08/edward-heath-yachting-and-boating.html
http://voiceforchildren.blogspot.com/2010/02/copy-of-affidavit-of-chief-police.html
Islington Devil-worshipper with Pentangle tattoo on head raped teen in 'satanic chamber
Would that have been a council-owned property Satan-obssessive Evangelou moved into c.1977/78 in Islington c.40 yrs ago then?
Child Abuse Inquiry on Top Tax Shelter Jersey Island Delayed Again
4/6/17
Updated | In 2008, police unearthed the remains of at least 10 children, ages 6 to 12 years old, under a shuttered residential care home, on the island of Jersey—a territory of the British Crown, off the coast of France.
Since then, the scandal has roiled the island, as survivors and activists have clashed with Jersey's government to find out why hundreds of children who reported being subjected to sexual and violent attacks by more than 150 alleged abusers for decades went largely ignored. Many of the accused are still alive and among the island's top officials and business leaders, yet the vast majority have never been investigated or punished.
Those accused include British disc jockey Jimmy Savile and, more recently, former U.K. Prime Minister Ted Heath. Both men, now deceased, were fond of traveling to Jersey and inviting orphaned children on sailboat rides. A few of the island's residents who witnessed these rides have reported some of the children never returned.
Police officers at the Haut de la Garenne children's home near St. Martin on Jersey Island, on February 25, 2008. Toby Melville/Reuters
A Newsweek cover story in 2014, "Treasure Island," highlighted how Jersey's status as a $2 trillion tax shelter, catering to many of the world's biggest banks, had "allowed corruption to flourish to such an extent that those seeking to combat it are the ones open to scorn," according to Lenny Harper, former deputy chief of police who led the dig in 2008. Those working to uncover crimes against children on the island (which appear to date back to at least World War II, when the Nazis took over Jersey), were publicly smeared in the island's government-funded newspaper, fired from their jobs, sued, gagged by legal order and even imprisoned for speaking out.
Related: Inside the world's top offshore tax shelter
Now, a $28.4 million (£22.6 million) inquiry by a U.K. judge into the island's decades of child abuse may allow Jersey to put behind it one of the darkest periods of its recent history. That is, if the inquiry's three-member panel is able to release its report without any further delay or interference. The final document, expected out last December, was held up a second time in March for unknown reasons. The release date is now expected to be sometime in April. "This all could have been done and dusted years ago if the island hadn't repeatedly put its reputation…ahead of the abuse survivors," says Carrie Modral, a Jersey resident and survivor who has led the campaign to get to the truth about what happened and why it was ignored for decades.
Modral, now 54, was sent as a toddler to the residential care home where police found children's remains, called Haut de la Garenne—one of the homes visited frequently by Savile. She was just 3 years old. She was there in the 1960s, and remembers Haut de la Garenne as "overcrowded and very strict." (The home was closed by Jersey's government in the 1980s, but some victims say organized child abuse continued there for years afterward. It is now a youth hostel.)
Modral says she remained in government-run care homes in Jersey until she was 18, when she fled to London to escape her rapist, an older man living on the island. He had been sent to jail once for sexually abusing her and other minors, she tells Newsweek, "But when he got out he came after me again. The police didn't care. They made you feel disbelieved and dirty. I was just a kid in care; I was a nobody. I packed my bag and left."
A mother of two and grandmother to six, Modral eventually returned to the island and has been fighting for decades to expose the truth about how vulnerable children were treated in Jersey. During the police investigation in 2008, Operation Rectangle, nearly 200 people came forward from as far as Australia to report being abused when they were children growing up in Jersey. Of the 151 suspects named, at least 30 are now dead, according to a release issued by the States of Jersey Police when the investigation closed in 2010.
The inquiry into the island has included testimony from dozens who say they were raped, beaten, locked up, taken from their beds at night, loaned out for day trips where they were abused, and subjected to such extreme violence that they feared for their lives. Many reported being taken as children onto boats and yachts into international waters, where they were raped. Children who resisted or tried to get help reported being drugged, put into solitary confinement or sent to the local mental hospital or subjected to further violence. Some reported witnessing kids commit suicide at places like Haut de la Garenne. One survivor who published a book about his time at Haut de la Garenne says he witnessed another child (who was trying to fight off his abuser) boiled alive.
Fresh flowers placed on the grounds of the Haut de la Garenne children's home near St. Martin on Jersey Island on February 29, 2008. Toby Melville/Reuters
Since the summer of 2014, the inquiry's panel, led by Judge Frances Oldham, has heard testimony from more than 200 witnesses who say they experienced abuse in the island's foster and residential care homes from 1945 on. Abuse frequently took place in other locations, according to the island's police, such as within the Jersey Sea Cadets, a nautical youth charity, but the government-funded inquiry focused strictly on government-run foster and care homes. According to the judge, the purpose of the final report is to "establish the truth about what happened to children in residential and foster homes, how mistreatment of children remained hidden for so long and what was done when concerns were raised."
To this day, the island's government is still fighting many of the abuse allegations. As of February 2017, the total cost of the three-year inquiry included more than $8.3 million (£6.6 million) of legal fees incurred by Jersey's government to pay a team it hired to defend itself against allegations leveled by hundreds of the abuse survivors. Between 2012 and 2015, Jersey paid nearly $2.7 million (£2.1 million) to more than 100 survivors abused for decades in its residential care and foster homes. Maximum payment for an individual was about $75,000 (£60,000).
What now concerns survivors like Modral most is that the reasons for the report's delays have not been made clear to them. And perhaps more troubling, there is reason to believe that the inquiry's panel may be working with Jersey's government on the final report, which would break a key promise made by the judge when she adjourned the inquiry in June 2016. At the time, Oldham emphasized that, in the interest of being "open and transparent" she would not engage in contact with anyone, including Jersey's government, before publishing the final report, since it "would be inappropriate." Yet in a release issued on March 9, the inquiry stated its report would be delayed for a second time because it had received "new information" from a source it would not name that could affect its final recommendations about the future of Jersey's child-care system.
During a parliamentary question-and-answer session with Jersey's chief minister (the island's de facto president) in mid-March, some of the island's elected leaders demanded to know if the government had been in touch with the inquiry panelists, who were supposed to be working independently. In response, Jersey's Chief Minister Ian Gorst, declined to confirm there had been no further contact between the government and the panelists. A few days later, in an interview with the BBC Jersey, he said it was those running the inquiry, not Jersey's government, who had initiated contact, not the other way around. "Nobody within the States, as far as I'm aware under the information that I have, made contact with the panel," he said. "But the panel—again, I don't know the details—have asked for clarification of certain matters in the report-writing stage." He did not elaborate on what those clarifications were, when the inquiry first made contact, or with whom.
When reached by Newsweek about what new information the inquiry was seeking at such a late stage, who it came from and what the nature of it was, the inquiry's spokeswoman, Angharad Shurmer said that Judge Oldham indicated "no further details are available in respect of this information." Shurmer added that a new release date for the inquiry's final report will be announced "in due course." Gorst says the report may be out around Easter, but also noted that he has yet to be informed of an exact date.
For the survivors, many of whom must emotionally prepare for the report's release, the inquiry's delays have been incredibly frustrating. "It's the opposite of open and transparent," says Modral. "After working so hard to gain the trust of the survivors for this inquiry, to have so many delays without any plausible explanation is extremely damaging."
Gorst has urged a speedy release of the inquiry's report, noting that Jersey must take lessons from its past to ensure such large-scale abuses against children never happen again. In a statement emailed to Newsweek, he said: "The Jersey Care Inquiry has given a voice to victims and I would like to thank those people for their courage in coming forward to tell their stories. Our priority now is to respond to the recommendations from the Inquiry to ensure that our young people are protected, both now and in the future."
Alan Collins, a partner at London law firm Hugh James, which represents more than 80 survivors of child abuse—including Modral—is also concerned about the delays. "If the report doesn't come out soon," he tells Newsweek, "I am afraid the inquiry may start to have some credibility problems."
Collins says he's still hopeful the inquiry into Jersey's child abuse will be one of the most comprehensive ever released in the British Isles. "This report should be on the desk of anyone dealing with systemic child abuse, from governments to health and social services to law enforcement officials," he says. "Jersey's got ongoing problems, but it's not unique. It's a microcosm of a lot of other places, and we can learn from it."
Correction: A previous version of this story stated Modral says she remained in government-run care homes in Jersey until she was 17. It was until she was 18. A previous version of this story also stated that between 2012 and 2015, Jersey paid money to survivors of its residential care and foster homes, and that the maxium payment was $60,000. It was £60,000.
http://www.newsweek.com/jersey-island-child-abuse-tax-shelter-uk-jimmy-savile-child-predators-rape-579698
Well, I can hazard a guess. Related to to several reasons. Not least that the quantum of punitive and exemplary damages going to victims ……would – rightly – have amounted to many, many £$millions – at massive loss to LLoyd's Names & related entities, & consequent peanuts…
..whilst survivors, at best, AT BEST, secured cash settlement, about enough to buy a moderate car. Hows that? In exchange for lives wrecked?
to all the lawyers involved, most noticeably, the victim's "own" lawyers – who have been able to cream-off vast sums of "uncontested fees"
I had to actually pro-activly approach Allan Collins at the outset, before
@
JerseyInquiry
even existed. I offered him…..
…offered Allan Collins an affidavit. I had to beg to even get a meeting within him. It too place in a Jersey pub, in Halkett street….
…he plainly didn't want to be there. I explained the massive – JUST MASSIVE – UNPRECEDENTED – WILLING – FIREPOWER his clients could call on. I would give a truthful affidavit, on the dismal failings – and worse – of Jersey childrens "services"; & I knew from contact with them….
…that no-less figures or awesome calbre, the then Police Chief and Deputy Police Chief would, likewise be willing witness.
To best of my knowledge not one of us 3 was approached by survivors lawyers and asked to give such testimony on survivors' behalves. When I met Allan Collins & spoke with him – and in later e-mail correspondence, I virtually begged him for legal representation for me. He made always excuses – just like every other lawyer, chambers, firm etc, I've ever approached, as to "why" they couldn't / wouldnt represents me ..every possible excuse – and then some. And more.
Consequently, for being the 1st Government office-holder to spot, identify & speak-out….against decades of monstrous child-abuse & child-protection failure I am only human-being in entire Council of Europe who can't get lawyer
So – yes. The Stakes are – plainly – that high. As a lawyer, if you have a group of vulnerable clients – whose official, government / state …opponents would simply be, metaphorically speaking, "nuked" in the face of the right damning witnesses – it has be very concerning.
..does it not? Questioning of those lawyers motives – when those known – available – willing – formidable – 100% allied to their clients..
..very concerning indeed – when abuse-victims "own" lawyers failed to call – proactively willing – powerful – centrally-placed – witnesses?
---
DISCLAIMER: THE POSTING OF STORIES, COMMENTARIES, REPORTS, DOCUMENTS AND LINKS (EMBEDDED OR OTHERWISE) ON THIS SITE DOES NOT IN ANY WAY, SHAPE OR FORM, IMPLIED OR OTHERWISE, NECESSARILY EXPRESS OR SUGGEST ENDORSEMENT OR SUPPORT OF ANY OF SUCH POSTED MATERIAL OR PARTS THEREIN.