Willie Booth –  Priest in Ordinary to Queen Elizabeth (1976-1993) and chaplain at Westminster School.

Elevated: Peter Ball, Prior of the Community of the Glorious Ascension, on his consecration as Bishop of Lewes in 1977 by the Archbishop of Canterbury at that time, Donald Coggan
Prebendary Willie Booth
Prebendary Willie Booth and Jimmy Savile introduced paedophile Peter Ball to the royal circle.
"He was propelled into the royal circle by two people, I understand. One was prebendary Willie Booth, a former chaplain at Westminster School… The other was Jimmy Savile.
The Old Bailey heard on Wed­nes­day that a member of the

Royal Family, a Lord Chief Justice, and several MPs all called the police while they were investigating Bishop Ball to support him.
---
Savile in 1969 with (PHAB) members at a dance at Devonshire House
Prebendary Willie Booth CVO, Vice- President  PHAB

With Lord Snowdon as Patron, Ed Stewart as President and Rolf Harris and Sir Cliff Richard as Vice Presidents, Phab has provided support and services for its members since 1957
PHAB -Jimmy Savile and Rolf Harris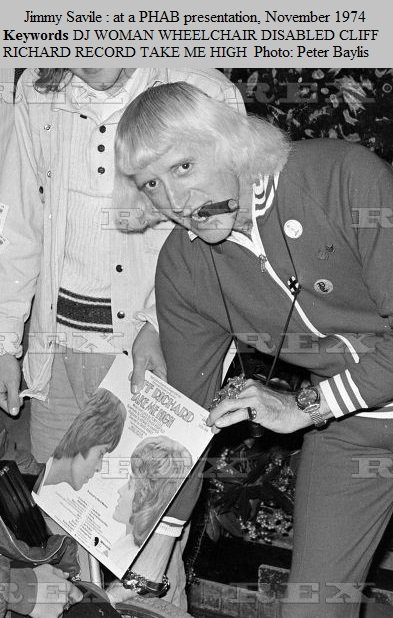 Jimmy Savile at a PHAB presentation 1974
Jimmy Savile and Angus Ogilvy with young people at an event relating to PHAB. One photograph is dated to 1970 (showing Jimmy Savile signing the visitor book at Devonshire Street House)

Sir Angus Ogilvy,  and Princess Alexandra. All mention of the former DJ's claims to friendship with the royal was initially omitted from police transcripts
Sir Harold Haywood, Savile, NAYC & PHAB 
"With the Earl of Snowdon as Patron of PHAB and the Queen Mother as Patron of NAYC Savile had increased access for networking with royalty.
21 October, 1981. The Times. 'Reception.' 'The Earl of Snowdon, Patron of PHAB (physically handicapped and able bodied) and Mr Jimmy Savile (president) were hosts at a reception and dinner held at the Mount Royal Hotel yesterday to launch the charity's silver jubilee celebration for 1982. Among the guests were: Mr Hugh Rossi, Minister of state for Social Security and the Disabled […].
Ex-cop claims a ROYAL was in paedophile ring but inquiry was closed to shield Buckingham Palace from scandal.
---
http://www.telegraph.co.uk/news/obituaries/religion-obituaries/5498039/Prebendary-Willie-Booth.html
http://webcache.googleusercontent.com/search?q=cache:wvOEp9J2aTwJ:www.churchtimes.co.uk/articles/2015/9-october/news/uk/peter-ball-sentenced+&cd=4&hl=en&ct=clnk&gl=us
http://www.dailymail.co.uk/news/article-3265742/Jimmy-Savile-Prince-Charles-close-friendship-sex-abuse-bishop-Peter-Ball.html#ixzz3oCtO0Jh0
http://www.huffingtonpost.com/2013/10/29/david-smith-dead-bbc-sex-charges_n_4172825.html
https://web.archive.org/web/20130302113746/http://phab.org.uk/map/
---
DISCLAIMER: THE POSTING OF STORIES, COMMENTARIES, REPORTS, DOCUMENTS AND LINKS (EMBEDDED OR OTHERWISE) ON THIS SITE DOES NOT IN ANY WAY, SHAPE OR FORM, IMPLIED OR OTHERWISE, NECESSARILY EXPRESS OR SUGGEST ENDORSEMENT OR SUPPORT OF ANY OF SUCH POSTED MATERIAL OR PARTS THEREIN.