Willie Booth –  Priest in Ordinary to Queen Elizabeth (1976-1993) and chaplain at Westminster School.

Elevated: Peter Ball, Prior of the Community of the Glorious Ascension, on his consecration as Bishop of Lewes in 1977 by the Archbishop of Canterbury at that time, Donald Coggan
Prebendary Willie Booth
Prebendary Willie Booth and Jimmy Savile introduced paedophile Peter Ball to the royal circle.
"He was propelled into the royal circle by two people, I understand. One was prebendary Willie Booth, a former chaplain at Westminster School… The other was Jimmy Savile.
The Old Bailey heard on Wed­nes­day that a member of the

Royal Family, a Lord Chief Justice, and several MPs all called the police while they were investigating Bishop Ball to support him.
---
Savile in 1969 with (PHAB) members at a dance at Devonshire House
Prebendary Willie Booth CVO, Vice- President  PHAB

With Lord Snowdon as Patron, Ed Stewart as President and Rolf Harris and Sir Cliff Richard as Vice Presidents, Phab has provided support and services for its members since 1957
PHAB -Jimmy Savile and Rolf Harris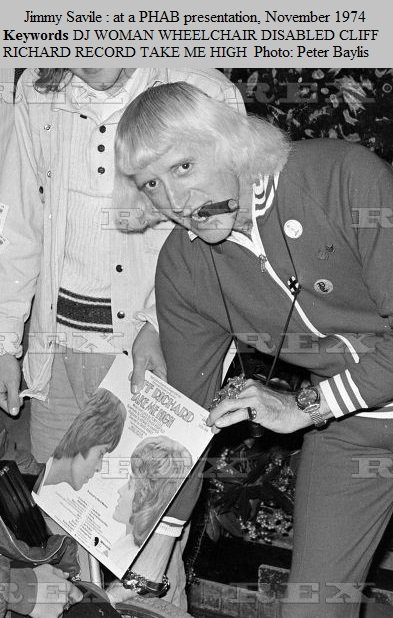 Jimmy Savile at a PHAB presentation 1974
Jimmy Savile and Angus Ogilvy with young people at an event relating to PHAB. One photograph is dated to 1970 (showing Jimmy Savile signing the visitor book at Devonshire Street House)

Sir Angus Ogilvy,  and Princess Alexandra. All mention of the former DJ's claims to friendship with the royal was initially omitted from police transcripts
Sir Harold Haywood, Savile, NAYC & PHAB 
"With the Earl of Snowdon as Patron of PHAB and the Queen Mother as Patron of NAYC Savile had increased access for networking with royalty.
21 October, 1981. The Times. 'Reception.' 'The Earl of Snowdon, Patron of PHAB (physically handicapped and able bodied) and Mr Jimmy Savile (president) were hosts at a reception and dinner held at the Mount Royal Hotel yesterday to launch the charity's silver jubilee celebration for 1982. Among the guests were: Mr Hugh Rossi, Minister of state for Social Security and the Disabled […].
Ex-cop claims a ROYAL was in paedophile ring but inquiry was closed to shield Buckingham Palace from scandal.
---
http://www.telegraph.co.uk/news/obituaries/religion-obituaries/5498039/Prebendary-Willie-Booth.html
http://webcache.googleusercontent.com/search?q=cache:wvOEp9J2aTwJ:www.churchtimes.co.uk/articles/2015/9-october/news/uk/peter-ball-sentenced+&cd=4&hl=en&ct=clnk&gl=us
http://www.dailymail.co.uk/news/article-3265742/Jimmy-Savile-Prince-Charles-close-friendship-sex-abuse-bishop-Peter-Ball.html#ixzz3oCtO0Jh0
http://www.huffingtonpost.com/2013/10/29/david-smith-dead-bbc-sex-charges_n_4172825.html
https://web.archive.org/web/20130302113746/http://phab.org.uk/map/
22 June 2017
Church of England colluded with bishop who abused boys, says Welby
Report about bishop Peter Ball, finding collusion over 20 years, is 'harrowing reading'
Collusion: Secret or illegal cooperation or conspiracy
Senior figures in the Church of England colluded for a period of 20 years with a disgraced former bishop who sexually abused boys and men, a damning independent report has found.
The archbishop of Canterbury, Justin Welby, said the report on the church's handling of former bishop Peter Ball made "harrowing reading".
"The church colluded and concealed rather than seeking to help those who were brave enough to come forward. This is inexcusable and shocking behaviour," he said.
"To the survivors who were brave enough to share their story and bring Peter Ball to justice, I once again offer an unreserved apology. There are no excuses whatsoever for what took place and the systemic abuse of trust perpetrated by Peter Ball over decades."
Two former archbishops of Canterbury, George Carey and Rowan Williams, apologised to the victims of Peter Ball after being criticised for their failures in relation to him.
Ball, the former bishop of both Gloucester and Lewes, was jailed in October 2015 for the grooming, sexual exploitation and abuse of 18 vulnerable young men aged 17-25 who had sought spiritual guidance from him between 1977 and 1992. He was released from prison in February after serving 16 months.
His trial heard that after Ball was first accused in 1993, a string of senior establishment figures – including Carey, an unidentified member of the royal family, cabinet ministers and a high court judge – came forward in his support, writing letters to the police and Crown Prosecution Service.
Ball was cautioned by police. He resigned his post as bishop and retired to a rented cottage on the Prince of Wales's Duchy of Cornwall estate but continued to officiate in 17 public schools until 2007. A fresh investigation was opened in 2012 which led to his conviction.
One of Ball's victims, Neil Todd – the first to come forward with allegations of abuse – attempted suicide three times before killing himself in 2012.
Welby ordered an independent review of the church's handling of the case, chaired by Dame Moira Gibb, former chief executive of Camden council.
The report said Ball's case was dealt with at the highest levels within the church. He "was seen by the church as the man in trouble who the church needed to help".
Ball was portrayed as a victim, and the review found "little evidence of compassion for Neil Todd even though from the outset it was clear that he was a vulnerable young man who had come to harm".
It added: "The church appears to have been most interested in protecting itself."
In the foreword to her report, An Abuse of Faith, published on Thursday, Gibb said the serious sexual wrongdoing of Ball "is shocking in itself but is compounded by the failure of the church to respond appropriately to his misconduct, again over a period of many years".
"Ball's priority was to protect and promote himself and he maligned the abused. The church colluded. The church colluded with that rather than seeking to help those he had harmed, or assuring itself of the safety of others."
The report added, "progress has been slow and continuing, faster improvement is still required".
Gibb made 11 recommendations in her report, including improving support to survivors of clerical abuse and taking steps to "demonstrate the individual and collective accountability of bishops".
Peter Hancock, the C of E's lead safeguarding bishop, who received the report on behalf of the church, said it had failed Ball's survivors. "Having read the report I am appalled and disturbed by its contents … As a church we colluded, we failed to act and protect those who came forward for help. There are no excuses. We accept all the recommendations and are working to action them."
Rowan Williams: 'It is clear I did not give adequate priority to sorting out the concerns and allegations surrounding Peter Ball.'
He added: "For the survivors, it may feel this is all too late."
According to the report, Ball intimated "on many occasions, to Lord Carey and others, that he enjoys the status of confidant of the Prince of Wales" and "sought to exploit his contact with members of the royal family in order to bolster his position".
The Royal family with the Archbishop Rowan Williams, beside protected padophile Bishop Ball, at Windsor Castle for wedding of Prince Charles and Camilla Parker Bowles
Bishop Ball with Prince Charles and Camilla. Ball gave the homily at the funeral of Camilla Parker Bowles's father, Major Bruce Shand, in 2006
Moira Gibb is made a Dame CBE by the Prince Charles at Buckingham Palace back in 2012
However, Dame Moira Gibb's report went on, it "found no evidence that the Prince of Wales or any other member of the royal family sought to intervene at any point in order to protect or promote Ball".
Carey was criticised in the report, which said he "set the tone for the church's response to Ball's crimes and gave the steer which allowed Ball's assertions that he was innocent to gain credence".
In a statement responding to the report, Carey said it made "uncomfortable reading" and he accepted its criticisms of him. "I apologise to the victims of Peter Ball. I believed Peter Ball's protestations and gave too little credence to the vulnerable young men and boys behind those allegations."
Carey said he regretted not putting Ball's name on the Lambeth List – names of people whose suitability for ministry is under question – after he was cautioned.
Under the leadership of Williams, the church began reviewing past cases, a move which ultimately led to the criminal case against Ball being reopened, the report said. However, he was criticised as being "lamentably slow" in making change.
In a statement, Williams said: "Having read the report and reflected on its details, it is clear I did not give adequate priority to sorting out the concerns and allegations surrounding Peter Ball at the earliest opportunity. I recognise such a delay is likely to have increased the pressure and distress experienced by the survivors of his abuse and I am sincerely sorry for this."
https://www.theguardian.com/world/2017/jun/22/church-of-england-colluded-with-bishop-peter-ball-who-abused-boys-says-justin-welby?CMP=Share_iOSApp_Other
---
DISCLAIMER: THE POSTING OF STORIES, COMMENTARIES, REPORTS, DOCUMENTS AND LINKS (EMBEDDED OR OTHERWISE) ON THIS SITE DOES NOT IN ANY WAY, SHAPE OR FORM, IMPLIED OR OTHERWISE, NECESSARILY EXPRESS OR SUGGEST ENDORSEMENT OR SUPPORT OF ANY OF SUCH POSTED MATERIAL OR PARTS THEREIN.