Update Jan 20 2017
BBC worker told 'get with the programme' after 'complaining about Rolf Harris groping her'
link
Jimmy Savile and Sir Bill Cotton
Jimmy Savile and the BBC: Dame Janet Smith report's key sections
Dame Janet's investigation into dozens of sexual assaults by Savile heard evidence from over 700 people.
They included two BBC managers who confronted Savile over claims he took teenagers home from Top of the Pops.
The BBC received a number of "wake-up calls" relating to allegations of sexual misconduct
The first wake-up call concerned the activities of Harry Goodwin, the programme's stills photographer from 1964, who allegedly took pornographic photos of girls in his dressing room after the show
The second wake-up call was in 1971 when Vera McAlpine telephoned the BBC to complain that her daughter Claire, then 15, had been seduced by a celebrity after she had attended TOTP as a member of the audience
The BBC carried out an investigation, but it was not conducted in a satisfactory way. The celebrity denied the allegation, and his denial was accepted
During the 1960s, 1970s and 1980s, and possibly after that, young people attending TOTP were at risk of moral danger
Jimmy Savile dressed as a Womble to rape a 10-year-old boy and sexually assault girl, 12, in his dressing room after filming 1973 Top of the Pops Christmas special
The BBC made no real attempt to grapple with the problem of how to protect young people
2009:  Savile  at memorial for Sir Bill Cotton, BBC light entertainment executive
Sir William Frederick "Bill" Cotton CBE (23 April 1928 – 11 August 2008) was a British television producer and executive, and the son of big-band leader Billy Cotton
Sir Bill Cotton:

Established Top of the Pops
Jim'll Fix It (1975-95)
Brought Michael Grade into the BBC
Sir Bill Cotton's most significant personnel contribution as head of the television service was to recruit Michael Grade to be a high-profile Controller of BBC1 and later Director of Programmes. Grade, a long-time friend of Cotton…
BAFTA Vice-President and ITV executive chairman, Michael Grade, led tributes to his former boss in 2008, calling him: "the greatest television impresario of his or any generation."
(Former BBC chief Lord Michael Grade admitted he had heard "rumours" about Savile.  But he denied any cover-up had taken place at the Corporation. Dismissing "ludicrous" rumours of a cover-up, Lord Grade — Controller from 1984 to 1986 — added: "I never heard anything that gave me cause to think we should investigate or do anything about it.")
via Strider
Prince Charles: " Jimmy …with highest regards"
Childline's Esther Rantzen and Jimmy Savile at this Bill Cotton Lunch event
Childline's Esther Rantzen was a guest on Jim'll Fix It
"March 1986, when Esther Rantzen made an appearance as a guest on 'Jim'll Fix It'.
Daily Mirror, March 22nd 1986
http://www.network54.com/Forum/506171/thread/143009″3156/What's+Wrong+With+Esther+Rantzen%3F
20 February 2016
Esther Rantzen speaks out against investigations into historical child abuse. The 75-year-old Dame said she would rather the police focused on catching today's child abusers.

---
Rolf Harris was backed by Cotton with BBC shows Hi There and Hey Presto it's Rolf in 1964, and The Rolf Harris Show in 1967
"BBC Light Entertainment"
Rolf Harris with Jimmy Savile on Jim'll Fix It
Bill Cotton was made an OBE in 1976, CBE in 1989, knighted in 2001
---
Jim'll Fix It and PIE
Savile and P.I.E. Member Keith Harding on Jim'll Fix It. 
P.I.E. (Paedophile Information Exchange) member and Freemason Keith Harding was invited to Jim'll Fix It show
Paedophile Mason ran lodge set up for GCHQ
ONE OF Britain's most influential paedophiles Keith Harding, was the head of a Masonic lodge founded and frequented by GCHQ spies.
Keith Harding, former membership secretary of the Paedophile Information Exchange (Pie) was made Worshipful Master of the Mercurius Lodge in Cheltenham, Gloucestershire, in 2011.
The child molester, who died last summer, presided over ceremonies and rituals from an ornate throne.
Harding was convicted of an indecent assault against four children aged eight and nine
In 1980 Keith Harding was asked on to Jim'll Fix it Christmas special with Savile;
Keith Harding, a British antiques expert who restored items for royalty and a prominent member of the Paedophile Information Exchange, had a shop in Islington, visited by many other members of the Paedophile Information Exchange, along with prominent MPs such Jeremy Thorpe, Cyril Smith and Leon Brittan.
---
https://tompride.wordpress.com/2012/10/14/mi5-vetted-savile-and-decided-paedophilia-was-nothing-to-worry-about/
Jimmy Savile would have been vetted by MI5 as far back as the 1960s – and Bond, Moneypenny, M etc would have continued vetting him until at least the 1980s.
Well, obviously the Telegraph doesn't now say as much – because that might prove to be a tad too uncomfortable for its pro-establishment readership – but it did reveal in an article it printed back in 2006 that staff at the BBC, including reporters, newsreaders and presenters, were all vetted by MI5.
That clearly would have included the BBC's star presenter Jimmy Savile.
Which rather begs this question:
Were the nation's finest spies so incompetent they didn't discover what apparently everyone else knew about Savile's fondness for abusing children, or did they consider abusing children not a good enough reason to bar someone from employment?
I think we should be told. Don't you?
---
Note from Savile to BBC Security friends to admit "ladies" to his room
---
Jimmy Savile: Secret of BBC's first sex scandal
Top disc jockeys and executives at the BBC were caught up in a sex scandal more than 40 years ago.
Orgies were arranged involving BBC staff, call girls and others at the house of a brothel-keeper in Kensington in west London. From behind a two-way mirror, other executives and celebrities looked on.
Prostitutes were also provided at hotels and other locations in the West End.
The origin of Jim'll Fix It – an interview with Jimmy Savile
Tell me a bit about how you came up with the original concept for Jim'll Fix It.
Jim (Savile): Right, yes, all those years ago I was doing Top of the Pops' quite happily. I was walking down a corridor, in television centre, and the great Bill Cotton who was the head of light entertainment was walking the other way, when he said, 'here, listen, you've been fixing things for people all your life why don't we put some pictures to it?'. I said, 'alright then', and that's how it came up.
---
"The Final Fix"
Final Fix: Prince Andrew helps Sir James (Savile) fulfill a dream in the last series of the programme.
---
Claire McAlpine's distraught mother is believed to have contacted BBC bosses at the time but a new report claims she was "fobbed off".
Barely a month later the girl who dreamed of being a dancer died
Mark Ufland, her brother-in-law, said: "Jimmy was named in the diary for having some sort of sexual relationship with her.
At the time of Claire's death, a Sunday newspaper claimed that her diary contained a record of associations with several top BBC disc jockeys and show business personalities, all of whom she alleged had "used her" for their own sexual gratifications.
In light of the much publicised sex scandal involving Savile, Claire's diary sparked interest, as it suggested she may have been a victim of the former Top of the Pops presenter's alleged predatory sexual advances.
The Mirror last night published memos in which the BBC's Assistant Head of Variety Tony Preston, reportedly told Assistant Solicitor George Derrick and Head of Light Entertainment Bill Cotton about the allegations made by Miss McAlpine.
…a memo written by Mr Preston in 1971 records that Blackburn was interviewed by Mr Cotton about ten days after Mrs McAlpine's complaint, when he 'flatly denied' sleeping with the 15-year-old.
http://www.dailymail.co.uk/news/article-3464925/Secret-memo-proves-sacked-DJ-Tony-Blackburn-interviewed-BBC-bosses-claims-seduced-15-year-old-later-killed-herself.html
---
BBC warned 40 years ago that young girls in Top of the Pops audience were being put at risk
Sexual misconduct at BBC was investigated in 1972 following concerns
Sir Brian Neill QC's report handed to the director general and chairman
Sir Brian Neill QC investigated how young girls were treated on Top of the Pops
Sir Brian interviewed Sir Bill about Miss McAlpine's death. The report states: "I questioned… Billy Cotton about this matter. The girl had come to see him [Bill Cotton] on several occasions and had invented stories for the purpose of getting access to him. He said she seemed to him in a sort of fantasy world but that she had not made any sexual advances of any kind." 
He was persuaded by senior figures including Sir Bill Cotton, the BBC's legendary head of light entertainment, that any problems with the programme were rare.
 Sir Bill Cotton interviewed by Sir Brian Neill QC about Claire's death.
The report said: "I questioned Billy Cotton about this matter. The girl had come to see him [Billy Cotton] on several occasions and had invented stories for the purpose of getting access to him.
---
Funny how when you play three degrees of separation with these people, they're never far from a nonce.
…Another fun fact about Bill Cotton: he is (related to) Fearne Cotton, the television presenter. There are lots of fun facts about Fearne, according to Wikipedia. Here are just a few
Fearne Cotton began her career with CITV in 1998, when she presented The Disney Club at 17 years of age. (Shades of Britney Spears etc. MK-Ultra anyone?)
She's presented such shows as Top of the Pops, Red Nose Day and the BBC's Royal Wedding and Jubilee Coverage, and conducted a fawning interview with Princes William and Harry. She also hosted The Xtra Factor, a spin-off of Simon Cowell's X-Factor.
And – a fact curiously absent from her Wikipedia – her former boyfriend is Ian Watkins, lead singer of the band Lostprophets, who in December 2012 was charged with conspiracy to rape a one-year old baby girl.

The offences included the attempted rape of an 11-month old child as well as encouraging a fan to abuse her baby via webcam.
Police also found a stash of child porn videos – some of which he had made himself.
http://www.dailymail.co.uk/news/article-2710378/We-killed-Lostprophets-tell-horror-bandmate-Ian-Watkins-paedophile-abuse.html
More on Bill Cotton:
In 1980, Bill Cotton inaugurated a telethon with the charity Children In Need.  This has become an annual fixture of the BBC's calendar and led to Live Aid (1985) and the annual Comic Relief appeal from 1988
BBC Children in Need 2015: The greatest fundraisers, including Joanna Lumley's strip-tease
From Terry Wogan's floral dance to vicars in knickers-  35 years of fundraising for Pudsey Bear
The sight of BBC newsreaders "sexing up" Children in Need has become an occasionally inglorious part of the telethon.
In 2002, the ritual humiliation of the news-reading corp involved the likes of Andrew Marr and Michael Buerk gyrating with Sophie Raworth to the Time Warp. Newsnight's Jeremy Vine, playing the part of Dr Frank-N-Furter in suspenders and stilletos, took it as a dry run for his turn on Strictly.
link
Jim Fixes It For Children in Need…Esther Rantzen…
Bill Cotton was a magistrate. It was while sitting on the Richmond Bench that he met a fellow magistrate 25 years his junior, Kate Burgess – both were sitting as magistrates at Richmond upon Thames, Surrey. Both resigned from the bench amid a BBC-bashing campaign by some tabloid newspapers.
 Bill Cotton suffered a breakdown in 1960 and underwent ECT (electroconvulsive therapy)
Bill Cotton was vice-president of Marie Curie Cancer Cure.
http://www.theguardian.com/media/2008/aug/12/bbc.television2
Yes Minister (1980-82) and Yes, Prime Minister (1986-88), a programme that counted the Prime Minister, Margaret Thatcher, among its fans
http://www.independent.co.uk/news/obituaries/sir-bill-cotton-television-executive-who-brought-some-of-the-bbcs-most-popular-programmes-to-the-892826.html
Cotton had several disagreements with Mrs.Thatcher, notably over a 1979 Panorama programme about the IRA. In his autobiography, Cotton recalled that 'the Prime Minister was beside herself with fury'. He pointed out that 'the film had never been developed, let alone transmitted and but for a press leak nothing more would have been heard about the incident'.
---
The young Bill Cotton and his brother Ted were boarders at Ardingly College in Sussex which, Bill reflected, "made Bleak House look like a holiday camp".
CassandraCogno
Sir Bill Cotton (BBC Payola Inquiry) attended Ardingly College  c.1941-46.
Paedophiles Richard Alston and Peter Righton
Bill_Cotton … Was at Ardingly College at the same time as (PIE member) Peter Righton 1940-44
https://en.wikipedia.org/wiki/Bill_Cotton …
Convicted paedophile Richard Alston and brother Robert Alston also attended Ardingly College
Richard Alston –was sentenced to 21 months in prison for molesting an 11-year-old boy.
Brother Diplomat Robert Alston – Chairman of Governors at Ardingly College.

Ardingly College has a Freemason Lodge and is a member of the elite Freemason "Public School Lodges" Council. 

Diplomatic Connections and PIE /  Richard Alston  &   brother Robert Alston – diplomat and freemason
https://goodnessandharmony.wordpress.com/?s=Diplomatic+Connections+and+PIE+%2F+Diplomat+Robert+Alston+%E2%80%93+brother+of+Richard+Alston+%28part+1%29
---
---
Bill Cotton and associates

---
LORD MATTHEWS and Lady Matthews celebrated their 40th wedding anniversary with 80 close friends at the Ritz Hotel, London
Eric Parker, Reg Varney, Bill Cotton Jr, Jimmy Savile, Nlgel Broackes, Sir Douglas Bader*, Lord George Brown, and Denis Compton.)
Bader knew Janner and Savile
*Sir Douglas Bader –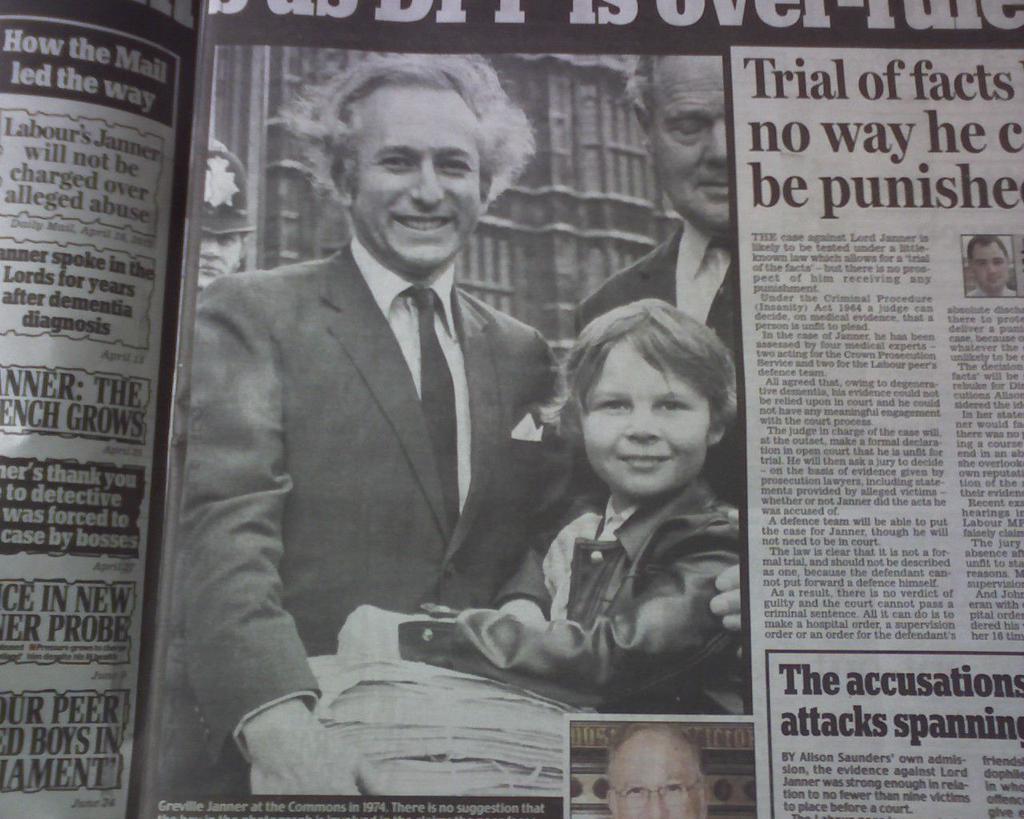 Greville Janner and beside him, Sir Douglas Bader

He's photo-shopped out when that picture is used in the media, such as this Daily Mail article
From Hansard:
20 March 1972
Janner: I pay tribute to Douglas Bader, a very great man, who kindly lent his support to this campaign.
---
DISCLAIMER: THE POSTING OF STORIES, COMMENTARIES, REPORTS, DOCUMENTS AND LINKS (EMBEDDED OR OTHERWISE) ON THIS SITE DOES NOT IN ANY WAY, SHAPE OR FORM, IMPLIED OR OTHERWISE, NECESSARILY EXPRESS OR SUGGEST ENDORSEMENT OR SUPPORT OF ANY OF SUCH POSTED MATERIAL OR PARTS THEREIN.