Police to investigate Geoffrey Dickens sex abuse dossier
21 October 2015
The Labour MP John Mann, who recently obtained the file, has criticised the government for failing to find it despite a Home Office review last year.
He has also asked why the contents of the file were not investigated at the time.
The document seen by the BBC contains 21 names. A handwritten note in pencil suggests it was "given to Geoff Dickens, in Lobby, Jan 84".
The author, a Conservative party member in the 1980s, says the information was gathered from two former Tory MPs – Sir Victor Raikes  MP for Southeast Essex and Anthony Courtney –  a leading member of the Conservative Monday Club.[1]
Both are now dead and as a result are unable to confirm they provided the information which appears in the document. However, handwritten notes said to have been compiled during discussions with the MPs in the 1980s are also also in the file.
Geoffrey Dickens is thought to have passed at least two "dossiers" to Lord Brittan in 1983 and early 1984.
He also met Lord Brittan to push the case for strengthening the laws on importing child abuse material and he urged the home secretary to ban the Paedophile Information Exchange – a group which campaigned for the legalisation of sex with children.
Why haven't the police published their investigation of Dover customs officer's claims of Brittan on video?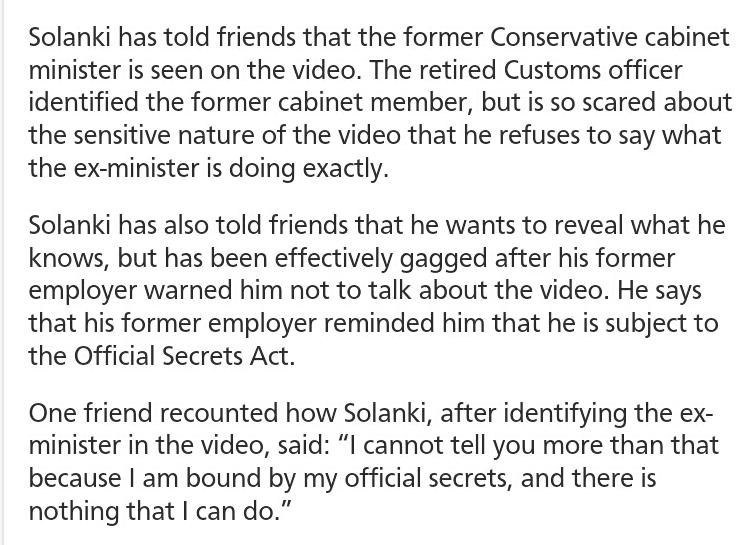 Why was Op Midland underfunded? Only £2 million – Madeleine McCann investigation £12 million.

Readers will note that

the report looks specifically at the allegations from one "Nick" and ignores any other

s

. Moreover, it cites errors in procedure in dealing with his accusations over and above those of any the others.
They were numerous yet this report looks only at the allegations made by one individual. As such it reeks of a whitewash.
For example it notably fails to specifically mention the allegation of rape made against Leon Brittan. Those claims have been further corroborated by friends of the rape victim. Yet these been have now been dismissed without police looking at them specifically because the veracity of complaints from one alleged victim has been called into question.
Suspicions that a whitewash is underway were first aroused by a BBC investigation into the allegations, which also tried to dismiss the claims in a Panorama documentary.
The fact that senior police officers have now joined with the BBC and a retired judge, who headed the report, suggests that the British establishment is engaged in a full scale damage control exercise.
http://www.thetruthseeker.co.uk/?p=142272
Really
---
08 November 2016
College statement following Sir Richard Henriques Review
via ww
8 Nov 2016
Report – Independent Review of Metropolitan Police Service's handling of non-recent sexual offence investigations
http://news.met.police.uk/documents/report-independent-review-of-metropolitan-police-services-handling-of-non-recent-sexual-offence-investigations-61510
Update
October 5 2016,
The Metropolitan Police has rejected calls for the full release of an independent review into its investigation of a VIP paedophile ring.
Assistant Commissioner Helen King said that it was her "strong expectation" that the retired judge's review of Operation Midland would not be published in its entirety because it contains confidential material.
Public figures caught up in the inquiry believe that transparency is key to the Met learning lessons and that anything less would be a cover-up.
http://www.thetimes.co.uk/edition/news/met-will-not-release-review-of-vip-paedophiles-inquiry-33nlkjfbd?CMP=Spklr-_-Editorial-_-TWITTER-_-thetimes-_-20161005-_-News-_-608630924&linkId=29549835
Met will not release review of VIP paedophiles inquiry
Censored! Fury as Scotland Yard say they will redact report into bungled £2m VIP abuse inquiry
Metropolitan Police will only release bombshell report if it agrees with it
Officials said force 'strongly expects' it will not publish the full findings
It is expected to be 'highly critical' of VIP paedophile investigation
Victims of 'false allegations' could pursue legal action to reveal findings 
4 October 2016
Update:
19 Sept 2016
Judge Richard Henriques is paid £1,100 a day to write report about Scotland Yard's shambolic VIP child sex probe…but we only get a censored version
A retired High Court judge has been paid £66,000 to write a report about Scotland Yard's shambolic VIP child-sex probe – but the public will get to see only selected findings on the orders of Britain's most senior policeman.
…
his work – which includes examining other 'non-recent' sex investigations into VIPs.
---
Background:
Feb 10 2016
"Fat Cat Barrister" Judge Richard Henriques – Sympathetic and lenient towards paedophiles. He is a member of the establishment and was a friend/protege of George Carman QC who defended/protected Greville Janner and other child rapists…perfect safe pair of hands for the establishment.
A former High Court judge Sir Richard Henriques is to examine the way historical allegations against public figures are investigated, after a request from the head of the Metropolitan Police.
Sir Richard Henriques is to conduct the review, which will be published later this year and will "focus on police procedures and will not reach judgements on the evidence".
Operation Midland inquiry is ongoing.
http://www.itv.com/news/2016-02-10/ex-high-court-judge-to-conduct-review-into-vip-sex-abuse-investigations/
Sir Richard Henriques' Outrageous ruling: Paedophile allowed to move in opposite to the 12 yr-old girl he abused because he posed no risk and it would be a hardship for the paedophile!
Judge Richard Henriques claimed paedophile was no risk to victim when allowing him to move in opposite her
Sir Richard Henriques QC

His  Friend and Mentor was George Carman QC

Sir Richard Henriques speaking about George Carman:
"George Carman and Christopher Rose were the giants of advocacy. George spent so much time socialising he knew how to talk to juries. It was a gift. I saw him through pupillage in my early years. He was a friend, came to our wedding
Sir Richard Henriques regarded the late George Carman,  Lord Janner's barrister when he was first investigated for sex crimes in 1991, as a friend and mentor at the Bar, a report in The Times claims.
Judge Richard Henriques' friend,George Carman QC, defended/protected  VIP/Establishment Child Sexual Abusers – Cyril Smith, Jimmy Savile, Greville Janner…
Mentor George Carman
http://changingminds.org/analysis/george_carman.htm
The late George Carman, Blackpool born libel lawyer to the stars.
Jeremy Thorpe, Cyril Smith and David Steel
Michael Crick describes how Dominic Carman, son of George Carman QC who successfully defended Jeremy Thorpe in the murder trial, told him that only…
…a few weeks before the trial, allegations about Cyril Smith were circulating and George Carman QC got onto his legal friends, with Thorpe's backing, to basically frighten the Fleet street editors into not picking up the Rochdale Alternative Press story about Cyril Smith.
In 1992, my father, George Carman QC, had been retained by Savile's lawyers over a different matter, which never reached court. By 1994, the name Carman, and what he could do in cross-examination, put such fear into the minds of litigants, lawyers and editors that  libel cases were settled and, in some circumstances, perhaps stories were not published.
…the editor of the Sunday Mirror in 1994, did have "credible and convincing" evidence from two women who claimed that Jimmy Savile had been guilty of abusing them at a children's home.
……………………………………………………………………………………………………….
 …………………………………………………………
…………………………………………………………………………………………………………
How my father may have helped Jimmy Savile escape justice
 https://bitsofbooksblog.wordpress.com/2014/09/12/no-ordinary-man-in-my-time/
DISCLAIMER: THE POSTING OF STORIES, COMMENTARIES, REPORTS, DOCUMENTS AND LINKS (EMBEDDED OR OTHERWISE) ON THIS SITE DOES NOT IN ANY WAY, SHAPE OR FORM, IMPLIED OR OTHERWISE, NECESSARILY EXPRESS OR SUGGEST ENDORSEMENT OR SUPPORT OF ANY OF SUCH POSTED MATERIAL OR PARTS THEREIN.