Former abbot to stand trial for abusing 10 schoolboys
A former Roman Catholic priest accused of sexually abusing 10 schoolboys in the 1970s and 1980s will stand trial in October. Father Laurence Soper, 73, a former abbot of Ealing Abbey in west London, is charged with 18 sex offences including buggery and indecent assault on boys under 16. They are said to have occurred at St Benedict's School in Ealing, where he taught first as a priest before being promoted to abbot.
http://courtnewsuk.co.uk/former-abbot-stand-trial-abusing-10-schoolboys/
Ex-priest Laurence Soper denies sexually abusing boys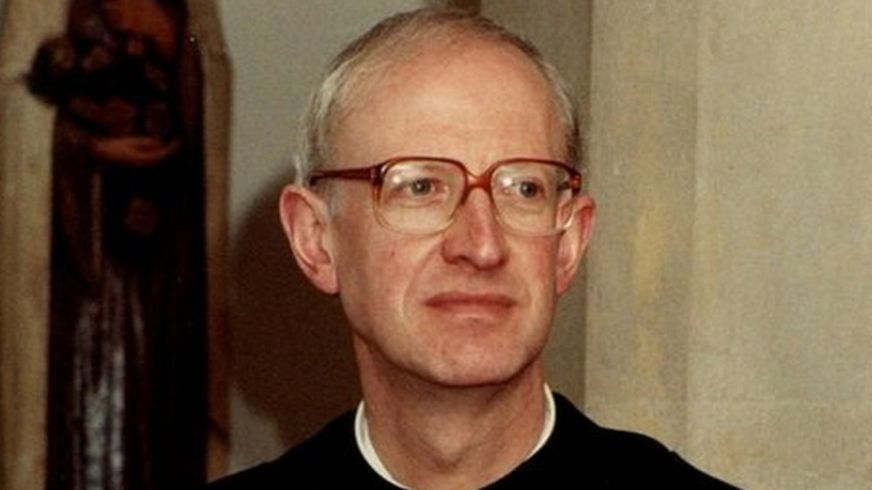 An ex-Roman Catholic priest has denied sexually abusing 10 boys at a west London school in the 1970s and 80s.
Laurence Soper, 73, is charged with 18 counts of sexual assault against boys aged under 16, at St Benedict's School in Ealing, where he taught.
The former Abbott of Ealing Abbey appeared before the Old Bailey via video link and spoke only to confirm his name and deny the charges.
He is due to go on trial at the same court on 2 October.
None of the alleged victims, one of whom was aged under 14 at the time, can be identified for legal reasons.
Mr Soper is accused of committing indecent assault, indecency with a child, and serious sexual assault between 1972 and 1983.
In court he was addressed as Andrew Charles Kingston Soper – with Laurence being the name he took when he was ordained as a priest.
http://www.bbc.com/news/uk-england-london-40887750
---
 Child abuse inquiry set to drop investigation into Ealing Abbey monks
An investigation into one of the worst scandals to afflict the Catholic Church in Britain is set to be dropped from the public inquiry into child abuse.
Next week lawyers for Alexis Jay, chairwoman of the Independent Inquiry into Child Sexual Abuse (IICSA), will propose that no evidence be called about decades of abuse of pupils at Ealing Abbey and its adjoining independent school, St Benedict's.
Victims were furious and accused Professor Jay of backtracking on her previous promise not to reduce the scope of the inquiry. They said the move undermined the credibility of the inquiry, which has lost three chairwomen, cost more than £20 million and shown little tangible progress since it was set up by Theresa May in 2014.
More on Ealing Abbey here
Andrew studied Modern Languages at Bristol University, having attended Skinners School in Tunbridge Wells.
He started his teaching career at Douai School (where csa was covered-up) near Reading before moving to Winchester College, (where csa – John Smyth Qc – was covered-up) where he was Head of Modern Languages.
Andrew joined Birkdale School (Pervert teacher smacked boys admitting it had satisfied his "perverted instincts".)
in Sheffield in September 2002 as Deputy Head before being appointed as Headmaster of Stonyhurst College (where csa was rife)  in September 2006.
https://attain.news/story/9725
Several former priests and teachers at the Jesuit-run Stonyhurst College in the Ribble Valley were investigated over sex abuse allegations in the late 90s

Father James Chaning-Pearce, who taught maths and physics there, was convicted of molesting four boys and jailed for five years in 1997.
And Father John James Pearson was later jailed for two years after admitting to more than 20 indecency charges at Preston Crown Court, also relating to Stonyhurst.
Fr "Jock"George Earle, accused of abuse as Headmaster of Stonyhurst, yet he went on to lead the Jesuits' British Province…
---
Update on Soper court case:
---
Monday, 19 September 2016
Fugitive Catholic monk Laurence Soper is flown back to Britain after a five-year manhunt and charged with abusing five boys as young as 14
Met Police arrested him at Luton airport last night and then charged him.
Soper, who was detained under a European Arrest Warrant in Kosovo in May, will appear at Ealing Magistrates' Court today.
http://www.dailymail.co.uk/news/article-3752498/Fugitive-Catholic-monk-flown-Britain-five-year-manhunt-charged-abusing-five-boys-young-14.html
British priest wanted on child sex charges should not be extradited – Kosovo court
A former priest wanted on child sex abuse charges from the 1970s and 1980s should not be extradited to Britain because the crimes were committed too long ago, a court in Kosovo ruled on Monday.
Soper will remain in custody and the prosecutor has three days to appeal the ruling, she said.
This is the second time authorities in Kosovo have rejected the extradition request. In June, a court in Pristina rejected the request, seeking more documents from British authorities.
http://uk.reuters.com/article/uk-kosovo-britain-extradition-idUKKCN10J15Y
1 July 2016
A judge in Kosovo has blocked the extradition to Britain of former abbot of St Benedict's Laurence Soper accused of child abuse.
 A Kosovan court blocked the move because under Kosovan law the child abuse allegations against him – some of which date back to the 1970s – had expired.
---
---
His friends say that

Laurence Soper also worked at the Vatican Bank.
---
 2011: In recent years, Soper frequently took himself off on

sudden short holidays to Morocco, Tunisia, Albania and Montenegro.
---
Harrow school where Laurence Soper was chaplain
Assistant Master (Modern Languages) 1980-; House Master of Elmfield 1995- 2007; University Liaison Master 1992-95. University of Toronto (1stclass French & German).
Tim Smith –

Leon Brittan's PPS 1983-1985  He has no memory of the 'Dickens Dossier'.



Harrow graduate and a Tory Party ex-vice chairman
Parly under-sec NI Office 1994

On 3 July 1997 he was found guilty  of taking cash for questions from Al Fayed, along with Neil Hamilton
Peter Ball was Chaplain to the Headmasters' Conference for a period of time
---
Background on St Benedict's:
Chris Patten is a former pupil and is on the Board of School Advisers

2011
A review by Lord Carlile QC  (considered a whitewash, especially as it was commissioned by the school's trustees) into decades of paedophile activity at St Benedict's school, a Catholic school attached to the abbey, published in 2011, listed 21 abuse cases starting in 1970.
Soper was named as one of five clergy wanted for questioning in relation to paedophile activity involving pupils.

The inquiry at the school was prompted after a former headteacher, Father David Pearce, was convicted of abusing five boys. He was jailed for eight years in 2009 for the abuse over 36 years. Four of the victims were under 14.
Father David Pearce
Lord Carlile's report says that as a result of the reforms being put in place, he believes that St Benedict's is now an "excellent place" for boys and girls to be "educated in safety".
In addition to Father David Pearce, two former teachers at St. Benedict's (John Maestri and Stephen Skelton) have been convicted of sexual abuse of pupils, and the school's deputy headmaster Peter Allott was arrested in late 2015. He subsequently pleaded guilty to possessing, making and distributing child abuse images and was sentenced to 33 months in jail.
In 1982 a Middle-School Master called John Maestri disappeared weeks before he was due to replace Dom Laurence Soper as Master of the Middle School.
"It emerged many years later that the parent of the victim had complained to Abbot Francis that she would report John Maestri to the Police if he were allowed to take up the post as Master of the Middle School. He then disappeared.
Maestri has been before Isleworth Crown Court on three occasions. All of them for sexual offences against boys under the age of 14, all of them pupils at St. Benedict's School, and all the offences relate to his time teaching at the school. In all three cases he pleaded guilty to the charges.
Maestri went on to teach at another school after he left St. Benedict's.
…The obvious inference is that Maestri was asked to leave quietly to avoid publicity, and that part of the deal involved giving him a good reference that made no mention of the real reason for his departure.
I wonder how many times something like this has happened at the school.
But the most ironic and even tragic thing is that Maestri's position as junior school headteacher subsequently went to – Father David Pearce.
It was a very strange failure of judgment that caused the Abbot to appoint two paedophile abusers in quick succession as junior school headteacher
---
2015
The judge said:
"I use the phrase of a paedophile ring, that's precisely what that was."
He studied history and politics at Hull University and gained a second degree in theology at the University of Durham.
Peter William Allott, who was the deputy head at St Benedict's Catholic Independent Day School, pleaded guilty to possessing, showing and making indecent images of children, one offence of possessing extreme pornography and possession of class A drugs
Allott admitted possessing 25 'grossly offensive' images on a hard drive and sharing the images with other offenders
Allott, 36 was arrested by officers from the National Crime Agency's CEOP Command, acting on intelligence was received that an individual had been using video conferencing facilities to share indecent images of children with others around the UK.
The judge said:
"I use the phrase of a paedophile ring, that's precisely what that was."
Allott was associated with a man whose online chat name was "London Paedo".
He added that he shared images on Zoom and had image capture software to save pictures when others sent them to him.
Some of the material featured children as young as 2 years old.
"He was alarmed by some of it. He said he was surprised some of them were still alive."
---
 St Benedict's:
There's a pattern here. The abuse is widespread. The perpetrators often seem to have been made headmaster of the middle school at some point in their career. The abuse was common knowledge – to both boys and teachers. And nothing was done, because the authority of the church was behind the abusers. They were monks and priests as well as teachers. Sometimes senior monks – headmaster or even Abbot
---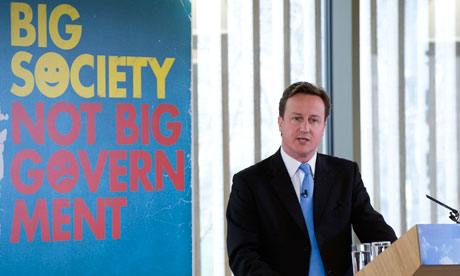 ---
Paedophile Peter Allott left for a year

in 2011

to
work as
a research associate for

a project on the Prime Minister

David Cameron's "Big Society" initiative

and

Catholic social teaching at CambridgeUniversity.
---
http://www.dailymail.co.uk/news/article-3353705/Deputy-head-leading-Catholic-school-stored-child-porn-office.html#ixzz3uEk75iDC
Chris Patten is linked with paedophile- infested St Benedict's as patron. Peter Allott of St Benedict's was  convicted of making indecent images of underage children
Chris Patten is linked to Patrick Rock, a paedophile also convicted and making indecent images of underage children (Patrick Rock was Patten's  former adviser on the West Balkans)

2011 David Cameron brought Patrick Rock back into Downing Street appointing him deputy head of the influential No 10 policy unit. The same year Peter Allott was chosen to work on David Cameron's Big Initiative Policy Project
Was Peter Rock involved?
Vatican Inquiry into Ealing Abbey Child Sex Abuse
October 25, 2011
2014 Lord Patten named president of new Vatican media team
http://www.theguardian.com/uk-news/2014/mar/04/patrick-rock-tory)
1/6/2016
Patrick Rock, former aide to David Cameron, has been convicted of five counts of making indecent images of children.
Patrick Rock – Special advisor to Chris Patten

After his unsuccessful attempts at becoming an MP, Patrick Rock became an advisor to various Ministers during the 1990s, including
Tony Blair sent Patten to Brussels.  Patten was there from 1999 – 2004
link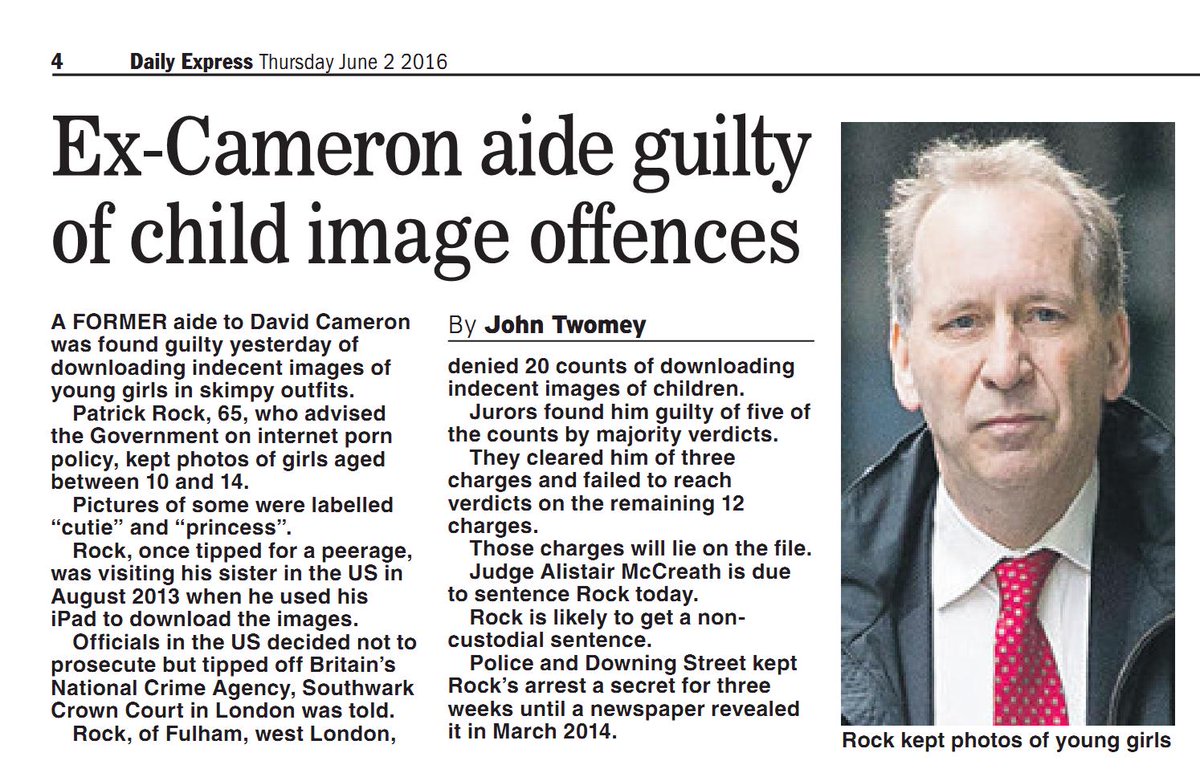 ---
Patrick Rock admitted downloading the pictures of young Czech girls while staying at the Pinehurst hotel and golf club in the US
He admitted downloading images of 20 young girls.
Youngest victim would have been 8 yrs old.
Commenting in the Telegraph, Joan Smith pointed out that his youngest victim, now 10, would have been even younger 2 years ago when the offences were committed and that his government duties had included devising policies to make the internet safer for children. Smith expressed astonishment that Rock would not spend a single night in prison and says upper class status protected him
http://www.telegraph.co.uk/women/politics/humiliation-isnt-why-ex-cameron-aide-patrick-rock-walked-free-af/
Cameron Aide Guilty of Downloading Child Porn; but Did Policy Chief Delete Indecent Images on Second Computer?
Daily Mail (London), June 2, 2016
It can now be revealed that he may have hid other incriminating evidence before his arrest in February 2014. Rock is believed to have wiped a computer after a tip-off from his sister that the FBI had seized his iPad containing the images. It had been found by builders at his mother's home in North Carolina shortly after her death.
Investigators believe his sister, who lives in America, emailed him about the search. … prompted Rock to erase the memory on a second tablet he had with him in the UK.
https://www.questia.com/read/1G1-453888491/cameron-aide-guilty-of-downloading-child-porn-but
https://goodnessandharmony.wordpress.com/2016/05/31/patrick-rock-aide-to-david-cameron-michael-howard-chris-patten/
From wikileaks:
2. (C) Patrick Rock, External Relations Commissioner Chris Patten's cabinet adviser on Balkans issues, pointed to the 30 June EU statement offering full support for Ashdown's actions in Bosnia earlier in the day and stressing the need for full cooperation with the Tribunal. Regarding visa bans, Rock thought that it was possible that the EU would follow the U.S. and add additional names recommended by Ashdown. He was firm, however, in saying that the EU was not able to freeze assets of ICTY indictee support networks, which he attributed to legal issues in some member states. Although the presidency country could not change member-state law, Rock did feel that the Dutch might be able to take a more active approach and encouraged our raising the issue with them. Rock said that the EU's Western Balkans Working Group (COWEB) would almost certainly consider the demarche at its next meeting and remarked that the UK "could often be helpful."
https://wikileaks.org/plusd/cables/04BRUSSELS2828_a.html
---
---
Patrick Rock comes from a Catholic family and was schooled by Jesuits
Rock's headmaster, Fr George Hughes Earle, was a protected Jesuit paedophile
Fr "Jock"George Earle, accused of abuse as Headmaster of Stonyhurst, yet he went on to lead the Jesuits' British Province…
Young Jock joined the RAF, and served as an Intelligence officer in India and Burma.

On returning to Britain Earle worked briefly for the Ministry of Defence, then read Modern History at Balliol College, Oxford,
Fr George Earle, headmaster of Stonyhurst from 1964 to 1971, and later provincial of the Society of Jesus in Britain  – The judge at his trial concluded that three charges of indecent assault against one boy dating back to 1971 had to be dropped because of an agreement that was made at the time between the solicitor representing the boy's parents and the Jesuits' solicitors

http://archive.thetablet.co.uk/article/7th-april-2001/31/the-stonyhurst-file
George Hughes Earle, known as Jock (1925 – 2003)

After stepping down from Stonyhurst, Earle became an assistant to the Provincial for Education; he also became co-editor of The Way, the Jesuit journal of Ignatian spirituality. For three years he was Rector of St Aloysius's College, Glasgow (Fr. George Earle. 1978 – 1981), with overall responsibility for the Jesuit parish and school. To the further surprise of many members of the Society, he was chosen to head the Jesuits' English province, which was renamed the British province at his instigation.
One of his special concerns was the Society's South African region, but he was not pleased when it was suggested that this was because he was preparing a comfortable billet for when he had completed his six years in office.
After a sabbatical, Earle assisted the South African bishops' conference with the training of priests, and proved a popular retreat giver. When the allegations about his headmastership emerged, Earle returned to Britain, later joining the staff of the Jesuit Refugee Service at Osterley, Middlesex, helping asylum seekers.
http://www.telegraph.co.uk/news/obituaries/1444437/Father-Jock-Earle.html
---
Vatican Inquiry into Ealing Abbey Child Sex Abuse
October 25, 2011
http://www.bbc.co.uk/news/uk-15442914
Chris Patten attends a mass with newly appointed cardinals held by Pope Francis at St Peter's
Chris Patten to take up media adviser role to Pope Francis
Former Conservative MP takes up new role only two months after dramatically quitting as chairman of BBC Trust due to heart problems
09 Jul 2014
He most recently was head of the organisation that oversaw the BBC, enduring three turbulent years as Britain's public broadcaster battled a series of scandals.
He stood down in May after heart surgery, saying he needed to reduce the range of roles he undertook.
Why, then, would he undertake such a significant role?

Jimmy Savile: BBC boss Lord Patten rejects call for independent investigation …
Daily Mail
Chris Patten accused of a cover-up on BBC Savile probe
http://www.dailymail.co.uk/news/article-2521976/BBC-chairman-Chris-Patten-Patten-accused-cover-BBC-Savile-probe-blunder.html
http://www.telegraph.co.uk/news/worldnews/europe/vaticancityandholysee/10956058/Chris-Patten-to-take-up-media-adviser-role-to-Pope-Francis.html
BBC Trust chairman Lord Patten told the Commons' media select committee: 'We will publish everything the Pollard review reports.'

Jimmy Savile photographed in the library at Fort Augustus Catholic school
Sexual predator Jimmy Savile was regular visitor to Catholic school at centre of abuse scandal
FORMER BBC presenter was
frequently invited

to Fort Augustus Abbey

by Benedictine Order monks

.
Disgraced Cardinal Keith O'Brien, a good friend of Savile's, was also a regular visitor at the school.
The revelations of Savile's visits to the school came as it emerged that many more pupils have stepped forward to claim they, too, were victims of monk teachers.
Savile spent much of his time in the Highlands even before buying a cottage in Glencoe in 1998, which was just over an hour's drive from Fort Augustus.
Fort Augustus was used as a "dumping ground" for problem clergy who had confessed to abusing children.
O'Brien, who was forced to leave Scotland earlier this year after being forced to admit to inappropriate sexual behaviour, was guest of honour at the school's old boys' dinner last year.
The pair met when O'Brien was priest at St Patrick's Church in Kilsyth, Stirlingshire, in 1971.
Savile was a regular visitor because his mother Agnes was friends with O'Brien's colleague, Fr Denis O'Connell.
Five men claimed on the Sins Of Our Fathers documentary that they were raped or sexually abused by Father Aidan Duggan, an Australian monk who taught at Carlekemp and Fort Augustus between 1953 and 1974.
Fury at sex abuse inquiry snub: Ex pupils 'devastated' by bombshell U-turn
May 15 2017
https://www.sundaypost.com/fp/fury-at-sex-abuse-inquiry-snub/?utm_source=twitter
Ex-headmaster of Aberdeen school,
Father Francis Davidson,
at centre of sexual abuse allegations resigns from university post
Father Francis Davidson has been accused of failing to act on reports during time at Fort Augustus Abbey School in Highlands.
15 AUG 2013
A FORMER headmaster of a boarding school at the centre of sexual abuse allegations has resigned from a role at Oxford University.
Father Francis Davidson has been accused of failing to act on reports during his time at the Catholic Fort Augustus Abbey School in the Highlands in the 1970s.
He has quit as monastic superior of the Benedictine college St Benet's Hall, where he was responsible for the welfare of student monks at the university.
Alleged victims who attended the Abbey school told a BBC Scotland investigation that they were molested and beaten by monks over a period of three decades from the 1950s.
It has also been claimed that abuse was carried out at Carlekemp, its feeder school in East Lothian. Both schools are now closed.
Police are investigating the allegations.
One former pupil told the BBC that he told Fr Davidson personally of the abuse but the monks remained in the Abbey. Fr Davidson is the only surviving headmaster of the school.
In a statement issued to the BBC, Fr Davidson offered his sympathies to former pupils for any historic abuse and said he was "shocked and saddened" to hear of the allegations.
He added: "I do not recall them being reported to me during my time as headmaster of Fort Augustus Abbey School.
"As investigations into matters at Fort Augustus Abbey School and Carlekemp Priory School are ongoing, I have stepped aside from my role as religious superior at St. Benet's Hall."
Earlier this month, one of Scotland's most senior Catholics apologised to former pupils amid the claims.
Hugh Gilbert, the Bishop of Aberdeen, said: "It is a most bitter, shaming and distressing thing that in this former Abbey School a small number of baptised, consecrated and ordained Christian men physically or sexually abused those in their care."
Anne Houston, chief executive of charity CHILDREN 1ST, said: "The focus here must always remain on what's best for those who were abused in the past and what will make a positive difference to them; that and helping protect children now and in future by taking steps to minimise the risk of this ever happening again.
"It is crucial that the church fully and openly co-operates with the ongoing police investigation and passes on any and all relevant information it may have relating to any allegations of abuse at these schools."
---
Father Abbot Mark Dilworth in his beloved cloisters at Fort Augustus Abbey with Cardinal  Keith O'Brien
Mr Slater – worked at both CH and Ampleforth – Ampleforth filled with paedophiles.
The name had come up in conversation at IHT's cottage when JDS (Headmaster John Shippen) and IHT were discussing Mr. Slater, who had been a CH Housemaster and formerly a monk at Ampleforth.
Top public school suspends child sex charges teacher
3 Mar 2017


Monk accused of Fort Augustus Abbey abuse arrested in Sydney
23 January 2017
A former Catholic monk accused of child abuse at a Scottish school has been arrested in Australia.
Father Denis "Chrysostom" Alexander was one of several monks accused of abusing boys at the former Fort Augustus Abbey boarding school in the Highlands.
The BBC has learned he has been remanded in custody in Sydney pending his extradition back to Scotland to face trial.
The Crown Office here said it would not comment on legal matters elsewhere.
Father Alexander has always denied the allegations.
In 2013, he was confronted by BBC Scotland in Sydney as part of a documentary which prompted a major police investigation.
Now, three and a half years after that programme, that investigation has taken a significant turn with the former Benedictine monk's arrest.
He will face a further hearing on Wednesday at the local court in New South Wales, where it will emerge if he will oppose the extradition or not. He will also be entitled to apply for bail.
One of Father Alexander's accusers, Hugh Kennedy, has previously spoken of his frustration at the length of time it has taken the Scottish authorities to request the extradition of the former monk who is now 80.
One other former Fort Augustus monk is due to face trial in Scotland soon for a series assaults, whilst a further seven cases remain under consideration by the Crown Office in Scotland.
Fr Alexander was returned by the Catholic Church to Australia in 1979, after allegations of abuse were made by another Fort Augustus Abbey pupil, who the BBC has also spoken to.
No report to the police was made, and no warnings were provided about his alleged offending behaviour, to the Church in Australia where Fr Alexander continued as a priest for a further 20 years or more.
He was stripped of his priestly faculties in 2013 after the BBC programme.
---
https://wordpress.com/post/goodnessandharmony.wordpress.com/208
https://goodnessandharmony.wordpress.com/?s=patten
http://www.thetimes.co.uk/article/monks-extradition-blocked-in-child-abuse-inquiry-x7tmpr2lbhttps://www.theguardian.com/world/2016/may/14/fugitive-london-priest-arrested-kosovo
https://goodnessandharmony.wordpress.com/?s=peter+ball
https://goodnessandharmony.wordpress.com/2016/01/06/ian-beer-cbe-supporter-of-paedophile-bishop-peter-ball-invitation-to-margaret-thatchers-christmas-eve-party-with-jimmy-savile-and-others/
https://www.theguardian.com/australia-news/2017/may/13/cardinal-george-pell-accused-of-sexually-abusing-two-choirboys-book-claims?CMP=share_btn_tw
Cardinal George Pell 'to be CHARGED over child sex abuse allegations' sending shockwaves through the Catholic Church
Cardinal Pell is not just Australia's most senior cleric, he is one of the highest-ranking officials in the Catholic world.
For two decades, he has been a frontline figure in the Church's debate over controversial issues such as homosexuality, Aids and stem cell research.
He has also handled the Church's official response to allegations of sexual abuse within its Australian ranks during a series of inquiries.
He gave evidence via video link to a Royal Commission into abuse last year.
It is hard to overstate, therefore, the significance of the decision to press charges against him.
When he returns to face those charges in an Australian court, every second will be scrutinised not just by the Australian press, but by members of Catholic congregations across the globe.
http://www.bbc.com/news/uk-40439489
Cardinal George Pell will reportedly be summoned to Australia by police
The summons is believed to be related to a child sex abuse investigation  
Authorities are expected to announce the possible charges this morning
---
DISCLAIMER: THE POSTING OF STORIES, COMMENTARIES, REPORTS, DOCUMENTS AND LINKS (EMBEDDED OR OTHERWISE) ON THIS SITE DOES NOT IN ANY WAY, SHAPE OR FORM, IMPLIED OR OTHERWISE, NECESSARILY EXPRESS OR SUGGEST ENDORSEMENT OR SUPPORT OF ANY OF SUCH POSTED MATERIAL OR PARTS THEREIN.