Archbishop of Canterbury to be quizzed in person at inquiry into Church of England's handling of sex abuse allegations
Justin Welby will appear at Independent Inquiry into Child Sexual Abuse (IICSA)
Former archbishop Rowan Williams will also be called to answer questions
They'll be asked about the handling of abuse claims in the Diocese of Chichester
Welby will be pressed on the investigation involving the Reverend George Bell
Bell, who died in 1958, is alleged to have sexually abused a young girl in the 40s
The hearing will also look at the Lord Carlile Report, which criticised the Church for a 'rush to judgement' and failing to consider the rights of Bishop Bell
The hearing in London will start on March 5 and continue for three weeks 
The Archbishop of Canterbury is to be questioned in person over how the Anglican Church dealt with allegations of sexual assaults against children.
Justin Welby is due to give evidence as a witness at the Independent Inquiry into Child Sexual Abuse (IICSA) in central London next month.
The most senior clergyman in the Church of England – and his predecessor Rowan Williams – will be quizzed on their handling of a number of high-profile abuse allegations in the Diocese of Chichester in Sussex.
Most notably he will be pressed on the investigation into assault claims surrounding the Reverend George Bell, former Bishop of Chichester.
Bell, who died in 1958, is alleged to have sexually abused a young girl, starting from when she was just five-years old, in the 1940s and 50s.
A complaint was initially made to the then Bishop of Chichester, Eric Kemp, in 1995 but it wasn't until a second complaint was made to Welby's office in 2013 that the matter was passed on to the police.
The subsequent investigation by Sussex Police found that there was sufficient evidence to have arrested Bell had he still been alive.
The diocese apologised and paid compensation to the victim, known only as Carol, in 2015.
New investigation into late Bishop George Bell as CofE says it has received 'fresh information'
31 Jan 2018
The Church of England today said that it had received 'fresh information' concerning the late Bishop George Bell, with Christian Today understanding that a new complainant has come forward following publicity about allegations against the bishop.
The Church of England was criticised in the independent Carlile report published in December for a 'rush to judgment' in its handling of separate allegations against Bishop Bell, the former Bishop of Chichester who died in 1958, made by a woman known as 'Carol'. The report by Lord Carlile said that although the Church acted in good faith, its processes were deficient and it failed to give proper consideration to the rights of the accused.
In 2015, the Church of England issued a formal public apology and paid damages of £16,800 to 'Carol', plus legal costs.
The fresh information does not relate to Carol, Christian Today understands.
'The Church of England's National Safeguarding Team has received fresh information concerning Bishop George Bell,' said a statement from the Church of England's safeguarding team today. 'Sussex Police have been informed and we will work collaboratively with them. This new information was received following the publication of the Carlile Review, and is now being considered through the Core Group and in accordance with Lord Carlile's recommendations.
'The Core Group is now in the process of commissioning an independent investigation in respect of these latest developments. As this is a confidential matter we will not be able to say any more about this until inquiries have concluded.'
Bishop Peter Hancock, the Church of England's lead Safeguarding bishop said: 'There are ongoing queries and comments around the Bishop Bell case and we would all like this matter to come to a conclusion.
'However, in light of General Synod questions that need to be responded to and the reference to the case in the IICSA hearing yesterday, I would like to draw your attention to this [above] statement from the National Safeguarding Team. I would ask that we keep all those involved in our thoughts and prayers.
'Due to the confidential nature of this new information I regret I cannot disclose any further detail until the investigations have been concluded. We are currently developing an action plan in response to Lord Carlile's independent report which makes a number of considered points as to how to handle such cases in future and we have accepted the main thrust of the recommendations.'
A spokesperson for Sussex Police told Christian Today: 'On Tuesday 30 January we received information from the Church of England concerning the late Bishop George Bell. The information will be assessed in order to establish what further enquiries need to be made.'
The Church of England's handling of claims against Bishop Bell are likely to be discussed at the General Synod, which begins next week. Justin Welby, the Archbishop of Canterbury, has been criticised by historians and academics supportive of the late bishop for saying that a 'significant cloud' remained over his name.
https://www.christiantoday.com/amp/new-investigation-into-late-bishop-george-bell-as-cofe-says-it-has-received-fresh-information/125108.htm
https://www.christiantoday.com/amp/priest-banned-from-ministry-to-defend-george-bell-at-church-of-englands-headquartersexecute1/124749.htm?__twitter_impression=true
Potty-mouthed vicar facing axe over X-rated rants to colleagues accuses Church of England of using 'Sharia law' to discipline him
https://www.julesgomes.com/about
2014
GOMES. The Revd Dr Jules Gomes, Priest-in-Charge of Arbory and of Castletown, now Vicar of Arbory and Castletown, remaining Canon of St German's Cathedral, Peel (Sodor & Man).
https://www.churchtimes.co.uk/articles/2014/14-february/gazette/appointments/appointments
Commissioning Jules Gomes
 

as St Augustine's Minister, Pentecost 2016
Current members of the leadership team
---
A Church of England bishop was a paedophile, it was revealed.
The shocking revelations about the late Bishop of Chichester George Bell came when the Church of England disclosed it had apologised and paid damages following a civil sex abuse claim against him.
The allegations against Bell date from the late 1940s and early 1950s and concern sexual offences against an individual who was at the time a young child.
The survivor first reported the abuse to the then Bishop of Chichester, Eric Kemp, in August 1995.
Bishop Kemp responded to the correspondence offering pastoral support but did not refer the matter to the police or, so far as is known, investigate the matter further. It was not until contact with Lambeth Palace in 2013 that the survivor was put in touch with the safeguarding team at the Diocese of Chichester who referred the matter to the police and offered personal support and counselling to the survivor.
Lord Carey criticised by damning report which finds Church 'colluded' with disgraced bishop Peter Ball to cover up sex offences
http://www.telegraph.co.uk/news/2017/06/22/senior-church-figures-colluded-disgraced-bishop-peter-ball-cover/?utm_source=dlvr.it&utm_medium=twitter
22 June 2017
Chichester church abuser 'allowed back into choir'
27 June 2017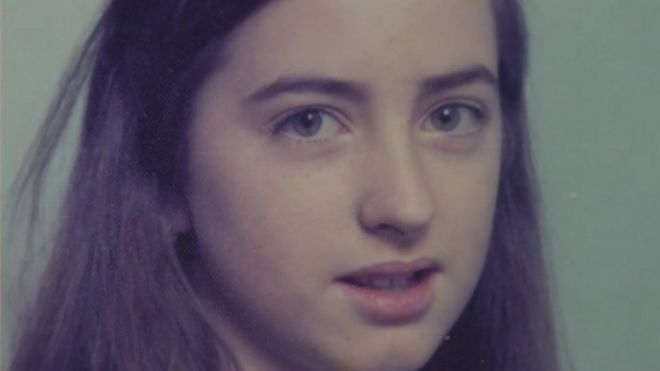 A woman who was sexually abused by a lay vicar in Sussex says she was "completely failed" by the former Archbishop of Canterbury George Carey.
Alesha Racine wrote to Lord Carey in 1992 after discovering her abuser had returned to the church where she had been sexually assaulted.
On Monday Lord Carey announced his resignation as an honorary bishop.
A review by Dame Moira Gibb found he had failed to pass on information about abuse carried out by Bishop Peter Ball.
Ms Racine's abuser, Michael Walsh, was convicted of five indecent assault charges and confessed to sexual relationships with a further eight children.
He was sent to prison in 1990.
He had been a teacher, a lay vicar at Chichester Cathedral and also ran a choir at a church in Chichester.
Child abuse 'inevitable'
After his release in 1992, Walsh returned to the same church to be part of the choir.
Concerned for the safety of other girls, in July of that year Ms Racine wrote to the then Archbishop of Canterbury, George Carey, requesting his help.
Speaking after Lord Carey's resignation, Ms Racine, 54, said: "I was very concerned that my abuser had just come out of prison and it appeared that he'd just gone straight back into the parish church where he'd originally worked, and was again in a position of authority in the choir there where young children – specifically girls – sang.
"I was really worried that these girls were at a huge risk. I felt it was inevitable that children would be abused."
Three months after writing her letter she was told Lord Carey had been unable to consider her concerns because he was "committed to a series of visits overseas, together with his summer break".
'Duty of forgiveness'
She was informed one month later that the "Archbishop had been assured that there was no question of Michael Walsh being reinstated in the choir," but nine months after raising her concerns she received a letter from the Archbishop's chief of staff confirming her abuser was back in the choir.
Lambeth Palace wrote to Ms Racine saying the parish authorities had taken "great care" in coming to their decision to allow Walsh's return to his position "weighing carefully the risk of re-offending against… the Christian duty of forgiveness".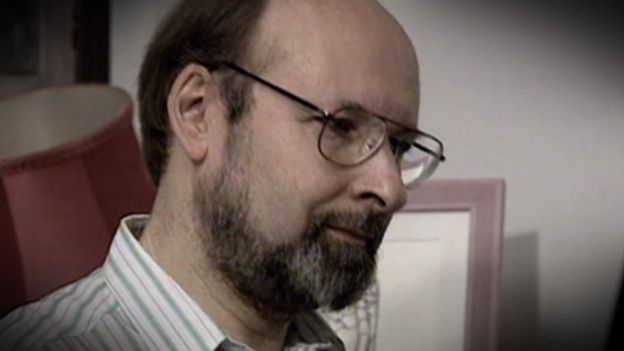 The letters revealed Lord Carey regretted the decision which allowed Alesha's abuser back into churches and offered her his sympathies.
Ms Racine said: "I thought his response was deeply hurtful, in that it had taken me a lot of courage to write to him at all.
"Most of what he said was in defence of the Church and the people in it, rather than try to reach out to me as a victim.
"I do feel it was a complete failure on his part."
A spokesman for the former Archbishop of Canterbury said the correspondence with Ms Racine had been conducted on Lord Carey's behalf by his chief of staff.
He said: "Lord Carey has absolutely no memory of this chain of correspondence or these events. He cannot therefore comment."
http://www.bbc.com/news/uk-england-surrey-40418476
January 13, 2017
23 November 2016
Elizabeth Butler-Sloss attending a Manorial Society event with Prince Andrew and Father Seed

Guest of honour , Baroness Butler Sloss
MSGB Spring Dinner – 14th April 2010
Members of the Manorial Society of Great Britain
Guest of honour , Baroness Butler Sloss
http://www.msgb.co.uk/spring-dinner-2010.htm
Baroness Butler-Sloss, a former senior judge, was appointed in July 2014 to lead an inquiry into allegations of historical child abuse but stood down before the inquiry started.
Her late brother, Lord Havers, had been attorney general in Margaret Thatcher's government in the 1980s – leading some MPs to question whether she was the right person to investigate allegations of paedophilia from that time.
Not to mention her defense of paedophiles in court…
The Duchess of Cornwall, Camilla, President of WOW – the Women of the World Festival, speaks with former Lord Justice of Appeal Baroness Butler-Sloss at a reception at Clarence House, London.   
Camilla in attendance at her son's book launch (An Alphabet of Greed…C is for cannibalism) with Lord McAlpine and 3rd wife Althena Malpas
---
Alexander Charles Carlile, Baron Carlile of Berriew, CBE, QC, FRSA  born Alexander Charles Falik,[1]
Lord Alex Carlile Background – he previously investigated
St Benedict's school…
Sixty years of wickedness that no one tried to stop
In October 2009,  David Pearce, a monk of Ealing Abbey and former headmaster of the Junior School, was jailed for eight years, subsequently reduced to five years, for sexual abuse offences at the school in the period from 1972 – 1992 and for one further offence in 2007 after he had ceased to work in the school.
In March 2011  Laurence Soper, the Abbot of Ealing Abbey during the 1990s, was arrested on child abuse charges relating to the period when he was a teacher at, and the bursar of, St Benedict's School; it was reported in October 2011 that he had failed to answer bail and was being sought by the police.
In the light of these matters, and other alleged offences, the Abbot commissioned a report to be

prepared by

Lord Carlile

with a view to making recommendations on the School's governance.
As a result

of the changes made the Independent Schools Inspectorate said in its 2013 inspection report that the pastoral care at St Benedict's was excellent.
In October 2011 the Congregation for the Doctrine of the Faith ordered its own enquiry into the same matters, to be conducted by Bishop John Arnold.
Former abbot to stand trial for abusing 10 schoolboys
http://courtnewsuk.co.uk/former-abbot-stand-trial-abusing-10-schoolboys/
4 years after Carlile's report: The deputy head teacher at St Benedict's was found to be part of a paedophile ring and was convicted:

Peter Allott was working at St Benedict's when Lord Carlile made his report for the school

Peter Allott, the former Tory councillor has been a teacher at St Benedict's since 2004.
Amassed nearly 400 horrific images of children as young as two on iPhone and on a hard drive found in his office at the £15,000-a-year St Benedict's School.

The judge in the case said""I use the phrase of a paedophile ring, that's precisely what that was."
Allott also admitted possessing the Class A drug MDMA which was found in a raid of his home, a property tied to the school.
Why would the Church of England choose Carlile??
Lord Carlile & Janner
As a young reporter,
I was given letters that might have helped make a case against the MP for child abuse
The establishment

, in the shape of his fellow MPs, men such as Labour's

Keith Vaz, Tory David Ashby

and the then Lib Dem MP now

Lord Carlile

, closed ranks.
Carlile played a prominent part, describing Janner as a man of "integrity" and "determination". Carlile should have known Janner fairly well.

Alex Carlile married his second wife, Alison Levitt, QC, in December 2007
DPP Saunders is closely advised by Alison Levitt QC, who happens to be the wife of Janner supporter, Lord Carlile
---
Look who was in attendance at this function…
The Manorial Society holds functions at the Carlton Club
---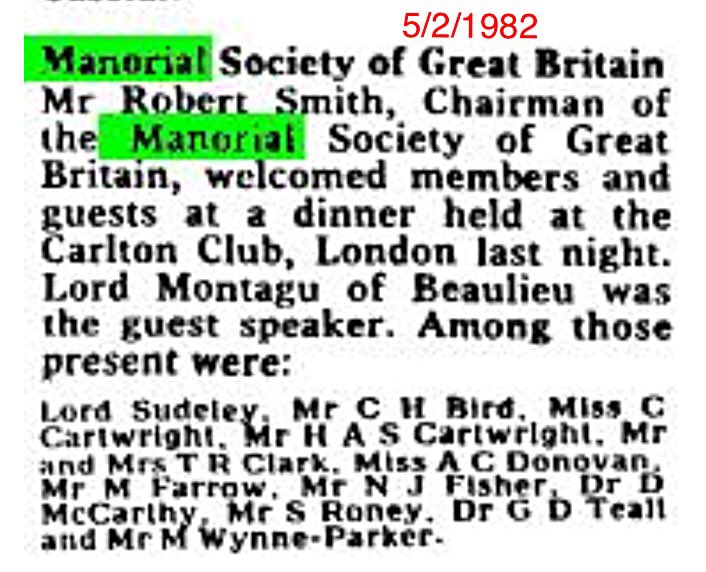 Lord Montagu – Lord Montagu's name appears alongside child sexual abuse as he was prosecuted in 1953 for having underage sex with a 14-year-old Boy Scout at his beach hut on the Solent
Elizabeth
1950's, H,R,H,Princess Margaret (second right) pictured at the Dorchester Hotel, London with her sister Princess Elizabeth, (Queen Elizabeth II) the Duke of Edinburgh. Prince Philip and Lord Montagu of Beaulieu, right
link
Manorial Society Robert Smith and Lord Sudeley
Lord Sudeley, skint aristocrat, Western Goals and Monday Club member, frequent visitor to Manorial Society:
Lay Patrons
The Rt. Hon. Lord Hurd of Westwell, C.H., C.B.E., P.C.
Lord Sudeley, F.S.A.
Gregory Lauder-Frost exposed: The Tory fringe group leader with Nazi sympathies
Jacob Rees-Mogg, centre with Gregory Lauder-Frost, right, at the Traditional Britain Group's dinner
The right-winger whose association with Jacob Rees-Mogg caused the senior Conserative MP great embarrassment this week has added to concerns about his group's relationship with the Tory party – by launching a personal attack on the mother of Stephen Lawrence as "anti-English" and a "nobody", as more damaging revelations emerged about his past.
Gregory Lauder-Frost, the vice-president of the Traditional Britain Group, claimed the decision to award a peerage to the mother of the murdered teenager was an example of a modern fashion for "filling the House of Lords up with spivs".
Mr Lauder-Frost and his organisation were a little-noticed Tory fringe group until the website Liberal Conspiracy revealed that Mr Rees-Mogg had been guest speaker at one of its dinners – and highlighted some of its questionable views.
Mr Lauder-Frost said of Mrs Lawrence: "We do not feel there is any merit in raising such a person to the peerage. She's a complete nobody. She has been raised there for politically correct purposes. She's just a campaigner about her son's murder.
However, 62-year-old Mr Lauder-Frost is a veteran of the right-wing fringe of the Tory party with a political record that dates back to Margaret Thatcher's time. This was interrupted in 1992 when he was imprisoned for two years after stealing £110,000 from a London health authority where he was employed as payroll operations manager. At the court hearing, where he pleaded guilty to eight specimen charges, his lawyer said he had taken the money to pay for a custody battle with the Polish ex-wife.
At the time he was chairman of the foreign affairs policy committee of the Monday Club.
A keen admirer of pre-war German culture, particularly its opera and films, he has frequently expressed the view that the UK should not have declared war on Germany in 1939, because the Nazis had no quarrel with this country.
"The Poles asked for it from 1919 onwards. It was Britain and France who made it a world war, not Hitler."
The Talented Mr. Kersey: The Tory Pressure Group, the Diploma Mill, and the Tesco Tax Manager
The End of The Traditional Britain Group
https://theswamp.media/the-talented-mr-kersey-the-tory-pressure-group-the-diploma-mill-and-the-tesco-tax-manager
Gregory Lauder-Frost
Tory who kept right on stealing cheques
A FORMER member of the right-wing Tory Monday Club Gregory Lauder-Frost, a relative of Sir Harry Lauder, was yesterday jailed for two years for stealing more than #111,000.
Sir Harry Lauder with Sir Winston Churchill at Lauder's estate, Lauder Ha', in Strathaven, South Lanarkshire (About 1946)
Sir Harry Lauder was described by Sir Winston Churchill as "Scotland's greatest ever ambassador!"[2][3][4]
He was a favourite of King Edward VII

On 28 July 1987, the Lord Provost of Edinburgh, The Rt. Hon. John McKay, CBE, hosted a luncheon at the Edinburgh City Chambers, to commemorate the 60th Anniversary of the granting of the Freedom of the City to Sir Harry Lauder, attended by family representative Gregory Lauder-Frost, who, on 4 August 2001, formally opened the new Sir Harry Lauder Memorial Garden at Portobello Town Hall, and was the principal commentator throughout the Saltire/BBC2 TV (Scotland) documentary entitled 'Something About Harry' screened on 30 November 2005.
Sir Harry Lauder died at Lauder Ha' on the 26th February 1950. At his funeral service the Lesson was read by the Duke of Hamilton, and all shops and businesses in Hamilton closed for the day. Sir Harry was unexpectedly interred not with his wife at Glenbranter, but with his mother, and brother George, in Bent Cemetery, Hamilton, after that town's most memorable funeral ever. It was covered by Pathe News and wreaths were received from all over the world, including one from Queen Elizabeth (today's Queen Mother) and another from Mr & Mrs Winston Churchill.
Fraud seems to be a recurring theme …
Far-right toff, Gregory Lauder-Frost, in race row stole from NHS
A toff condemned for claiming Stephen Lawrence's mum Doreen should leave Britain was once jailed for stealing from the NHS.
Gregory Lauder-Frost criticised Doreen, who has been made a peer for campaigning to get justice for the racist murder of her son in 1993.
Lauder-Frost, 61, who lives near Duns, Berwickshire, and in London, was once jailed for two years for stealing more than PS111,000 from the NHS.
He was an accountant when he stole 136 cheques over a two-year period and paid them into his own accounts.
Ater his comments on the Traditional Britain Group website, it emerged Tory MP Jacob Rees-Mogg had been a speaker at a dinner for the far-right group.
Anti-fascist campaigner Gerry Gable, who warned Rees-Mogg not to attend, said: "He's a racist and a thief who stole from the NHS.
"When the BNP membership list was leaked a few years ago his name was on it.
"He claimed to me that he was not a BNP member and that the list also contained the details who had written in with enquiries.
"They've got lots of money and you get the feeling they've been around for years. They've now got all these young groupies who are very nasty, have too much money and not enough education."
Lauder-Frost, vice president of Traditional Britain Group, stood by his view that ethnic minority Britons should be encouraged to return to their "natural homelands".
He said: "The pledge is pretty loose and I would suspect anyone who was not indigenous to Great Britain, who was of immigrant stock, would qualify."
Asked to define "indigenous stock", he said: "Well, people like you and I, I suppose."
"I don't think I'm a racist. I've never made a derogatory statement about somebody's race."
At a London court in 1992, Lauder-Frost admitted eight charges of theft. He said: "I am entitled to have this not mentioned in public. I don't think it's relevant any more."
The International Monarchist League
Left to right; Christoper Arkell & Lord Nicholas Hervey (standing) Gregory Lauder-Frost (speaking to Arkell), Countess Georgina Tolstoy, Count Nikolai Tolstoy (seated under picture), unknown man, Lord Sudeley and John P Bullen Stean (with glasses) at a dinner on 12 March 1990, at London's United Oxford & Cambridge Club
Gregory Lauder-Frost & Clive Derby-Lewis in Brussels as WGI delegates to the World Anti-Communist League Conference, 21 July 1990.
Clive Derby-Lewis – The former right-wing politician, who tried to trigger a race war in the dying days of apartheid with the assassination of South African Communist Party (SACP) leader Chris Hani and who supplied the gun Janusz Walus used to kill SACP leader Chris Hani, was released on medical parole in June last year after obtaining a High Court order for his release.
Derby–Lewis was serving a life prison sentence.
link
Gregory Lauder-Frost, Vice-President of Traditional Britain Group, is an established expert on history, international relations, genealogy, and is a certified public accountant – well known in traditional Tory circles. He is the former Chairman of the Conservative Monday Club's influential Foreign Affairs Committee and was also the Club's Political Secretary. He was Publications Editor and Secretary-General of the international Monarchist League; Vice-President of the old Western Goals Institute and founder of the Traditional Britain Group in 2001
Young Members' Group at a Club Conference at Chilham Castle, 1980: John R. Pinniger (YMG Chairman), Richard Turnbull, & Gregory Lauder–Frost.
1982 William Ross (centre), MP for Londonderry and chairman of the Conservative Monday Club's Northern Ireland Policy Committee, with the committee's vice-chairman Harvey Proctor (left), MP for Basildon, and political advisor John R Pinniger. They held a press conference at the House of Commons to launch a new policy paper.
John R Pinniger  –  former Conservative councillor for  Lambeth 1990
He was also a leading activist and political adviser in the right-wing Conservative Monday Club
Pinniger worked closely with the Conservative Member of Parliament Harvey Proctor, who was then Chairman of the Monday Club's Immigration & Repatriation Committee.
He co-authored papers with Proctor including:
"Immigration, Repatriation, & the Commission for Racial Equality", by Keith_Harvey_Proctor, M.P., John R. Pinniger, M.A., with a foreword by Sir Ronald Bell, Q.C., M.P., published by the Monday Club, 1981, (P/B).
Pinniger was a director, along with Derek Laud of
https://companycheck.co.uk/director/904390291/MR-JOHN-REMFREY-PINNIGER/companies
John Pinniger was a "research assistant" to Harvey Proctor MP and to Sir Charles Irving MP and Pinniger worked at Harrod's menswear shop in between his parliamentary duties.
via Troy@snowfaked
 
Gregory Lauder-Frost – VP of Western Goals (UK) from October 1989. Chair of Monday Club Foreign Affairs Committee since 1989.
link
---
twitter.com/ciabaudo:
 Pinniger also worked for Charles Irving who offered steady 'stream of advice' to CHE
Lord Alex Carlile shared a small office with paedophile Cyril Smith
Carlile shared a small Commons office with paedophile Cyril Smith for many years.
In October 1991, Sir David Steel passed on to the authorities a complaint that had been made to him by  Nazmu Virani, an acquaintance who was chairman and chief executive of Control Securities, after the SFO had carried out a raid on his company 'with damaging attendant publicity'.
Protracted SFO inquiries into the case resulted in the closure of a hotel in Sir David Steel's Scottish Borders constituency and difficulties for a company that employed 5,000 people.
Sir David Steel said: 'At the end of March 1992, leisure and property group Control Securities plc was about to be relisted by the Stock Exchange when on the very same day, Mr Virani was arrested early in the morning and charged that evening with one offence of conspiracy to defraud.'
Bail was opposed by the SFO and was refused.  However, when he was released a week later, after the SFO had withdrawn its objection to bail, Mr Virani complained to Sir David Steel about the 'bogus' grounds for the initial opposition to bail – and the fact that David Freeman, his solicitor, had been shown a letter by a senior SFO official shortly before the first bail hearing.
That letter, on House of Commons notepaper, was purportedly signed by Sir David and said that he would be attending the hearing.
Keith Vaz and Nazmu Virani
2001
The accusations that have followed Mr Vaz for years have finally come to a head. The MP has always denied any allegation of wrongdoing and insists that he will be cleared but, if witnesses verify a single allegation, the pressure on him to resign could become too much to resist.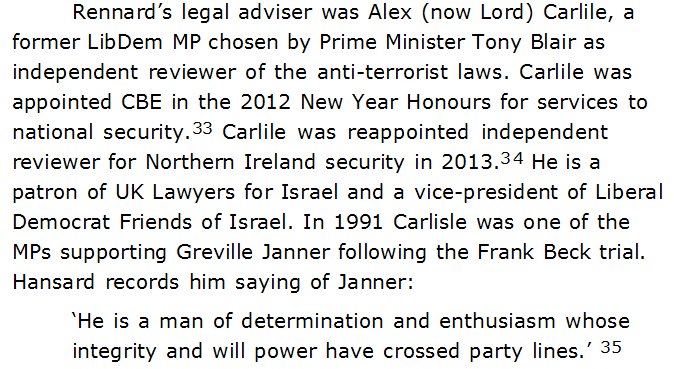 ---
Western Mail (Cardiff, Wales), November 3, 2014
Lord Carlile Won't Take Chair of Child Sex Inquiry
Carlile said that whoever leads the inquiry should not be a parliamentarian.
He also insisted that he or she should have expertise in issues involving child protection or child abuse.
'Devastated and Saddened, Shaking from Limb to Limb' Ex-MP's Wife Speaks Out
The wife of Liberal Democrat peer Lord Carlile of Berriew has spoken of her devastation at discovering her husband's relationship with a barrister 15 years his junior. Lady Carlile, who lives in Welshpool, said the former MP for Montgomeryshire had admitted a five-month affair with 43-year-old barrister Alison Levitt while they were still together.
Alison Levitt and Alex Carlile
Lord Carlile, who is in charge of reviewing anti-terror laws, has now moved Ms Levitt into the flat near his London chambers that he once shared with Frances, his wife of 37 years.
Lady Carlile said her 58-year-old husband, an eminent QC, had told her he was 'bored' with her and revealed that he had had another affair years earlier when their children were very young.
'He said he's done it because he was bored with me. And he admitted he's had another affair when the children were very young. He said it lasted for several years but that it had meant nothing.
'He couldn't understand why I was so upset and why I felt it made a mockery of the trust between us.'
As a QC he successfully defended butler Paul Burrell when he was accused of stealing millions of pounds of goods from the estate of the late Princess of Wales. He lists his recreations as politics, theatre, food and Association Football and is a member of the Athenaeum Club – Jimmy Savile was also a member
Carlile's two daughters – troubled teenagers
In 1999 Jonathan pleaded guilty to charges of perjury and served seven months of an 18 month prison sentence.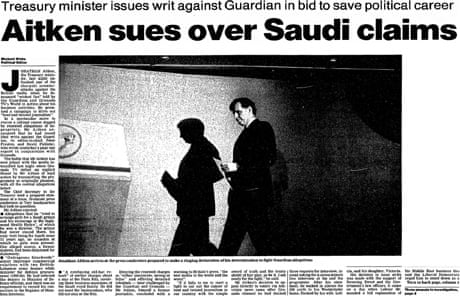 In 2001 the Purdews of Champneys (friends of Sir Jimmy Savile and Keith Vaz) briefly acquired Inglewood health hydro from agents of Saudi prince Mohammed bin Fahd. Inglewood had been the scene of allegations, published in the Guardian six years earlier, that then defence minister Jonathan Aitken, a director of the spa, had tried to arrange girls for a Saudi prince and his entourage.
The report led to the notorious libel action brought by Aitken ultimately culminating in his being sentenced to jail for perjury.
Former Tory MP Jonathan Aitken, once a director of Champneys Inglewood. He was accused by former employees of acting as a 'pimp' by requesting call girls, once for a sheikh and once for a group of Arabs.
Then he was embroiled in a legal dispute with former brothel keeper Lindi 'Miss Whiplash' St Clair, who claimed that she was thrown out of Inglewood partway through a course.
And though Aitken met his future wife Lolicia at Inglewood, he also cheated on her with bondage prostitute Paula Strudwick, telling her to collect the right sort of birch branches from the woods outside the estate for sadomasochistic sex games. You'd have thought someone would have twigged what was going on.
http://www.dailymail.co.uk/columnists/article-259644/PS.html
Michael Howard is a member of the highly secretive organization 'Le Cercle'[15], which has deep ties to many intelligence agencies and has a long history of links to many of those involved with organized child abuse, along with shadowy covert acts such as media propaganda, arms dealing and on the ground military action, generally funded by offshore shell companies.
Michael Howard is a long time friend of Jonathan Aitken, global arms dealer and one time head of Le Cercle.
link
For more on Aitken and his ties to the current speaker of the House of Commons, John Bercow, see here
From Jonathan Aitken's book on Thatcher:
Members of the same club – Alf Bates Club 1974
Jonathan Aitken, Tim Renton (wrote a letter of support for paedophile Bishop Peter Ball), Leon Brittan, Sir Peter Morrison, Sir George Young, Alan Clark…
Jonathan Aitken, a close friend of Sir Peter Morrison's
---
Vice Presidents
Lord Boyce
Sir Jimmy Savile was known to have had dinner with Admiral Sir Michael Boyce, Chief of the UK Defence Staff at the time of 9 11, and was known to have had close relationships with the leaders of Israel.
When official lists of those entertained to dinner were released under the Freedom of Information Act, it emerged that Savile had dinner with Dame Judi Dench and Admiral Sir Michael Boyce (Chief of the Defence Staff), which is quite a combination.
---
Royal Society of Arts
Leadership
The RSA's Patron is currently HM Elizabeth II, the RSA's President is HRH The Princess Royal (who replaced her father, HRH The Duke of Edinburgh in 2011), its Chairman is Vikki Heywood,[4] and its Chief Executive is Matthew Taylor.
List of presidents of the RSA
Mayor appoints Chair of new Ethics Panel for policing in London
ww:
A little summary
Government anti-terror adviser = Lord Carlile of Berriew  defended Leon Brittan's reputation
He married his second wife, Alison Levitt, QC, in December 2007. She is the Principal Legal Advisor to the Director of Public Prosecutions for England and Wales.
Lord Carlile to head Boris's Met Police Ethics Panel
Lord Carlile is a member of the Athenaeum Club, along with Virginia Bottomley. Sir Jimmy Savile was a member too.
Former Archbishop of Canterbury George Carey visiting Sir Peter Bottomley's local Sunday school group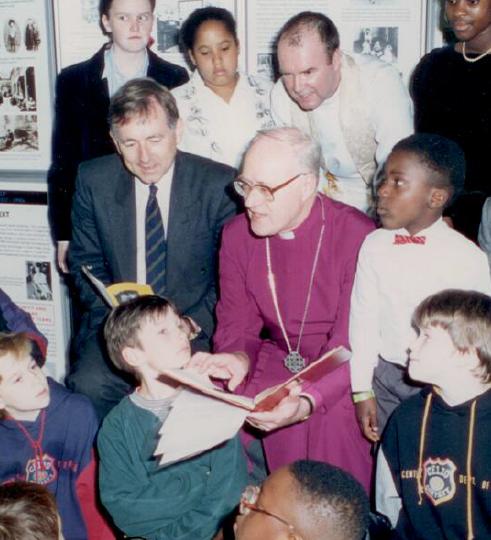 Sir Peter Bottomley MP. a Warden at St Margaret's Church by Westminster Abbey and a member of Parliament's Ecclesiastical Committee, which examines measures put forward by the Church of England's General Synod before they become law
http://accordcoalition.org.uk/2014/01/10/accord-announces-fresh-wave-of-distinguished-supporters-in-parliament/
http://www.dailymail.co.uk/news/article-2683533/I-ll-sue-links-untrue-paedophile-claims-says-Tory-grandee-Peter-Bottomley.html
Lord Carlile was a contributor to EXARO
Nick Brown MP  is a contributor to EXARO
Nick Brown, the government Chief Whip is not known as Gordon's enforcer for his delicate approach to politics.  Nick Brown has survived a rent-boy scandal – because he claimed he did not pay for sex – he just gave the rent boy financial gifts.
 
Wonder how Exaro get the inside track on child abuse and information? * puzzled face*
---
Lord Carlisle

was

called to report on historic cases of abuse at Downside
Downside school sought advice, then
chose not to report paedophile
Downside, one of Britain's oldest Catholic boarding schools, is run by lay staff and Benedictine monks from Downside Abbey in Somerset. Between the late 1960s and the early 2000s, six monks either sexually assaulted children or viewed images of child abuse.
One victim was Rob Hastings, who was groomed and abused for 18 months by his geography teacher, Richard White, known as Father Nicholas. Last year, White was jailed for five years. Rob was removed from the school by his parents but the police were never called. Officers only found out that Mr Hastings was abused while they were trawling through Downside's old records, investigating another complaint.
At White's trial, Mr Hastings discovered that another boy had been abused before him. White confessed that the school had kept this secret and allowed him to continue teaching. The school had written to its lawyers asking if it had a legal obligation to report the teacher to police, and was told it did not.
Mr Hastings believes the abuse he suffered could have been prevented. "This letter came out which shocked me absolutely to my core… I was in floods of tears. I was so upset, so angry. That the school had gone and got legal advice on whether they needed to report a paedophile… I personally could have been saved."
The current head of Downside, Dom Leo Maidlow Davis, said: "Neither I nor the school would today follow the steps taken more than 20 years ago. Such a matter would be reported … to the police and other relevant authorities as appropriate."
Report here: link
---
Child abuse inquiry set to drop investigation into Ealing Abbey monks
An investigation into one of the worst scandals to afflict the Catholic Church in Britain is set to be dropped from the public inquiry into child abuse.
Next week lawyers for Alexis Jay, chairwoman of the Independent Inquiry into Child Sexual Abuse (IICSA), will propose that no evidence be called about decades of abuse of pupils at Ealing Abbey and its adjoining independent school, St Benedict's.
Victims were furious and accused Professor Jay of backtracking on her previous promise not to reduce the scope of the inquiry. They said the move undermined the credibility of the inquiry, which has lost three chairwomen, cost more than £20 million and shown little tangible progress since it was set up by Theresa May in 2014.
More on Ealing Abbey here
DISCLAIMER: THE POSTING OF STORIES, COMMENTARIES, REPORTS, DOCUMENTS AND LINKS (EMBEDDED OR OTHERWISE) ON THIS SITE DOES NOT IN ANY WAY, SHAPE OR FORM, IMPLIED OR OTHERWISE, NECESSARILY EXPRESS OR SUGGEST ENDORSEMENT OR SUPPORT OF ANY OF SUCH POSTED MATERIAL OR PARTS THEREIN.